This article is more than 1 year old
Wrist SLAP: Samsung Galaxy Gear smartwatch hands-on
Watching me, watching you
IFA 2013 Plenty has been said about the tech behind the Galaxy Gear already on El Reg, here and here, so what's it actually like up close? It certainly looks a chunky beast but it's a good deal lighter than you might think.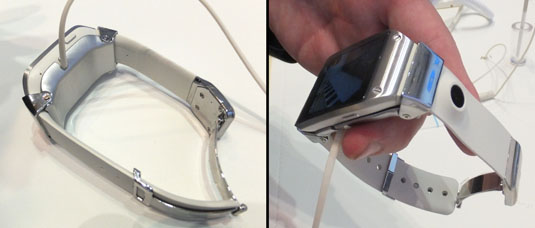 Looks bulky but feels light and that black circle on the strap is a video camera – yikes!
Click for a larger image
That said, you're still going to need to carry around some other Samsung smartphone or tablet and pair them over Bluetooth 4.0 to make the most of its features. Just make sure you don't wander further than 10 metres from the connected smartmobe or phablet.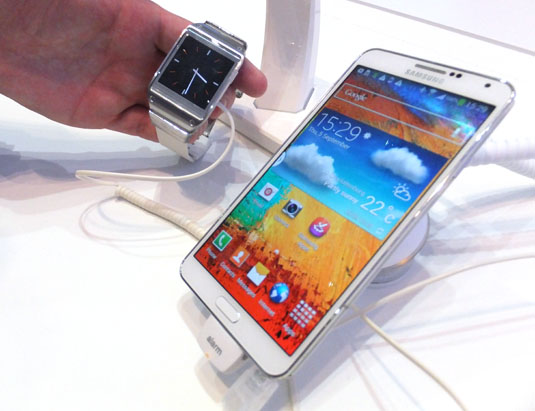 Inseparable at birth? Samsung's Galaxy Gear smartwatch and Note 3 phablet
On its stand at the IFA 2013 trade show in Berlin yesterday, Samsung demonstrated the Gear alongside the new Galaxy Note 3, and what a delightful couple they make. Naturally enough it's designed to work with Note 10.1 2014 when it appears and users of existing handsets – Galaxy S4, S3 and Note 2 – will also be able Gear up with a forthcoming software updates for these handsets.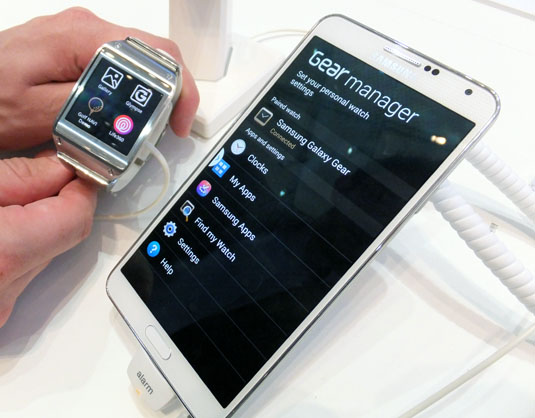 Samsung promises updates on some existing devices so they can be used with the Galaxy Gear
Click for a larger image
Getting things organised between the two devices is the Gear Manager that sorts out sync and the available apps. It'll even help you find your Gear if it's gone astray.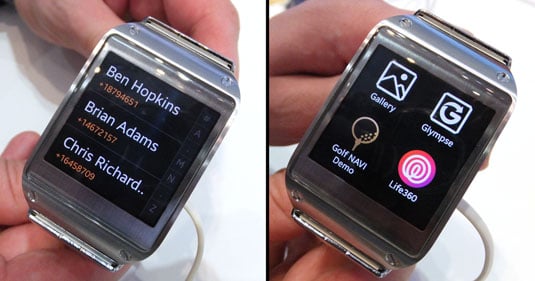 Contacts and some of the apps look pretty good on this on-screen
Contacts are displayed neatly on the 2.5in 320 x 320 OLED display. To navigate you need to swipe from the edges. A flick of the wrist wakes the device from sleep. A Samsung bod claimed it had a 25-hour battery life, not the 10hrs figure that's been bandied about lately.
How long the batteries fare with video is another matter. Indeed, with those recording features on-board, will Samsung's wearable tech be banned from the boardroom?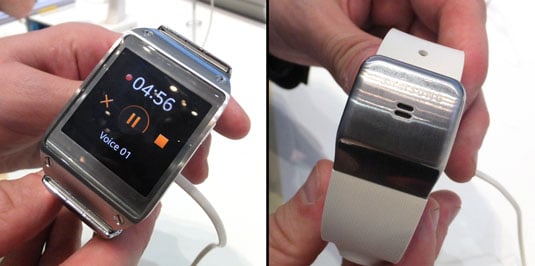 Talk to the hand?
Audio can be recorded for up to 5 minutes and there's even a mini speaker in the strap buckle.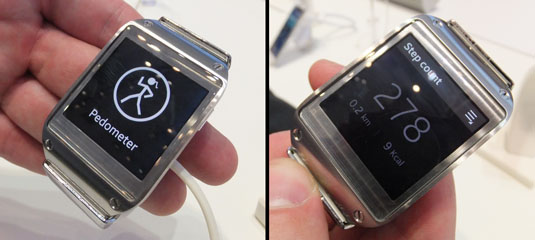 Fit for purpose – click for a larger image
And what smartwatch would be complete without a bit of fitness tech thrown in? The data can be repurposed on other apps such as MyFitnessPal so you can keep track of how much wandering about you do when you forget where you've left the charger. ®