This article is more than 1 year old
Hands on, er, heads on: We take a gander at Sony's gaming goggles
What not to wear: Our man in Berlin tests out the HMZ-T3W techno-specs
IFA 2013 Is it pride or some futuristic obsession? Just what is it that keeps Sony revamping its HMZ series head-mounted display?
It's certainly not to compete with Google Glass, as this experience blots out everything else – you have no idea who's going to sneak up and take an Olloclip pic and make you look weird when you've got it on.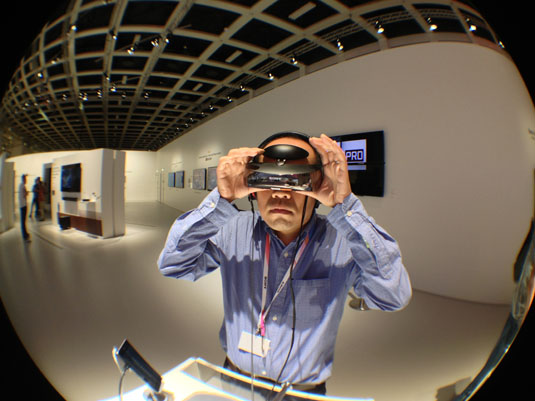 The burglar's friend? I came and went and he never knew a thing
The concept has barely changed – it still has 1280 x 720 pixel resolution in each eye display, but this time these panels are OLED. I put it on, had a fiddle with the focus sliders and wondered why this thing didn't seem to fit. I wasn't totally immersed but could see light from below the goggles.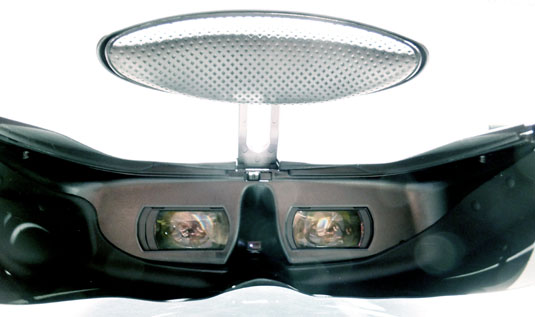 Two OLED panels now grace this new model but it's still 720p
The Sony bod on the stand at the IFA 2013 show ushered me over to another HMZ-T3W. Apparently, I was using the gamer set-up that allows you to glance down at the keyboard. It takes all sorts, I suppose. So another fiddle with the focus and my 20:20 eye struggled to get a sharp image, whereas the slightly shortsighted peeper had a great view.
A bit more fine adjustment, which took a while to get right, eventually produced a decent view of fast cars getting up to various thrills as spills. Well, it takes all sorts, I suppose.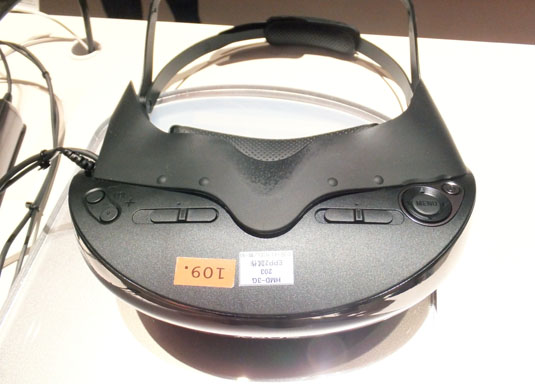 Left and right sliders provide independent focusing
While Sony's idea of staring at "750-inch cinema screen from 20m away" has some big numbers, that feeling of distance remains. For an immersive experience I'd want it more in-yer-face, like BFI IMAX 3D movie outing. Indeed, 3D is the idea behind the HMZ-T3W. Who wants to spend £1,300 on a 1080p 3D TV that can be viewed with friends when you can spend £1,300 on 720p headset and be a Johnny No-Mates instead, come November?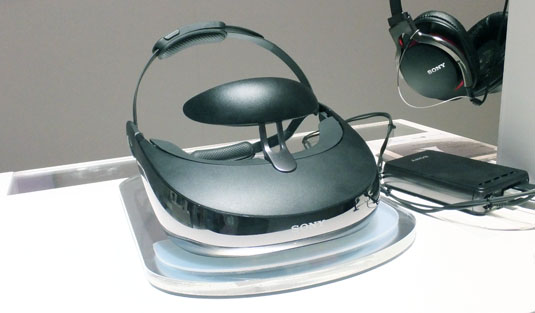 Now with Wireless HD, you can go walkies with it, if you dare
And of course, in the head-mounted display world, interaction with others is blind, unless you take it off. Perhaps it's time Sony put a camera on the front as this is an accident waiting to happen, especially now this model has gone wireless. Sure you can be tethered to your PC or AV system and connect using HDMI or MHL, but Sony has added Wireless HD so you can move around, and fall over, all in 7.1 virtual surround sound, just to confuse things even more.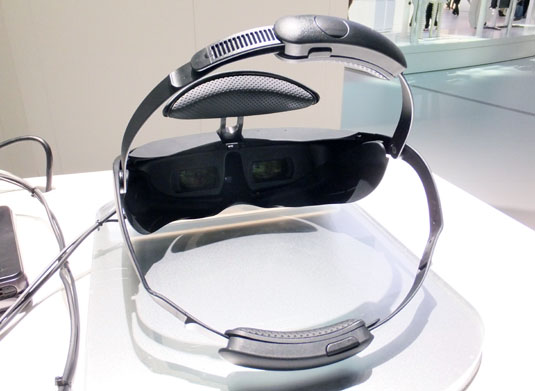 A weighty proposition for long-term viewing
Wireless HD does affect the life of the rechargeable battery pack, knocking it down to three hours. You'll also only get three hours using MHL, though you can wring out seven hours using HDMI.
But unless there's some black art to wearing the HMZ-T3W, I'm not sure I could last seven minutes, as the forehead pad puts a lot of weight on your bonce, as this device is extremely unbalanced with most of its 320g out front. It's difficult to see if wireless connectivity and OLED panels will be enough to win gamers and friendless movie buffs over to the HMZ-T3W concept, but it takes all sorts, I suppose. ®