This article is more than 1 year old
Hands on: Panasonic bakes a 20-INCH tablet for big biz to swallow
Monster Toughpad looks to become the mobile workstation
IFA 2013 At the IFA trade show this week, Panasonic shed more light on the latest addition to its Toughpad range, a 20in, 4K resolution monster that's only 12.5mm thick. Yes it's the same tablet it teased the press with at CES at the beginning of the year, but it'll be available to purchase before the end of it.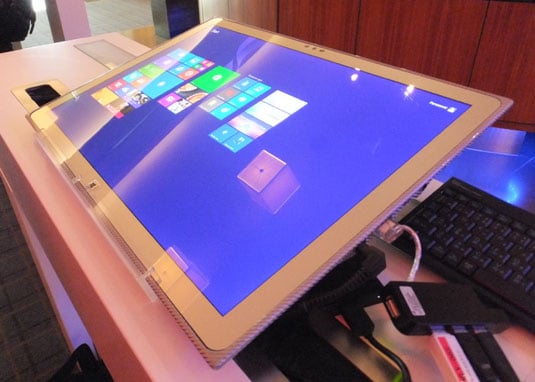 4K tablet, 4K price tag
Panasonic offers two of these 20in Toughpads: the standard UT-MB5 model gets the Intel Core i5-3437U VPro CPU, 4GB of RAM (8GB max), an Nvidia geForce GPU and weighs 2.35kg This model has either a 128GB or 256 GB SSD is ready to roll. However, the Performance model won't be seen until 2014 and benefits from a Core i7 chip (TBA), 8GB of RAM (16GB max) with an Nvidia Quadro GPU. It weighs a bit more at 2.73kg and features a 256GB SSD.
Kitted out with a glass fibre chassis and a magnesium frame, it's easy to lift but you can't say it's 'surprisingly' light, considering the overall panel size. That said, there are still plenty of 15in laptops out there that are heavier.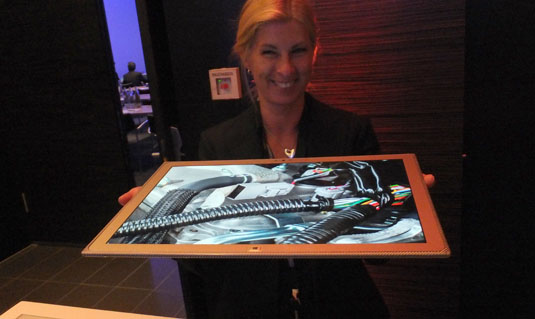 The thinnest 20in, 4K tablet around for the moment, at least
So what wants this hi-res, walking window on the world? Well apart from the big push from all major manufacturers showing at IFA to get everybody in a 4K frenzy, the company's focus is on business customers and effectively wants to deliver a portable workstation for architecture, CAD and sales markets. Why go back to the office and make changes when you can do them on the spot with the customer?
In a presentation which included European execs from Microsoft and Intel, the various strands to the thinking behind this new Toughbook became clear. Intel's Peter Gleissner declared that while wireless had been the last wave of innovation, "Ultamobility is doing the next wave for productivity gains."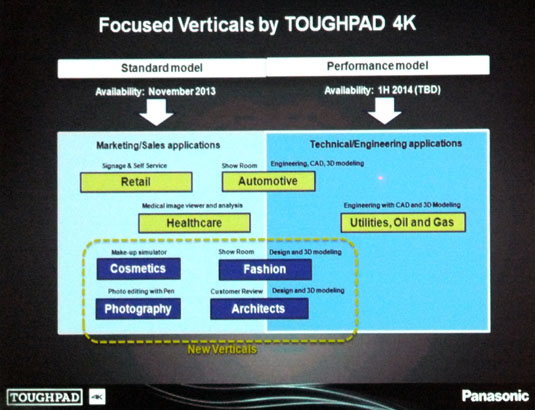 Tough markets?
With Microsoft touting the revamped touch capabilities of Windows 8.1 Pro which the 20in Toughbook has installed by default, the advantages of split screen working on this large format was plain to see, especially as these panels enjoy independent pinch zoom functions. Incidentally, this 3840 x 2650 screen has a 230ppi pixel density and a 15:10 aspect, which suits A3 and architectural sketches better.
Also, Panasonic fancies that this form factor will appeal to some previously untapped markets citing cosmetics, fashion, healthcare and photography as some of its targets for the standard model. Its versatile cradle features HDMI, 3 x USB 3.0 ports, a prop stand and an Ethernet port, but with the latter only being 100-base T, those workstation ideals seem a bit strained, although the Toughpad does have 2.4/5GHz Wi-Fi.

In the dock: three USB 3.0 ports, Ethernet and HDMI are on the other side
Still, it's not too difficult to see how it could end up being used in kiosks or medical facilities. At the conference Panasonic remarked that it was busy getting DICOM mode support from a third party to meet greyscale medical imaging standards. And for the image conscious, its sRGB colour space compliant, apparently this IPS alpha display manages a 98 percent gamut.
Other interfacing on the Toughpad includes headphone jack, SD card slot and an optional SmartCard reader. As for those rugged-ish credentials, it'll survive a 76cm drop if it hits the bottom – who knows what happens at 77cm) and the angles will take a mere 30cm fall. It has tempered glass though, which will certainly take the knocks. On the road with batteries-only, is a bit more limiting as the 3180mAh cells only survive for 2 hours with heavy use, and maybe 6 hours if you're frugal.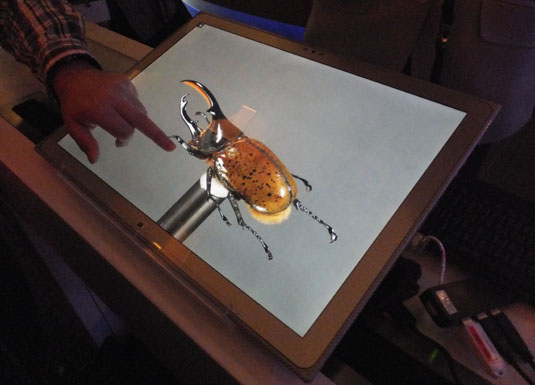 3D image manipulation: This Toughpad has a bug
The screen itself has that sumptuous depth that hi-res panels deliver which up close on such a large display makes quite an impression. Apart from some detailed and vibrant photos, the hands-on demos also featured CAD and 3D imagery that could be manipulated on-screen with intuitive swipes. While not entirely seamless, navigating large models showed only occasional lag with fast movements.
Yet going beyond prod and swipe, Panasonic has been busy working on a new pen, digitiser, stylus – take your pick. What looks like a rather large pointy crayon features a camera sensor in the business end to enable super accurate alignment of less than 0.1mm when used on the display. You don't even need to calibrate the pen either. It works over Bluetooth yet uses infrared for tracking and identifies every single pixel on the screen.

It looks chunky but the pen is actually quite comfortable to write with
Trying it out, it certainly proved to be responsive, with minimal lag, awareness of pen tilt and 2048 pressure levels to boot. The company has been collaborating with Anoto on handwriting recognition too, so that this becomes a useful addition beyond scribbled annotations to drawings and suchlike.
For a spare pen Panasonic is asking €280 and you'll need to add VAT too. The Standard model price of €4508 + VAT includes the 256GB SSD and the pen although it can be bought without. Pricing for the performance model has yet to be announced.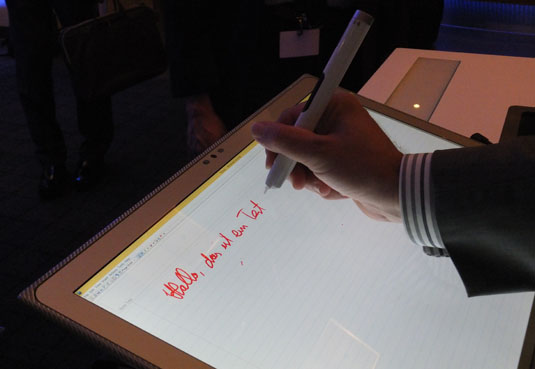 Big tablet, big pen
Those prices are a big ask for a Workstation tablet with just one USB port, which is why you won't be finding this Toughpad on the High Street, unless it's in a kiosk, of course. ®