This article is more than 1 year old
OK, forget the 3D telly fiasco: 4K is gonna blow you away - say tech giants
110 inches of 'please give us all your money'
IFA 2013 We have mixed opinions regarding the merits of 4K TV viewing here at El Reg. It's something that we have covered in scientific detail. In short, the 4,000-plus-pixel resolution looks great for still images, but misses the point for moving pictures.
Reality check aside, that hasn't stopped world+dog at this year's IFA trade show from trying to persuade us to own one of these tremendously expensive devices.
Samsung not only wants you to have a 4K beast, but it has in mind major modifications to your home if you want to get its irrefutable 110-inch "world's biggest Ultra HD TV" in front of the sofa. I wonder if it has a SCART socket...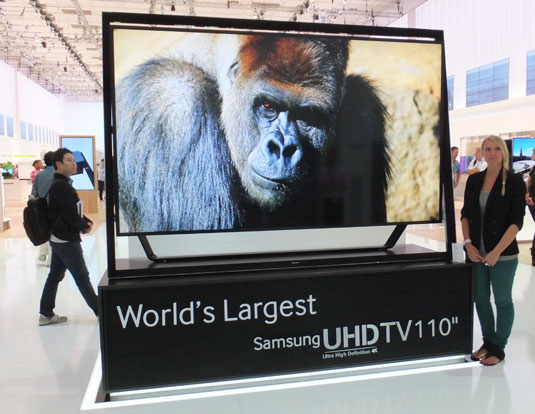 Samsung's S9 UHD TV: But does it have Gorilla glass?
Sony has been at the 4K game for a while now and has actually considered what people are going to be watching on these sets. It's the déjà vu experience that occurred when HDTV arrived and everyone had SD tuners.
For Sony and others though, the web will come to its rescue and deliver unfettered 4K content into homes, just like the director intended, albeit with a fair dose of image compression and all the jiggery-pokery that that involves.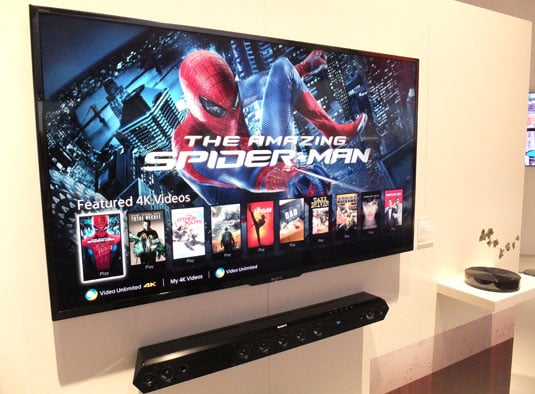 That black cylinder on the far right is Sony's FMP-X1 4K media player
Panasonic's 4K content offering looks much like a YouTube channel, but unlike Sony it doesn't have a movie studio in its company portfolio. Still, like all the other telly makers, it has its 4K offerings, and all were showing off 4K OLED prototype sets. Sony claims the first and biggest with a 56in panel, while Panasonic has a 55in set, which looked glorious. In fact they all did.

Work in progress: Three Panasonic 4K OLED TVs
Not to be left out from the 4K OLED party LG has galleries in mind for its prototypes. It certainly fits with the idea that 4K is better for stills. Perhaps LG knows this but it doesn't want to let on?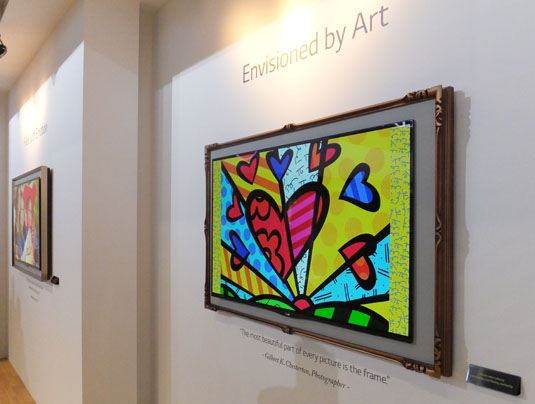 Playing to the gallery: LG's 4K OLED TV
Also joining the 4K party for the first time is Philips with its 65PFL9708 65-incher LED TV featuring a 900MHz motion rate and €4,999 price tag. At least if you do go shopping for a 4K TV sometime soon, this increased competition suggests that the prices will become more affordable at some point - although, you'll have a longer wait to see OLED models in the homes of typical TOWIE viewers. ®