This article is more than 1 year old
Finns, roamers, Nokia: So long, and thanks for all the phones
The rise and fall of the great Finnish phonemaker
Thanks for all the phones
One interesting thing emerges from reading the business hagiographies written in Nokia's heyday. It's how wide of the mark it is with its assumptions. For example, this gem contains life-sapping crossheads (I've picked these three at random) like "Transitions in the Leadership Journey", "Dream Teams are Diverse Teams" and "Why Nokia's Matrix Works" – and was published in 2010, no less. But very little is relevant today. Take for example, standards.
The success of GSM and 3G suggested that partnerships and standards were vital, and with Europe as a whole having a more consensual culture than the US, its varied countrymen were better at these – therefore Europe would continue to lead the mobile industry, through a consensus of equipment producers. These would choose what services we have, and the way we use them. But Apple and Google really disproved much of that. This was an illusion that lasted a few years.
As Charles Davies pointed out here: "The time Apple made its first iPhone was about the first time that anyone who wasn't already incumbent could."
Packaged silicon with a smartphone on a chip allowed newcomers to enter the market and try something new. So, for the first time, Nokia was up against consumer electronics giants.
As Tero Kuittinen writes: "the global demand surge for mobile handsets was something leading consumer electronics firms like Apple, Siemens, Sony and Philips could not foresee. So Nokia ended up competing with two lumbering, erratic messes called Ericsson and Motorola. Compared to those two main rivals, Nokia looked like a blazing ball of consumer-friendliness."
Samsung and Apple provide very different competition.
In early 2004 I rashly predicted that Nokia and Apple could seriously challenge Sony's end-to-end mastery of the computer electronics business, and could begin to set standards and create new markets. Apple was a small boutique PC manufacturer but had an unexpected hit with a pricey music player the iPod. Nokia had great design, scale and distribution. Looks like I was right about one of those challenges, but not the other. Why?
Nokia in the 1990s tried to delight the individual, but in the decade that followed it decided that its customer was the networks. Apple looked at the reality of smartphones, which was a miserable experience accessing data or apps, and saw unfulfilled potential. It focused on the individual, to the extent of putting in a graphics processor capable of drawing 60 frames per second.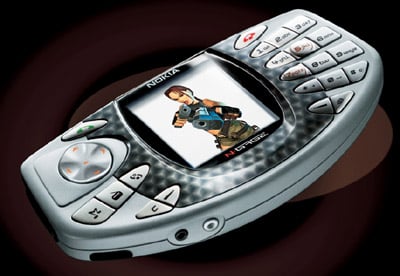 The idea of a Nokia console promised high volumes for games developers, with the reality of the NGage fell short
Nokia couldn't translate the barnstorming inventiveness of the 1990s to new markets. Always decent and ethical, perhaps it was simply not ruthless enough.
It remains to be seen whether Nokia under Microsoft management has the motivation to produce outstanding products. Its track record this year has been excellent, and surprising. It has made leaps in market share thanks to low-cost devices, and at the high end it has produced a quite insane, mind-boggling bit of engineering in the 1020 imaging unit.
This expertise has been acquired intact by Microsoft, for a small price. Will the ex-Nokia mobile team gain from its closeness to the Windows Phone team, and make products such as the Lumia 1020 even better – something Ballmer said he wanted? Or will the Microsoft bureaucracy grind it down, as it did with Danger Inc – the last handset manufacturer Microsoft acquired. We'll have to wait and see. But Nokia's rapid fall shouldn't let us forget what an unusual and well-deserved success it was on the way up. ®