Overland Storage announced its usual loss-making quarterly results but said it was going full tilt into giving BYOD and smart mobile device owners full access to enterprise apps no matter their size. CEO Eric Kelly has now become chairman of its Canadian partner, Sphere 3D, which provides the virtualisation wizardry needed for the venture.
First though, it's time for red ink. Losses for its fourth fiscal 2013 quarter, ended 30 June, were $5.4m, double the $2.7m loss of a year ago and slightly up on the third quarter's $5.1m.
Revenues were $12.1m, showing the seasonal increase expected over the third quarter's $11.6m, but down on the year-ago quarter's $15.3m, a 21 per cent drop.
Europe was a disaster. Here's chief financial officer Kurt Kalbfleisch in the earnings call:
We continue to remain cautious about the uncertain market environment in Europe, as during the quarter, we continued to see evidence of difficult macroeconomic conditions, which contributed to a decrease of 24 per cent or approximately $1m in EMEA revenue compared to the same quarter last year and a 2 per cent decrease compared to the immediately preceding quarter.
He added: "The majority of the decrease in the same quarter year-over-year is due to reduction in tape revenue in both EMEA and Americas." APAC did well though: "APAC tape revenue grew when compared to the same quarter last year and from the immediately preceding quarter."
Poor disk-based product sales didn't help: "Total disk revenue worldwide in the fourth quarter was essentially flat compared to the immediately preceding quarter and down 23 per cent, or approximately $750,000, compared to the fourth quarter of fiscal 2012. The majority of the decrease from the fourth quarter of fiscal 2012 was due to a reduction in our real Virtual Tape Library products, as well as remaining revenue from certain end-of-life sales of legacy SnapServer products."
You get the feeling data protection is becoming a bust for Overland.
Full year numbers were revenues of $48m, near enough a 20 per cent drop on fiscal 2012, with net losses of $19.6m, more than the previous year's $16.2m loss.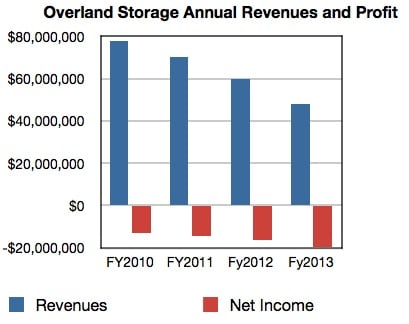 See the steadily increasing losses? If we graph those as a percentage of annual revenues this is what we get: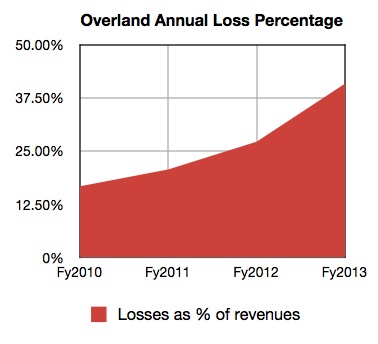 An accelerating curve. Where's it going? Financial death and destruction unless something is done; if the annual revenues and losses trends continue, next year will see revenues below $40m and losses around $25m.
What are the escape options for this currently dead-end one way financial street?
There was no mention in the earnings call of the IP infringement lawsuits. The US International Trade Commission had already ruled back in June that German tape library manufacturer BDT AG didn't infringe two data storage patents held by Overland. Presumably Overland has given up on any revenue boost from a successful outcome of the rest.
What about the proposed merger with Tandberg Data? Tight lips and no comment was the response in the earnings call to questions about that:
Glenn Hanus - Needham & Company, LLC, Research Division; "Should we assume that I guess, the offer was terminated but should -- is it fair to assume there have been ongoing discussions?"

Eric Kelly - Overland CEO and president; "Yes, I mean, Glenn, love to answer that question. But at this point in time, unfortunately, I can't really address that. But when I can, I definitely will give you an update.
No joy there then. Nor was there a forecast for the next quarter.
Ticket to fresh, fast-growing markets: enterprise biz architecture
Best move on to Overland's BYOD adventure with Canadian corporation Sphere 3D and see what's going on.
Overland and Sphere 3D, which was founded in 2009, say "they have developed the first integrated solution that delivers the full functionality of hardware, operating systems, and applications via the cloud to any device" – a bold claim. The joint thing they have developed uses "Overland's data storage solutions, including its flagship SnapScale, and Sphere 3D's Glassware 2.0 virtualisation" products.
This will "enable mobile device users the full functionality of any software program or application on any device, anywhere, eliminating the application limitations, data management and security problems for enterprises created by the BYOD (Bring Your Own Device) phenomenon."
Kelly said in July: "This Sphere 3D partnership has been a part of Overland's strategy for over a year and is key to delivering on our vision of providing a global distributed enterprise architecture that would give us access to one of the fastest-growing markets."
Sphere 3D CEO Peter Tassiopoulos reminded us why Overland is still an important player ion the storage market: "Overland has been an innovator in data storage for more than 30 years, and this partnership gives us access to their robust channel of thousands of resellers in 60 different countries and an installed base of more than 450,000."
An agreement between the two companies says: "Sphere 3D will procure its cloud infrastructure solutions from Overland, [and there is] a technology agreement which grants Overland the licensing rights for the enterprise market. In addition, Overland will assume an equity stake in Sphere 3D and Mr Kelly will join the Sphere 3D Board as its Chairman."
Get a downloadable Sphere 3D company snapshot here (PDF).
Sphere's board is obviously blown away by Kelly and his ideas. What might Overland think now about a merger with Tandberg Data? That looks so yesterday.
Just in case you were thinking about Overland buying or merging with Sphere 3D, its market capitalisation is $24.3m whereas Overland's is $32.9m. Neither possibility is ruled out on that basis.
Overland has moved its VP for worldwide sales, Jillian Mansolf, to an SVP for marketing position, and she is no longer a board member. It has recruited Lisa Loe to be its new VP for global sales from Good Technology. About this Kelly said; "With her experience at Good Technology, she is one of the few executives within the BYOD space that has built a mobility enterprise channel." Before Good she she was VP of OEM and Global Strategic Partners at Isilon (now EMC Isilon).
It looks to the Reg storage desk that this is Overland's last throw of the dice. The future is serving data and enterprise apps to smart mobile device owners, not data protection and not providing scale-out SnapServers.
It's a little reminiscent of the early PC days when PCs got green screen terminal emulation capabilities so PC users could access mainframe and minicomputer apps. Let's hope Overland's Sphere 3D experience is a good one. Without this music of the spheres we fear Overland could simply fade away. ®