IFA 2013 Panasonic's monster tablet – an 18-inch big boy with a 4K Ultra HD display – will come to market in November, the Japanese colossus has promised. The price? A beefy £3,335.
The tablet now known as the Toughpad 4K UT-MB5 was first shown off, kind of, in January at the Consumer Electronics Show (CES). Panasonic said it would "strive" to bring the 18.4-inch, Intel Core i5-powered superslab to market, and today it said that will now happen.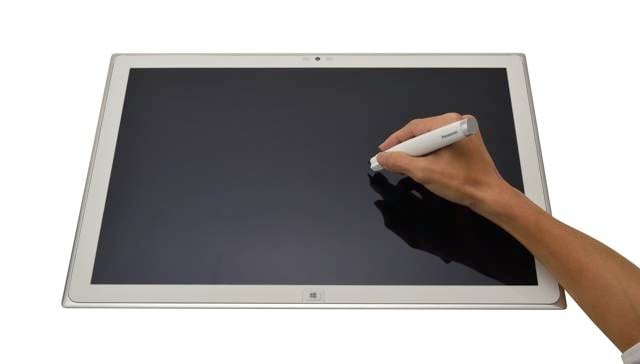 The earlier incarnation had a dual-core 1.8GHz chip, 4GB of RAM, a 128GB SSD and an Nvidia GeForce GPU. The new, go-to-market model has the same broad spec, but expect a more up-to-date Intel chip and Nvidia GPU, and 256GB of solid-state storage. There's an SD card slot for extra data space, and a 1280 x 720 webcam on the front.
It will also come with Windows 8.1 Pro.
The half-a-metre display's resolution is 3840 x 2560 pixels, so that's a density of 230ppi. The whole thing weighs 2.4kg - much the same as a large laptop which is, of course, what it really is, minus a physical keyboard. It does come with a special active stylus, however.
Indeed, you might wonder, since no one is going to be carrying one of these Toughpad 4Ks around iPad-style, why a user wouldn't opt for a big laptop anyway, or a no-less-portable 21-inch all-in-one desktop. Especially since the Panasonic lacks Ethernet and HDMI output, though both can be added with an optional cradle accessory. Maybe not so optional - the Toughpad's going to need some kind of stand, after all.
Panasonic contends that S&M* folk will relish the beast for their presentations. It also has its eye on CAD folk, though they'll want the souped up "even more powerful" "Performance" model Panasonic will have out with fresh Intel and Nvidia chippery in Q1 2014, the company suggested. ®
* Get your mind out of the gutter – we meant sales and marketing.