This article is more than 1 year old
Sony unveils Tap 11, the world's SLIMMEST tablet PC (for now)
Cop a feel of trim bod of Tap and its fondlesome friends
IFA 2013 Tablets, tablets, tablets. There's one out there for everyone these days or so it seems. On show at IFA there are, er, certainly more tablets than you could shake a stick at – or should that be a stylus?
Sony was looking pleased with itself after it was confirmed that its Vaio Tap 11 is officially the thinnest PC tablet around (at the moment). The company continues to supply a stylus with its hybrids and there were plenty of doodles on both Tap and 13in Duo products around the stand.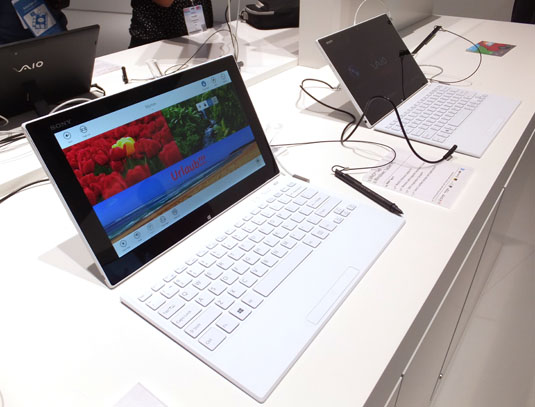 Slim competition: Sony's Vaio Tap 11
The Tap 11 features up to 4GB of RAM and can be fitted with SSDs to make up 512GB of storage space. It has a full HD 11.6in display and runs on Intel's latest Haswell CPUs – Sony is allowing Tap 11 buyers to choose between a 1.5GHz Intel Core i5-4210Y and a Core i7-4610Y clocked at 1.7GHz.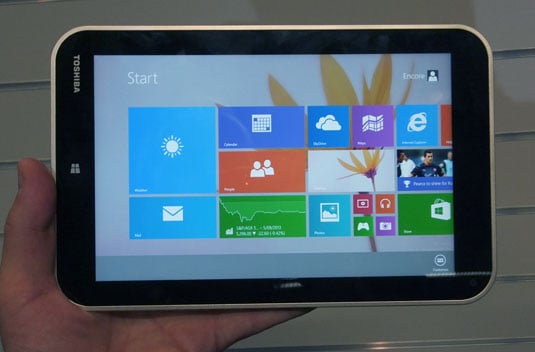 Toshiba's Atom-powered Encore shown here running Windows 8.1 Pro
For Windows users Toshiba's Encore tablet is a pretty handy size even if it doesn't match the slenderness of an iPad Mini or one of Samsung's finest Android offerings. Perhaps it can be forgiven, as the show model was running Windows 8.1 Pro from its Intel Atom innards touting a 1.33GHz Z3740 chip along with 2GB of RAM. It has 32GB of storage on board, but that's barely enough once the updates flood in and your favourite few apps get loaded. Lucky it has a micro SD slot.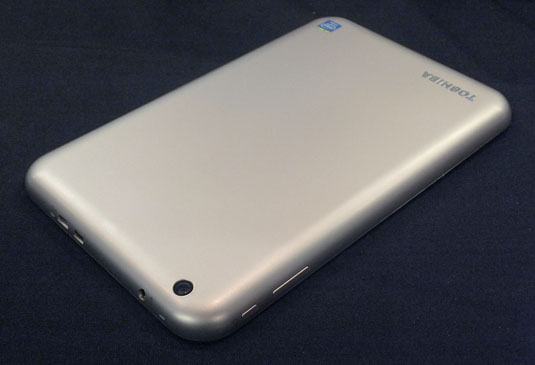 Micro SD expansion should help when the paltry 32GB on-board fills up
The 8in touchscreen has a 1280 x 800 resolution and seemed a bit on the dim side on the stand, but maybe some power-saving mode had kicked in. Still, it was perfectly usable and was easy to get around on, although the soft Windows home key was a surprise.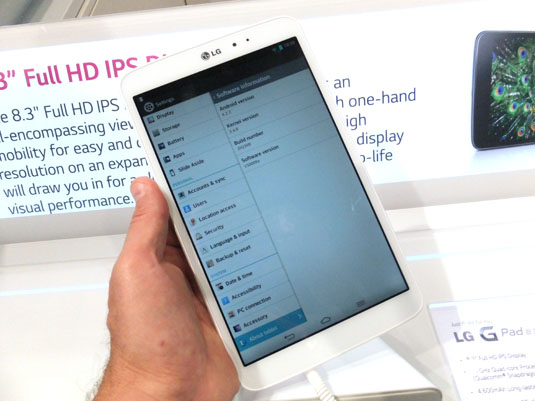 LG could be onto a winner here
LG's G Pad 8.3 has certainly attracted attention with its 8.3in IPS display delivering full HD. Unsurprisingly it runs Android a relies on a 1.7GHz quad-core Snapdragon 600 CPU. The screen looks great and given that movie-friendly resolution, it's just as well there's a micro SD card slot onboard for expansion.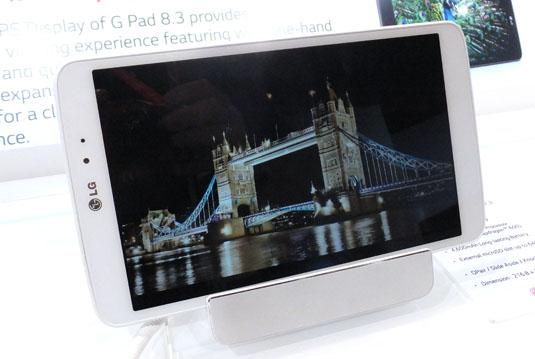 OK, so it's no retina display, but full HD will keep more than a few happy at this size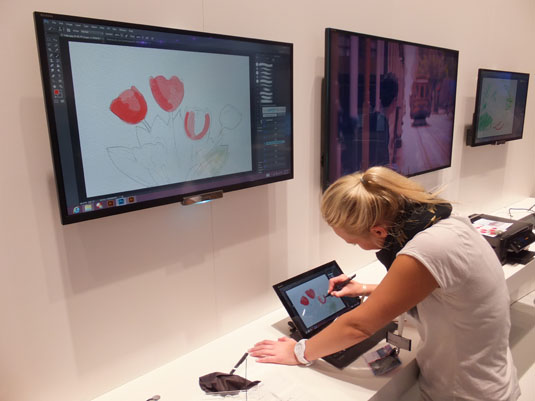 Duo doodles
In the mix of hybrids and tablets, there's still a decent selection of ereaders to choose – e-ink models with battery lives that are measured in moon cycles rather than hours. That said, the backlighting featured on most these days can dent that longevity somewhat.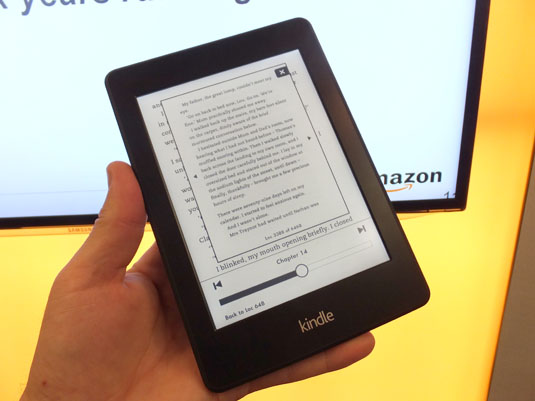 Amazon's Kindle Paperwhite's Page Flip function opens a secondary window for quick browsing
The speed of these e-ink devices is often criticised too and Amazon has quickened the pace of its Paperwhite, adding a bunch of new features. The company claims its updated model runs 25 per cent faster and has a 19 per cent "tighter" touch grid. It is definitely more responsive compared to Kindles of old and perhaps the best feature of all is the new Page Flip function. With this you can flip through the book, page by page, or leap to different chapters without losing your current position. Finally, the ebook becomes a real page-turner... ®