Penguins, prepare to get SPACED OUT: Ubuntu 13.10's Mir has docked
Orbiting inside Shuttleworth's latest break with convention
---
Review Looks can be deceiving, as proved by the first beta of the latest Ubuntu – version 13.10, or Saucy Salamander – which is available today.
This beta doesn't look that different from the last release of Ubuntu earlier this year, but hidden beneath the surface is what might be the biggest change Ubuntu will be making for some time, at least since Unity: the move to the homegrown Mir graphics stack.
Mir is Ubuntu's replacement for the X Window System, a necessary part of the company's move beyond the desktop into the world of Ubuntu Mobile, the operating system for Ubuntu Edge and the myriad other devices still just a twinkle in Mark Shuttleworth's eye.
It wouldn't be Ubuntu if there weren't some sort of controversy, (here, here and here), and Mir looks like being no exception.
At this point no one is going to defend X, but there are many who are disappointed Ubuntu will not be using the Wayland graphics stack. Several other distros have already started to use Wayland to replace their own X Window servers, but as with the desktop, Ubuntu has opted to go its own way. If the Mir versus Wayland debate goes the way of the Unity versus Gnome Shell, I'd say Ubuntu has once again made the right call. Only time will really answer that question though – it's far too early to say.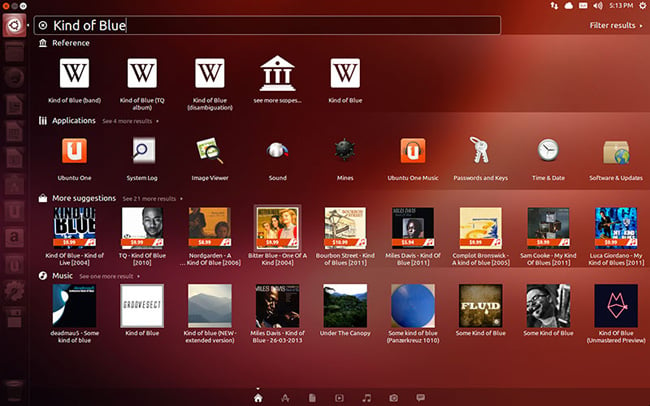 Scopes to make Dash webbier make their delayed debut with Ubuntu 13.10 (click to enlarge)
So what does Mir in Ubuntu 13.10 mean? For most users, hopefully nothing.
Well, there is one thing – no more Xorg.conf to spend long hours wrestling with.
By the time 13.10 does officially arrive, Mir will help with some specific setups, like dual monitors or high-end laptops with the option to disable and enable discrete graphics depending on use – turning them on, for example, for 3D-intensive applications, and off to save power.
Mir is a huge change. It enables all the various flavours of Ubuntu to run unmodified on a single graphics stack. That means the same code running across phones, tablets, desktops, TVs, cars, toasters and so on.
The same code means faster development, which is a huge win on its own, but it also helps Ubuntu to pull off some cool tricks – like plugging your Ubuntu phone into a monitor, turning it into a desktop-like device.
That scenario raises the question – what is it? Are you using a phone? Is it a desktop? What if the answer to both is yes? That's essentially the point of Mir – to eliminate the need to differentiate between devices. Ubuntu is Ubuntu wherever you find it.
That's the goal anyway.
The daily builds I tested still had Mir disabled by default, though activating it didn't wreak havoc on my system. In fact, everything hummed along just fine. If you'd like to try it on actual hardware (rather than the virtual machine that I'd recommend for testing beta releases) be sure to read through this list of graphics drivers and Mir issues.