The US military has issued a formal solicitation for ideas about technologies that could help create a futuristic fighting suit for its special forces.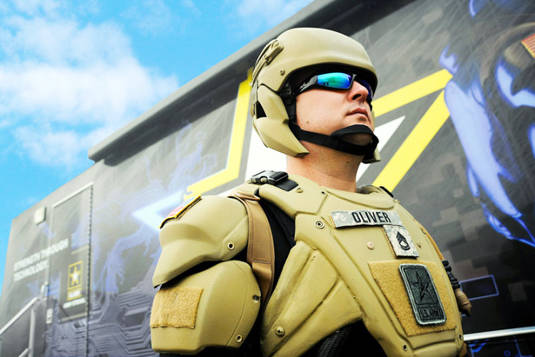 You can only hope that when this guy is suited up, he's on your side
The United States Special Operations Command (USSOCOM), headquartered at MacDill Air Force Base in Tampa, Florida, is exploring the creation of a Tactical Assault Light Operator Suit (TALOS) that would protect and support Special Operations Forces (SOF) through such innovations as agile, self-propelled armor; power-generation and power-scavenging systems; wearable computers with communications capabilities; medical monitoring and support systems, including "wound statis"; and more.
The goal of the TALOS project is to create a wearable environment for the "SOF warfighter" that's stealthy, protective, informative, and able to assist the soldier wearing it in his or her completion of their lethal duties.
Not that the creation of TALOS will be easy. "Prior studies and analysis have determined a number of technical challenges exist for the SOF equipment that require improvements for missions into the future," USSOCOM notes, identifying some of those challenges as weight, protection, power, mobility, and – of course – cost.
Although the document (PDF) issued on Wednesday – known in governmentese as a Broad Agency Announcement (BAA) – includes a wide range of suggestions about technologies that private industry could contribute to the creation of TALOS, it also acknowledges that there may be more ideas that USSOCOM hasn't thought of, and it wants to hear from you about them, as well.
But USSOCOM does offer its own wish list, and requests information about technologies that include, in the words of the BAA:
Advanced Armor: Materials to support next-generation ballistic protection
Mobility/Agility: Enhancement platforms such as powered or unpowered exoskeletons
Situational Awareness (SA): Technology that promotes timely, relevant, and accurate assessment of friendly, enemy, and other operations within the battle space in order to facilitate decision-making
Light/Noise Discipline: Technology that aids in concealment from the observation of the enemy
Command, Control, Communications, and Computers (C4): Technology supporting conformable and wearable antennae and wearable computers
Individual soldier combat-ready displays: Technology supporting information display, and potentially utilization of cognitive thoughts and the surrounding environment to display personalized information
Power generation and management: Technology includes soldier power-generation systems, power scavenging, renewable energy, power distribution, power management, and power storage solutions that are lightweight and soldier portable/wearable
Thermal management of suit occupant: Technology to manage heat to reduce the soldiers' metabolic rate and prolong endurance
Medical: Embedded monitoring, oxygen systems, wound stasis, and electromechanical compensation
When USSOCOM first began solicting information from private industry this May in the run-up to the official BAA issued this week, a USSOCOM advisor said that multiple technology sources would be needed for the creation of TALOS because "There is no one industry that can build it."
Science advisor Lt. Col. Karl Borjes calls the Talos effort a "comprehensive family of systems in a combat armor suit where we bring together an exoskeleton with innovative armor, displays for power monitoring, health monitoring, and integrating a weapon into that – a whole bunch of stuff that [the US Army Research, Development and Engineering Command, or RDECOM] is playing heavily in."
RDECOM is not the only group "playing heavily" in TALOS-capable technology. "The Official Homepage of the Unted States Army", www.army.mil, reports that the Massachusettes Institute of Technology, for example, is working on liquid body armor incorporating magnetorheological fluids that can transform from liquid to solid in a mere 20 milliseconds under the influence of a magnetic field or an electrical current. When used in conjunction with Kevlar, armor could thus be flexible but turn hard and protective in an instant.
If you happen to be working on something that the USSOCOM might find of interest for the TALOS project, download the BAA, check out the terms and conditions, then fill out the USSOCOM's online application form.
Even in these belt-tightening times, it's likely that within the bounds of reason, whatever USSOCOM wants, USSOCOM gets – and your idea just might dip into that taxpayer-funded honeypot. ®