This article is more than 1 year old
Xiaomi plans global domination with fast smartphones and software
Can Chinese firm beat Apple and Google at own game?
The established smartphone vendors should prepare for challenge from China: Xiaomi, a firm started just three years ago by a Chinese serial entrepreneur and Google's ex-head of engineering, has announced plans to move out of the Middle Kingdom and onto the world stage.
The first time many people in the Western world heard of Xiaomi came last month, when the company lured Hugo Barra, Google's VP of product management and the public face of Android, away from Mountain View. Barra's hiring is key to the company's international success, CEO Lei Jun told Bloomberg, as Xiaomi tries to repeat its explosive Chinese growth overseas.
Lei said that in the first half of the year Xiaomi has more than doubled 2012's revenues, bringing in 13.2 billion yuan ($2.16bn) by this June and set to reach 28 billion yuan ($4.6bn) for the full year. The company is profitable, Lei said, although declined to put a figure on the amount, and is valued at around $10bn by venture capitalists.
To coincide with the earnings report, Xiaomi also released what it claims is the world's fastest smartphone using Nvidia's Tegra 4 processor. The Mi3 has a five-inch 441ppi screen capable of 4k resolution, a 13 megapixel camera, and costs 1,999 yuan, ($327) for the 16GB version and 2,499 yuan ($408) for 32GB – about half the cost of an iPhone in China and well below the cost of comparable kit in the US.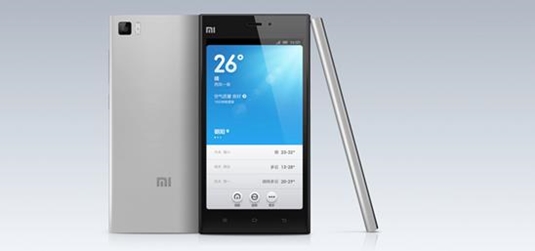 Is this the Chinese iPhone killer?
"The Mi3's exceptional innovations demonstrate why Xiaomi has quickly become one of the world's most important phone makers," said Deepu Talla, GM of mobile business at Nvidia. "Its speed, capabilities and battery life highlight the tremendous experiences that Tegra 4 delivers to leading-edge smartphones."
Also announced by the company is a 48-inch, internet-capable 3D TV dubbed the MiTV. Many manufacturers are selling similarly provisioned TV sets, but not at the price Xiaomi is asking: 2,999 yuan or $490 all in. But selling technology cheaper is what Lei is all about.
Lei made his bones (and $300m in personal wealth) with software firm Kingsoft, sold Joyo.com to Amazon for $75m in 2004, and is seen as an entrepreneur to watch in the Middle Kingdom.
In June 2010 he started Xiaomi, selling Foxconn-built smartphones that look good but don't cost a packet, running a modified version of Android. The company eschews retail and sells direct to cut costs, and after three years has fanatical fan-base similar to Apple's – Lei has said he was inspired by Steve Jobs after reading a book about him in college.
"I was greatly influenced by that book, and I wanted to establish a company that was first class," Mr. Lei told The New York Times earlier this year. "We're not just some cheap Chinese company making a cheap phone," he said. "We're going to be a Fortune 500 company."
In order to do that, Lei told Bloomberg that he plans to keep Xiaomi a private company for the next five years and will focus on growing the company internationally with its own type of hardware and software. And now he says that Steve Jobs is not the approach he is trying to mimic.
"I feel that we're a very different company from Apple," Lei said. "We're probably more like Amazon's Kindle – to sell hardware at cost and then to stack services and content on top of the hardware."
Software sales are good so far, he says, with Xiaomi doubling software sales in the last four months. Lei said the firm expects to hit $20m in software sales revenues by the end of the year.
There's a world of difference, however, between being big in China and making it in the rest of the world. But Lei's ambitions might give Tim Cook something to ponder when he holds his special Apple event in China next week. ®