This article is more than 1 year old
Canadian family gives up modern tech to live like it's 1986
Mullets and all
Disappointed that their children seemed to enjoy using iPhones and iPads more than playing outdoors, a couple in Guelph, Ontario, Canada has chosen to spend a year using only technology invented before 1986.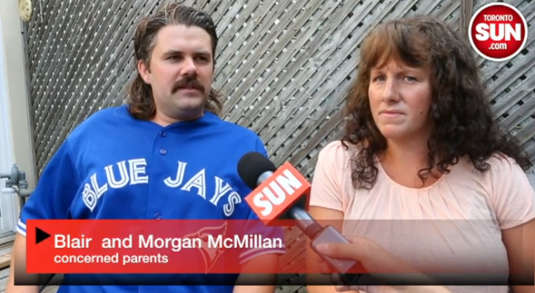 Deprived of iPads, a Canadian family experiences an atavistic shift
"That's kind of when it hit me," 26-year-old father Blair McMillan told the Toronto Sun. "Because I'm like, wow, when I was a kid, I lived outside."
As a result, McMillan, his 27-year-old girlfriend Morgan Patey, and their two sons, Trey, 5, and Denton, 2, have spent the last five months living a lifestyle that's a throwback to the 1980s: no mobile phones, no internet, and no computers.
When he wants to take pictures of his children, McMillan says, he does it the old-fashioned way, using a film camera and sending the snaps out to be developed. Each roll costs him around $20.
The family navigates the roads using paper maps, goes to the bank in person rather than banking online, and looks up facts using a set of print encyclopedias from the 1960s.
MP3 players and even compact discs are out. The family only listens to music on cassette tape and watches movies on a VCR, though it's not clear whether they have limited themselves to a diet of period media. The top single in Canada for September 6, 1986 was Belinda Carlisle's "Mad About You," while the top-grossing films of that year were Top Gun, "Crocodile" Dundee, and Platoon, in that order.
Even visitors to the McMillan/Patey home are forced to enter their retrograde world, if only temporarily. McMillan takes their mobile phones and locks them in a box until they leave.
McMillan insists the experiment isn't about being a Luddite. "I have nothing against technology," he told the Waterloo Record. "It improves fuel efficiency and health care. I'm not anti-technology. I wanted to taste, and I wanted my kids to taste what it would be like without it, and to see if we could actually do it."
The couple chose the year 1986 because that's when McMillan and Patey were both born, and McMillan, at least, is keeping true to the era. He has grown out his mustache and hires a hair stylist to keep him coiffed in a period-authentic mullet.
The family chose to undertake their experiment now because, McMillan says, they might not get another chance.
"A lot of the technologies we use, rotary phone – those things, are kind of on the verge of being extinct," he told the CBC, "so maybe if I wanted to do this project in five years I might not even be able to do it."
The lifestyle isn't completely without its creature comforts. The two boys still enjoy playing Super Mario Bros. on an original Nintendo gaming console, which first went on sale in North America in 1985.
But Patey – who still uses a computer at her job, just not at home – admits that there have been plenty of times when she has missed having access to more modern accoutrements.
"It happens. When you're laying in bed at night, he's listening to the [Toronto Blue] Jays game or something on the radio and I've already read seven books that month ... I kinda wish I could just grab that iPad," she told the Toronto Sun, adding, "You're missing seasons of Big Brother."
The couple's life is not without a certain Big Brother aspect of its own, however. McMillan has been documenting the experience for a film project that he hopes to complete with the help of an experienced filmmaker.
"It's about reconnecting, and basically disconnecting from technology to reconnect with friends and family," McMillan said.
The McMillan/Patey family plans to continue their 1986 life through April 2014. ®