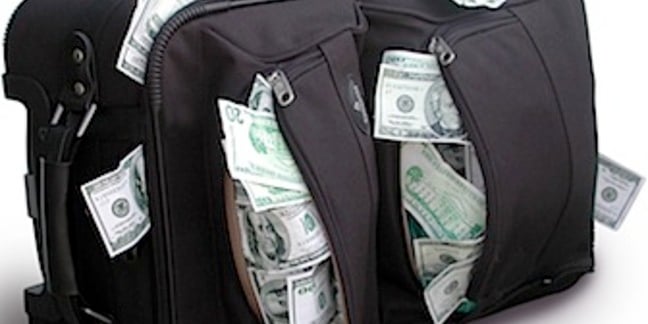 UK investment house Invesco has acquired 13 per cent of Norway's ThinFilm, just as the company prepares to launch its first printed product, which it tells us will cost almost two cents.
The investment gives Invesco 56 million shares in ThinFilm, which amounts to 13.3 per cent of the company, but this should provide the Norwegian firm with funds for the launch of the company's first real product: a label which can't be forged. The firm is gearing up to produce hundreds of thousands of them later this year and ramp up production into the millions come 2014.
Publicly listed ThinFilm spent the '90s spaffing $100m of investors' cash creating a decent patent portfolio and printing facilities, which was fun but not very productive. Since then it has cut back dramatically (this time last year it had just 20 employees) and has signed deals with Parc (of Xerox fame) and Polyera, experts in printed CMOS, to meld their printed technologies into real products.
The first of those is designed to replace the holograms which now grace everything from toothpaste tubes to whisky bottles in a forlorn attempt to stem the flow of counterfeit products.
Holograms are surprisingly easy to copy, despite constant innovation from the industry to frustrate counterfeiters. Once an enterprise has copied the packaging, appearance and feel of the original, the hologram is just another step along the way. Once one is replicating a gas cylinder or package of malarial pills then sticking a fake hologram on the side is a small thing.
ThinFilm's solution isn't as elegant as a hologram: one needs a special reader which pushes pins against the exposed contacts on the label. The reader actually reads and writes to the printed memory, as well as monitoring the analogue signal coming back and the speed of responses. It's a physical test, not a cryptographic challenge, but should be impossible to forge even if it can't be checked with the naked eye.
The reader is a simple piece of electronics, ThinFilm's CEO Davor Sutija told us it could be manufactured for $2 a time, so could be distributed to retailers who cared (such as doctors or gas-fitters) or carried by agents working for the product manufacturer who could drop into a store and check if forgeries were on the shelves.
The idea is sound, even if lining up the pins takes a little practice (we had some trouble with the prototype), so now ThinFilm needs to make a lot of them and prove it all works. The company already has manufacturing lines up in South Korea and Norway, capable of running up hundreds of thousands of units, but it will need to get well into the millions before it's a viable business.
That's what the new money is all about. There will be six months of testing and refinement, which ideally will be followed by a huge deployment. Sutija says his biggest worry is that someone will come along and order a billion units before he's has time to ramp up production, which is the kind of problem we all have to wrestle with at some point in out lives. ®
Sponsored: Ransomware has gone nuclear