US boffins have documented a transition from metal to semiconductor that can be controlled by exposure to light.
The researchers, from Washington University in St Louis, created a thin film of gold nanorods coated with zinc oxide. The result: with no illumination, the gold/zinc oxide mix conducted electricity as a metal, but under illumination, it behaved as a semiconductor.
More specifically, since Register readers can stand having the detail: in dark conditions, the transition from metal to semiconductor occurred at temperatures between 150 K and 200 K (-123.15°C to -73.15°C), but when illuminated, "all films behaved as semiconductors from 80 to 320 K" (-193.15°C to 45.85°C).
In the university's release, one of the researchers, Parag Banerjee says the "metal-to-semiconductor switching" would be useful in a variety of sensors and other devices.
The mechanism that powers the transition is the excitation of electrons in the gold nanorods when exposed to light. The excited electrons enter the zinc oxide film, changing its electrical properties. Banerjee says the effect works best on very thin films – around 10 nanometres.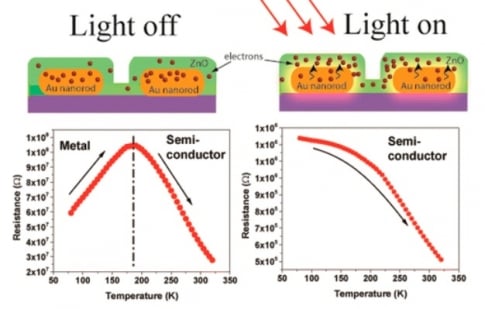 When light excites electrons in the gold nanorods,
they turn the zinc oxide layer into a semiconductor.
Image: ACS Applied Materials & Interfaces
As well as a sensor application, Banerjee believes the technology could be useful in solar cells. His next work will focus on determining whether the colour of the light changes the semiconductor properties. ®
Sponsored: Webcast: Ransomware has gone nuclear