This article is more than 1 year old
Reelin' in the years: Tracking the history of magnetic tape
Part One: From wheels of steel to ribbons of rust
Deliberate bias
The early 20th Century became littered with experiments in sound recording, where magnetic (rather than mechanical) techniques flourished. The recorders were typically built around wire or solid metal tape formats and there are far too many to list here. Yet for a taster, check out the Audio Engineering Society's historical section which features extracts from the work of Semi Joseph Begun – an innovator in tape recording – whose 1949 book Magnetic Recording: the ups and downs of a pioneer documents the development of the early recorders.
Valdemar Poulsen telegraphon recorder
Source: Deutsches Museum, München
The relatively low output and issues with the signal to noise ratio rather stilted the acceptance of magnetic recording – although Poulsen's patents in the hands of American Telegraphone Company found favour as dictation machines. The development of valves (vacuum tubes) for amplification and the application of AC bias improved matters enormously. The latter hailed from the US Naval Research Laboratory, being an invention of W.L. Carlson and G.W. Carpenter in 1921 that other inventors around the world would discover or revisit over the following 20 years with Walter Weber being a notable developer of this technique.
AC bias adds an inaudible high frequency (typically from 40kHz to 260kHz) to the audio signal. Its presence helps overcome the inherent resistance magnetic media has to becoming magnetised – a non-linear response – and this allows recording to occur on the more linear region. If you want to brush up on your physics, you can read more about hysteresis loops and coercivity here [PDF].
The extreme usage of AC bias current can either minimise distortion (highest bias) or deliver a broader frequency response (lowest bias). Pro audio gear always errs towards the low distortion option – the old Otari MTR-90 studio multitrack had a bias frequency of 257kHz – whereas consumer products, such as the compact cassette, work on a compromise setting of around 70kHz-105kHz. With magnetising recordings now a pushover thanks to AC bias and amplification able to demonstrate these improvements still further, the remaining area in need of refinement was the media itself.
The BBC's reels of steel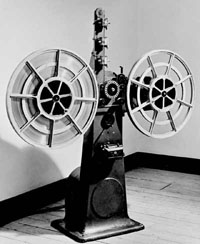 The Blattnerphone: steel tape and DC bias
DC bias had been tried without the same level of success on machines including the Blattnerphone which was to become the BBC's first tape recorder following trials in September 1930. The corporation was keen to find ways to repeat new broadcasts throughout the day in different time zones for its forthcoming Empire Service. The machine had reels of steel tape 6mm wide and 0.08mm thick that weighed 21lbs and would run at 60ips, clocking up 20 minutes of recording time. This potentially lethal razor tape required careful handling and although the BBC had two in service by 1932, the Blattnerphone was only considered suitable for speech. A home-made 3mm British Blattnerphone appeared but was mechanically noisy and suffered speed fluctuations, despite being more reliable and better built.
So when Marconi bought the rights to the Blattnerphone, the BBC requested a redesign that would feature a direct drive with a swift run-up time, fast rewind and quieter operation. The Marconi-Stille recorder was the result that, according to BBC engineering landmark listings, was bought into service in 1934. It continued to use 3mm steel ribbon yet introduced two tape reservoirs, which in combination with three motors driving feed, speed and reel take-up, facilitated the fast start the BBC needed.
Edits could be performed on the tape – a spot welder was built in – yet increased the chances of breakages. Too many edits could even damage the dual pole heads as the joins in the tape rolled past. The Swedish-made steel tape, containing chromium and tungsten, was hardened, polished and supplied in 1000m drums. The BBC would join them together to create 2700m reels giving 30 minutes of playback time. These were so heavy, weighing in at 15kg, that two people were needed to change them – using a block and tackle was a serious consideration.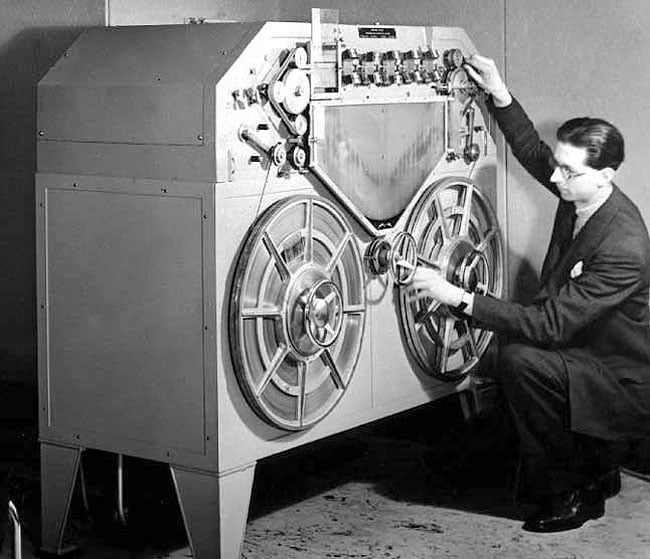 Marconi-Stille steel tape recorder
The aim was to produce a recorder with a 45dB signal to noise ratio (SNR), but as the BBC's own R&D report from 1937 shows, getting figures of a 35dB SNR appeared to be a good achievement, along with a frequency response of 50Hz to 5kHz, ±2dB.
The broadcaster continued to use the Marconi-Stille recorder into the 1950s but given its double speed rewind, that spooled this razor ribbon at 120ips, these wheels of steel were kept in machine rooms for self evident safety reasons. For a fascinating exploration of these recorders then look no futher than Roger Beckwith's Old BBC Radio Broadcasting Equipment and Memories site.