Smartwatch news: Sleek-but-vaporous timepiece promised by... NISSAN?
Concept timepiece for folk who fear aquaplaning off the social networking motorway
Watch out, Apple. Step aside, Samsung. Push off, Pebble. Here comes the latest contender in the smartwatch wrist-grab: er, Nissan.
The car maker today pledged to be the first company to tie a smartwatch into a car's telematics and entertainment systems.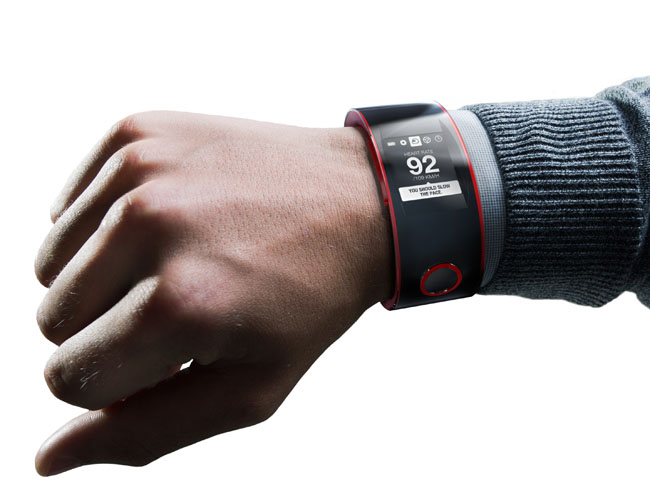 Nissan's Nismo Watch concept:
Designed "specifically for drivers of Nissan Nismo cars", the watch "will allow drivers to monitor the efficiency of their vehicle with average speed and fuel consumption readings; access vehicle telematics and performance data while on track; capture biometric data via a heart rate monitor; and connect to the car using a smartphone app via Bluetooth Low Energy", Nissan eagerly promises.
This seeming technological miracle isn't limited to monitoring your motor's performance. No, it "will also track and rate the user's social performance".
In other words, how well you are outpacing your rivals around that Nürburgring of social standing, Facebook – and, indeed, those other twisty, turny, social-death-awaits-aound-the-bend circuits Twitter, Pinterest and Instagram, all via "Nissan's proprietary Social Speed software".
Heck, it might even tell you the time.
"The watch design was inspired by the Nismo ring and is reflected in a seamless, futuristic and ergonomic design," gushes the press release. "The simple user interface can be controlled by two buttons and is secured onto the driver's wrist via a simple snap-fit mechanism. Even the packaging will have a unique Nismo identity [and be] made using tyres and rubber from the racetrack."
"The Nismo Watch will use a lithium battery and will be charged by micro USB," continues Nissan's canned statement, "with a battery life of over seven days under normal usage conditions." It "will be available in three colours - black, white and the flagship black and red".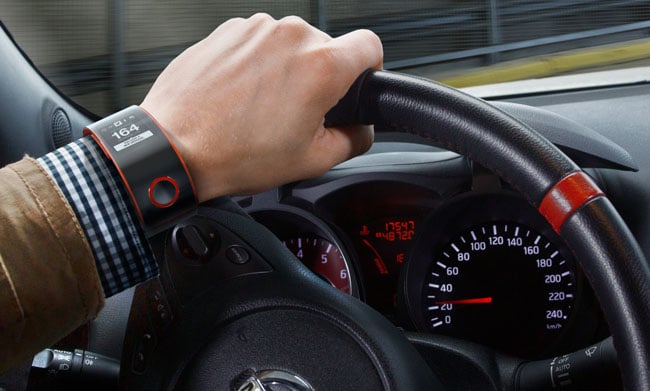 Only hitting 25 miles per hour, but already blazing ahead with 164 retweets a second. Go, social boy, go!
You'll notice, of course, the large number of times the word "will" appears in these quotations, rather than "does". The Nismo watch, you see, turns out to be little more than a concept product of the kind car makers love to polish up and put under the spotlights for wide-eyed punters, in the hope that it will persuade them that a new Micra, Juke or Note will have the same sex appeal as the sleek one-of-a-kind sportster on show.
The Nismo watch's first outing will be the Frankfurt Motor Show, which starts its engines tomorrow. Perhaps Nissan will then say when the Nismo watch is going to come to market and how much it will set a buyer back–information it couldn't or wouldn't provide today.
Until it does, the Nissan Nismo smartwartch has to be considered as vaporous as the fumes flung out of the car maker's tailpipes. ®