This article is more than 1 year old
Google Nexus 7 2013: Fondledroids, THE 7-inch slab has arrived
Probably the best tablet in the world
Review When Google launched the Asus-built Nexus 7 Android tablet back in August 2012, it dropped a big mean city-raised alleycat among the budget tablet pigeons. Starting at only £160 for the 8GB version, the Nexus 7 offered performance, style and build quality (kind of) at a price that previously had only bought you shoddy no-name tat with a gutless chip and iffy provenance.
It was, not surprisingly, a huge hit. And now, one year on, Google has released a follow-up: a new Nexus 7, again made by Asus. The question is, can lightning strike twice?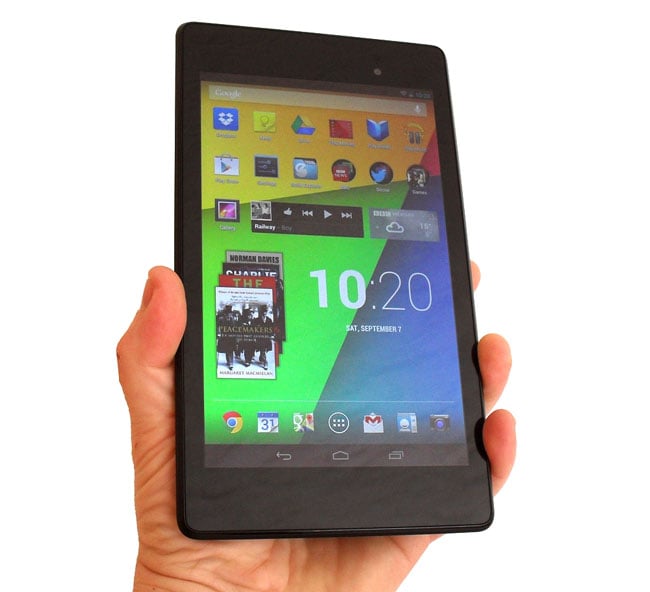 Google's 2013 Nexus 7: easier than ever to use one-handed
As soon as you get the new 7 out of the box and fire it up, it is immediately obvious that this fondleslab is a big improvement in the most important area: the display. The 7-inch screen now has a resolution of 1920 x 1200 rather than 1200 x 800, pushing up the pixel density from 216 dots per inch to 323.
This makes it the sharpest tablet display on the market at any price, let alone for £199 which is that a 16GB Nexus 7 mk.2 will set you back. Spend exactly twice the money on an Apple iPad 4 or a Sony Xperia Z Tablet and you have to make do with 264dpi and 224dpi, respectively, though you do get bigger screens, of course.
Out with the old: the new Nexus 7 (left) alongside its predecessor
The Nexus' screen remains a high-quality IPS LCD affair with a Gorilla Glass cover, so it's tough, bright, supports extended viewing angles and is very colourful. Frankly, it's almost impossible to fault as a display and looks simply spectacular when gaming in high resolution or watching a well-encoded 1080p Blu-ray rips.
For its second coming, the Nexus 7 has also been put on a diet. The original weighed 340g, the new one just 290g. Fifty grams may not sound much but it is if you regularly use your tablet as an ebook reader. It is also the best part of 2mm thinner and 6mm narrower which makes it much easier to hold in one hand. The back is made from a new soft-feel polycarbonate which feels very comfortable to the touch.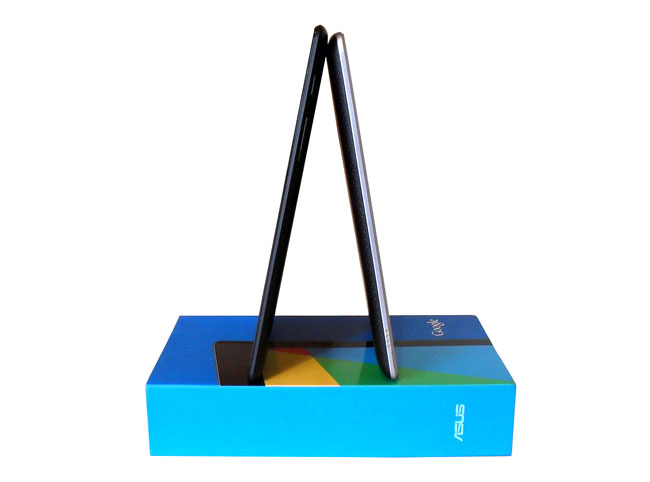 The new Nexus 7 is thinner than the old one (right)
Taken in the round, the 7 is now without doubt a more solid, better quality device. On a purely aesthetic basis, it looks and feels more like a unibody design rather than something put together from separate parts with screws and glue. That's thanks to the removal of the silver band that previously separated back and front.
My only regret is that the power and volume controls are still a little too close together on the right side. Inadvertently pressing the former when you are fumbling for the latter is all too easy.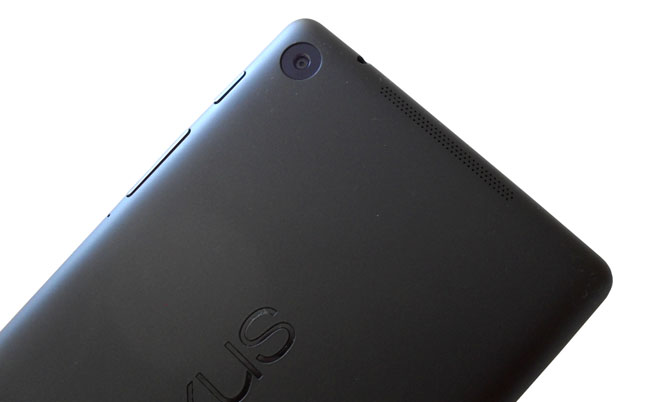 The new 5MP main camera and, right at the top, one of the stereo speakers
While the first Nexus 7 only had a 1.2MP webcam, the new model adds a 5MP main camera to the mix. How much use a camera on a tablet actually is remains a matter for discussion, but I reckon it's better to have one and not need it than the other way around.
Certainly, I'm seeing more and more folk out and about holding up tablets to take the kind of pictures they'd once have snapped on a compact camera or a phone. As 5MP cameras go, the Nexus 7's shooter isn't at all bad and can record video at 1080p at 30f/s, though there's no LED flash.