This article is more than 1 year old
Google Nexus 7 2013: Fondledroids, THE 7-inch slab has arrived
Probably the best tablet in the world
Improvement all round
One of the major problems with the first Nexus 7 was the wholly wretched loudspeaker. Thankfully the new incarnation features two speakers wired up to a surround sound system designed by Fraunhofer, the folk behind the MP3 audio format. The new speaker arrangement is a massive improvement on the old. It pumps out ample volume and wallop, though it still sounds a bit puny alongside an HTC One.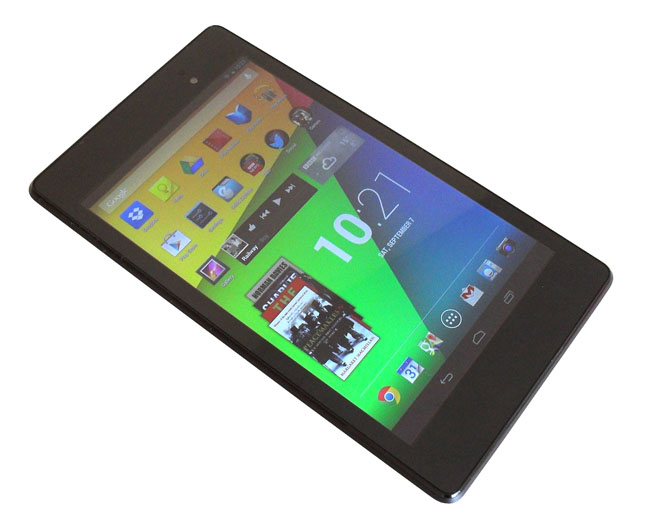 Could almost be a unibody
There's no need to talk too much about the operating system because, being a Nexus-branded device, it runs unadulterated Android - now version 4.3 - and updates are rolled out directly from Google not from the manufacturer. It's worth mentioning here how much Android has evolved in the last 18 months. If you only know it from its two-point-something days you will be stunned to see how it has come on in terms of features, design and usability.
The most notable changes to Android 4.3 include improved multi-user support with the introduction of restricted profiles; spiced-up notifications; and support for OpenGL ES 3.0 for improved graphics. These aren't the sort of headline-grabbing improvements we saw in Ice Cream Sandwich and Jelly Bean, but Android is getting more mature so that is only to be expected.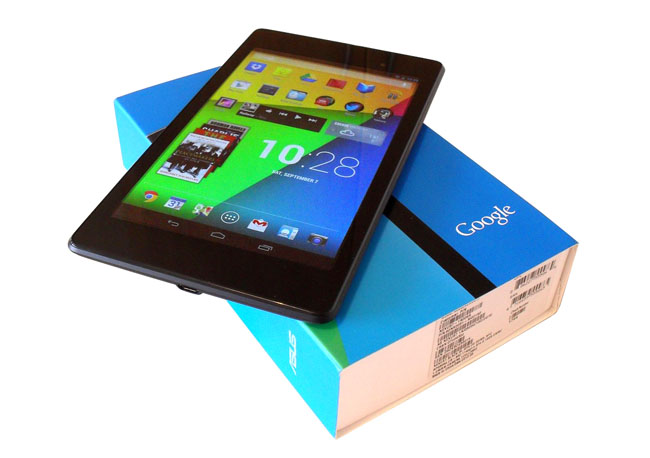 There's still a Micro USB port on the bottom, but it's not On-The-Go
Inside the new Nexus you'll find that the old model's Nvidia Tegra 3 chipset has been replaced by a Qualcomm Snapdragon S4 Pro component with a quad-core 1.5GHz Krait CPU, 2GB of Ram and an Adreno 320 graphics processor. It's a combination that makes the new Nexus 7 as fast and as powerful as any tablet on the market, including the likes of the iPad 4, Google's own Nexus 10 and the Xperia Tablet Z.
One thing that hasn't changed is the absence of a memory card slot, and the Micro USB port still doesn't support On-The-Go USB hosting. Those are aggravating and wholly unnecessary omissions in my book. Wireless connectivity is bang on the money, though, with dual-band 802.11n Wi-Fi and Bluetooth 4.0. Qi-standard wireless charging is supported too, as is NFC touch-to-share data exchange.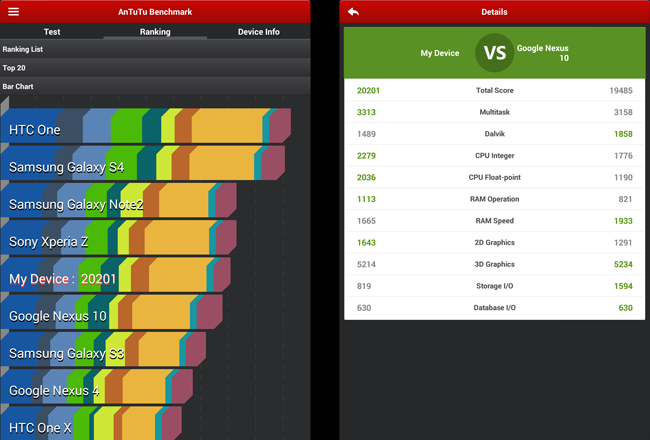 Benchmark results: not bad performance for a 200 quid tablet
Making the 2013 Nexus 7 thinner than than the 2012 model has had an impact on battery capacity which has dropped from 4325mAh to 3950mAh. But thanks to the more efficient chipset you can expect to see broadly similar times between trips to the wall socket. Looping a 720p MP4 video file with the screen brightness set at 50 per cent drained the battery in just shy of eight hours.
I've already touched on the matter of price but it warrants repeating: the 16GB device only costs £199, the 32GB model £239. No matter which way you look at it this is exceptional value. At the time of writing, a Play Store price or release date has yet to announced for the 32GB LTE model though O2 will apparently be selling it for the £320 later this month. As I understand it, the LTE-model doesn't support cellular voice calls which is a shame. If it did, it could replace your phone and tablet and be the ultimate Very Large Phone™.
The Reg Verdict
The new Nexus 7 once again redefines how much tablet you can expect for under two hundred quid, just as the original did. In every single measurable way the new model is a big step forward from the old, being smaller, lighter, more powerful and possessed of a much improved display.
Despite one single niggle - there's still no physical storage expansion - the Nexus 7 still easily deserves the title of the Best Tablet in the World. ®

Google Nexus 7 2013: Fondledroids, THE 7-inch slab has arrived
Google takes its near-perfect seven-inch slate and makes it better. An ideal tablet if you don't need removable storage.
Price:
£199 (16GB),£239 (32GB), £319 (32GB LTE) RRP