Microsoft will launch the second generation of its Surface fondleslabs at an invitation-only event to be held in New York City on September 23.
The company teased the event with invites emailed to media on Monday that gave few details, other than making very plain that Surface will be in the limelight. Even the invitation's text is designed to look as if it had been typed onto the screen of a Surface tablet.
At a glance, the slab pictured looks identical to the Surface Pro tablets you can buy today, but that's in keeping with what we think we know about Redmond's future fondleslab plans.
If the whispers we've been hearing are true, Microsoft will be announcing revamped versions of both its Intel-powered Surface Pro slab and the ARM-based version running Windows RT, although the latter will now be known simply as Surface, rather than Surface RT.
On the outside, both tablets are expected to be virtually identical to the earlier generation, except that they are believed to include a two-position kickstand on their displays instead of the last generation's single-position one.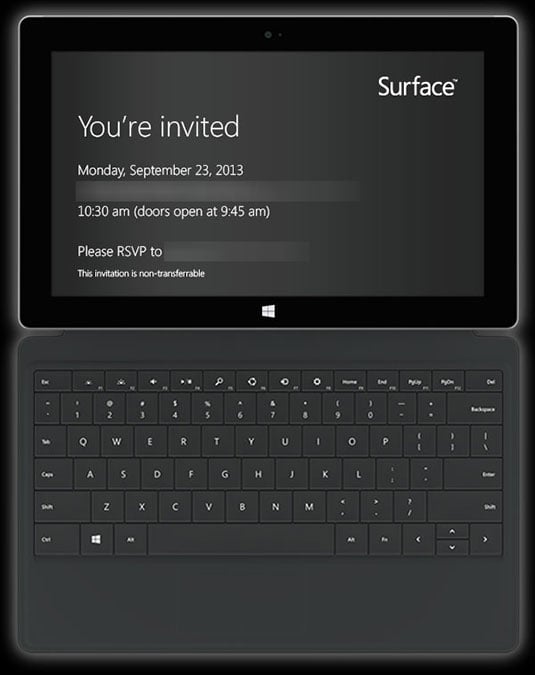 What's new with Surface? Microsoft's emailed invitation offers few hints
On the inside, both tablets will receive the typical set of upgrades, including faster processors, more RAM, and longer battery life.
One thing we haven't heard much about lately, on the other hand, is the rumored "Surface Mini" that is expected to ship with a seven-to-nine-inch display. Most Redmond-watchers now seem to feel that such a device will not be on deck for the September event, but you never know.
The new Surface Pro will almost certainly ship with Windows 8.1, which was made available as a download for developers on Monday and will be released to general availability on October 18. Whether the nearly four-week gap between that date and the date of the Surface launch event in New York means the new tablets won't actually ship until later in the year is unclear.
As usual, The Reg will keep you updated with more detail as they appear and we'll have the full scoop on Microsoft's new tablets after the September 23 event. ®
Similar topics