New iPhones: C certainly DOESN'T stand for 'Cheap'
'Unapologetically plastic' 5C, 'desktop-class' 5S
Analysis You wanted new iPhones and you got them. But if anything, the most surprising thing about Apple's big Tuesday reveal was just how little it managed to keep secret from the tech media ahead of the event.
As predicted, Cupertino unveiled not one but two new iPhone models – a first – and just like everyone thought, they are named the iPhone 5C and the iPhone 5S.
The iPhone 5S is Apple's new flagship model. In fact, Apple marketing head Phil Schiller described it as "the most forward-thinking phone we've ever created." That might be a bit of an overstatement in our estimation, but it is a significant upgrade.
The iPhone 5C is less groundbreaking, in more than one sense. It replaces the iPhone 5 in Apple's handset roster and it cleaves pretty closely to that phone's feature set – except that it's made of plastic and it comes in multiple colors, which we also expected. On the downside, however, it's hardly the rock-bottom-priced, entry-level phone that many were predicting, which could hurt Apple's growth in the all-important developing markets. But let's dive into the specs first.
iPhone 5C: Plastic and proud
Like the original iPhone 5, the iPhone 5C is based on Apple's A6 SoC. It's not immediately clear whether the new model got a performance upgrade, though Schiller did say it features "console-level graphics" – whatever that means. Unlike the earlier model, so far it only comes in 16GB and 32GB models (no more 64GB).
Otherwise, it has a four-inch Retina display with 1136-by-640 resolution at 326ppi, with the same brightness and contrast as the iPhone 5. It has an 8MP iSight camera and a 1.2MP FaceTime camera featuring slight improvements to the old one. In short, most of its features seem nearly identical to the iPhone 5's.
The iPhone 5C does feature a slightly larger battery than the iPhone 5, but that only seems to have boosted the advertised standby time from 225 hours to 250 hours, and lengthened the amount of LTE browsing time slightly; other power consumption figures are unchanged.
The main thing that has changed is the iPhone 5C's new body, which Schiller described as "beautifully, unapologetically plastic." It's manufactured from a single piece of hardened polycarbonate and is available in five colors: white, pink, yellow, blue, and green.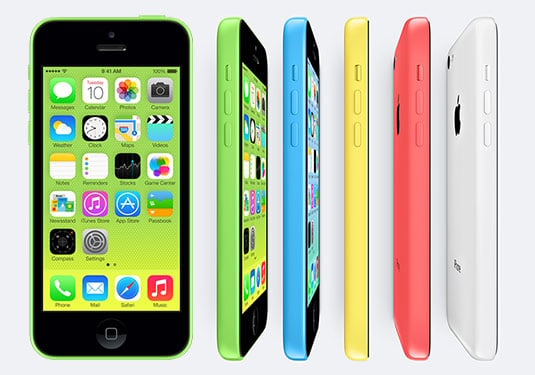 The iPhone 5C comes in your choice of colors, as long as you like green, blue, yellow, pink, or white
Soft-touch silicone cases are also available in all of the same colors, plus black, allowing you to mix and match Apple's fruity flavors however you like.
Schiller stressed that despite the switch to plastic, Apple is still being environmentally conscious in its manufacturing. The iPhone 5C, he said, is "highly recyclable," featuring arsenic-free glass, a mercury-free display, and plastics that contain no brominated flame retardant (BFR) or polyvinyl chloride (PVC).
So what we have in the iPhone 5C, then, is essentially a plastic version of the iPhone 5 – and that's reflected in its cost. Pricing with a two-year contract will be $99 for a 16GB version and $199 for a 32GB version, which isn't a whole lot cheaper than some of the discounts big-box retailers have been offering on the original iPhone 5 lately.
Unlocked versions without a contract will be more expensive – $549 for 16GB and $649 for 32GB, according to Apple's website.
Those aren't really bad prices for a modern smartphone, but they aren't great prices for budget-conscious consumers, either. They aren't likely to lure many customers who otherwise have their eyes on cut-rate Android handsets or the low end of Nokia's Lumia line.
On the other hand, although Apple has halted sales of the old iPhone 5, it's keeping the 8GB iPhone 4S around and it will now be free with a two-year contract. So Cupertino is moving to embrace the low end, but cautiously, and the iPhone 5C may not be the game-changer we were thinking it could be.