New iPhones: C certainly DOESN'T stand for 'Cheap'
'Unapologetically plastic' 5C, 'desktop-class' 5S
---
iPhone 5S: Yes, it comes in gold, but that's not all
More attractive than the iPhone 5C to customers in developed markets will be the iPhone 5S, which replaces the iPhone 5 as Apple's top-end handset. Externally, it even looks the same as the iPhone 5. Except for the choice of silver, gold (not "Champagne"), or "space gray" – the new black, so to speak – its body styling appears unchanged. The important changes are all under the hood.
Most significant is that this will be the first device based on Apple's latest SoC, the A7. Featuring more than 1 billion transistors on a 102mm2 die, the new chip claims to offer CPU performance up to twice as fast as the A6.
Schiller boasted that the A7 is based on a "desktop-class architecture" with a "modern instruction set" – which we take to mean ARM's new A64 code – and includes twice as many general-purpose registers and twice as many floating-point registers than earlier designs.
It also makes the iPhone 5S the first smartphone to ship with a 64-bit processor, though just how much benefit 64-bit addressing brings to a mobile device isn't plain. Apple says it has already re-engineered much of iOS 7 to be 64-bit and that developers shouldn't have much trouble recompiling their own apps, but the 5S will still run 32-bit apps also.
Sharing the A7 die is a new graphics processor that supports OpenGL ES 3.0, which Schiller said delivered 56 times the graphics performance of the original iPhone.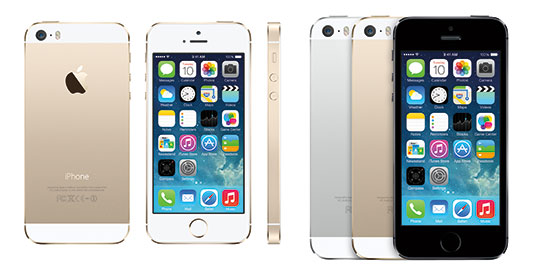 The iPhone 5S looks like an iPhone, only with optional gold (and some serious upgrades underneath)
Another new component is the M7, which Schiller described as a "motion coprocessor." That's as in physical motion, rather than onscreen motion; the chip works with the accelerometer, gyroscope, compass, and other sensors to track how you move throughout the day, and to provide support for fitness apps. There was no mention of an iWatch at Tuesday's event, but this was the biggest hint yet that something along those lines is almost certainly on the way.
One particularly welcome upgrade is the iPhone 5S's new rear-facing iSight camera, which has been improved in almost every way. It now features a new, Apple-designed lens with an f/2.2 aperture and a 15 per cent larger image sensor, plus a flash with two LEDs – one cold, one warm – that can choose from 1,000 possible color temperatures to best match the environment.
The camera now features auto image stabilization, which it achieves by taking multiple shots in quick succession and finding the sharpest one. It can also shoot bursts of still shots at 10fps, record panoramas at 28fps, and shoot 720p HD video in 120fps slow motion, in addition to shooting standard 1080p video at 30fps.
Finally, as expected, the iPhone 5S introduces the fruit of Apple's acquisition of AuthenTec in 2012. Below the new device's Home button is a fingerprint sensor that can be used both to activate the phone and to make purchases on iTunes (so mind whose fingerprints you register). The scanner supports multiple users, and Schiller made a point of mentioning that the fingerprint data is stored encrypted on the A7 chip and is never sent to Apple's servers.
Interestingly, even given all of these features, Cupertino's stated battery life for the iPhone 5S is identical to that of the iPhone 5C.
So how much will all this set you back? Not too much, as it turns out, especially if you're the type that pounced on previous iPhone launches. With a two-year contract, an iPhone 5S with 16GB of storage will go for $199, 32GB will cost $299, and 64GB will cost $399. Without a contract, those prices go up to $649, $749, and $849, respectively.
Can these phones take China?
The original iPhone 5 may be gone from Apple's online store, but the new models will be here soon enough. Preorders for the iPhone 5C will begin on Friday, September 13, and both new designs will be available in stores beginning on September 20.
The new phones will launch in the US, Australia, Canada, France, Germany, Hong Kong, Japan, Puerto Rico, Singapore, the UK, and (yes) China, although Apple says it plans to sell them in 100 countries through 270 carriers by the end of the year.
Whether the new offerings will be enough to spur interest in Apple's products in the all-important China market, however, remains to be seen. The iPhone 5S follows Cupertino's habit of releasing high-end phones for image-conscious consumers, while the iPhone 5C just doesn't look sufficiently different to the iPhone 5 to attract much attention in a market where Android devices are believed to command as much as a 90 per cent share. And the iPhone 4S, even at a cut-rate price, is starting to show its age.
But as we're starting to see, Apple isn't taking the China challenge lying down. In addition to making the Middle Kingdom one of the launch countries for its latest iPhones for the first time, it has planned a separate media event to announce the new devices to the Chinese market, to take place in Beijing on Wednesday. That event is widely expected to be a rehash of Tuesday's keynotes, but Chinese response to the announcements will be closely observed by Apple, its competitors, and market watchers alike.
Somewhat ominously, reaction on Wall Street has so far been listless. Apple's share price hovered around the previous day's level during Tuesday's keynote and shortly after, only to dip 2.29 per cent by the closing bell and floundered in after-hours trading. ®