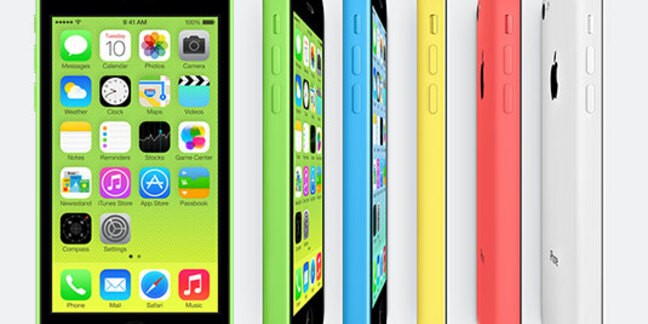 Apple's newest iPhones have surprised the world with premium pricing, but that premium is even more noticeable in Australia, where punters will be asked to pay more than US shoppers, even once one takes into account exchange rates.
The Reg looked at prices for unlocked handsets, recorded on Apple's website. We checked out the US page for the iPhone S and the Australian page for the iPhone S, plus the US page for the iPhone C and the Australian iPhone C. One thing to note: the unlocked iPhones offered on T-Mobile in the USA aren't LTE-capable, so they are lesser beasts. We may not therefore be comparing, pardon the pun, apples with apples. Whether the inclusion of a 4G radio justifies the price differences you'll see below is for you, dear reader, to decide.
We added ten per cent to the US prices, to reflect the fact that US punters pay sales tax and the fact that a ten per cent goods and services tax is embedded in the Australian prices. Once we had the US price plus ten percent, we divided it by .93, as one Australian dollar currently buys 93 US cents. Just to be sure, we also popped our adjusted US dollar price into the currency converter at xe.com The results, as shown in the table below, are ugly: each new iPhone costs at least $AUD90 more than it ought.
| Iphonemodel | $US Price | $AUD price | $US price + GST at 10% | Adjusted $US price at current exchange rate of $USD1=$AUD0.93 | Local difference |
| --- | --- | --- | --- | --- | --- |
| 5c 16GB | $549.00 | $739.00 | $603.90 | $649.35 | $89.65 |
| 5c 32GB | $649.00 | $869.00 | $713.90 | $767.63 | $101.37 |
| 5s 16GB | $649.00 | $869.00 | $713.90 | $767.63 | $101.37 |
| 5s32 GB | $749.00 | $999.00 | $823.90 | $885.91 | $113.09 |
| 5s 64GB | $849.00 | $1,129.00 | $933.90 | $1,004.19 | $124.81 |
When Apple fronted Australia's parliamentary inquiry into IT prices, its local supremo Tony King gave a decent account of why some local prices are higher than those overseas. Vulture South will ask Apple what's made for this blowout, but doesn't expect a swift or satisfying response. ®
Sponsored: Ransomware has gone nuclear