Storage firms, tremble: MASSIVE tech beast Cisco has just spaffed $415m on Whiptail
Flash array startup slurp means tech behemoth's got a new gig
Cisco intends to buy all-flash array startup Whiptail for the huge cash sum of $415m, catapulting the networking giant full tilt into the storage market and threatening its close relationship with EMC.
John Chambers' networking giant declares: "Whiptail will strengthen Cisco's Unified Computing System (UCS) strategy and enhance application performance by integrating scalable solid state memory into the UCS's fabric computing architecture."
It reckons that making storage faster and bringing it closer to its servers will speed applications such as virtual desktops and data analytics.
Cisco said it "is evolving the UCS architecture by integrating data acceleration capability into the compute layer. Integrating Whiptail's memory systems with UCS at a hardware and manageability level will simplify customers' data centre environments by delivering the required performance in a fraction of the data centre floor space with unified management for provisioning and administration."
Whiptail has ACCELLA and INVICTA all-flash arrays for enterprises and the WT-1100 for small and medium businesses. It competes with other all-flash array startups such as Kaminario with its K2 product, Nimbus Data, Pure Storage, Skyera, SolidFire with its cloud focus, and Violin Memory which has just filed for an IPO.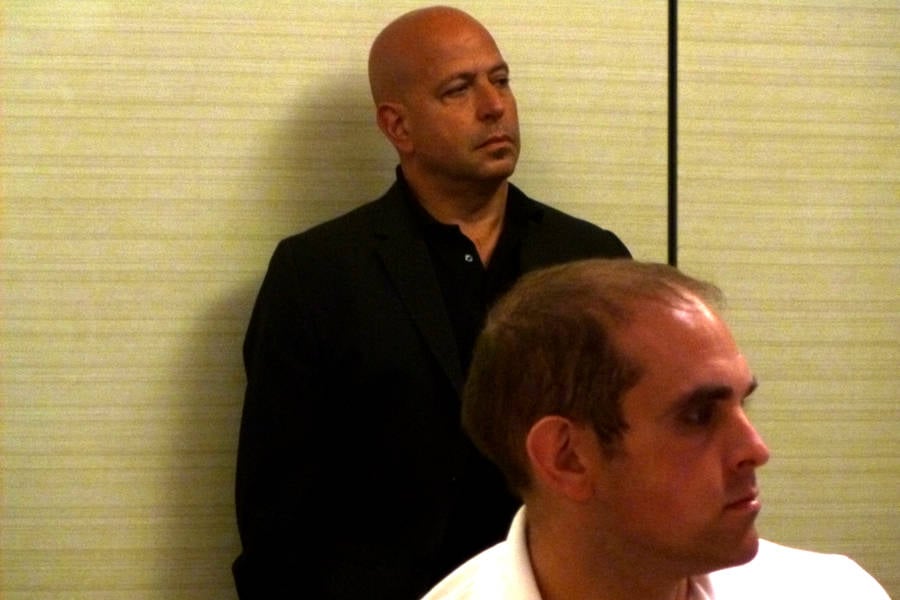 Whiptail CEO Dan Crane (left) and founder James Candelaria (right)
Dell has its all-flash Compellent array variant. HDS has its in-house flash array initiative. HP has its all-flash 3Par 7450. IBM has its acquired TMS flash array technology. NetApp is building its own FlashRay product and EMC has its acquired XtremIO all-flash storage arrays, due to be launched before the end of the year.
Whiptail was founded in Whippany, New Jersey, in 2008 by James Candelaria, currently its chief technology officer. Its funding history looks like this:
December 2012 - $31m with, apparently, Cisco participating as well as SanDisk,
March 2012 - $9.5m in private equity funding,
January 2012 - undisclosed B-round, and
July 2011 - undisclosed A-round.
We estimate that the A-round was up to $15m and the B-round up to $20m, which would put total funding in the $75.5m area, making the $415m purchase price a 500 per cent return for the investors.
EMC and VMware subsidiary partnered with Cisco to create VCE, which supplies converged Vblock systems composed of Cisco servers and networking, VMware's virtualisation software and EMC storage arrays. Recently VMware bought Nicira and has entered the software-defined networking field with NSX, threatening Cisco's networking interests.
The Whiptail purchase could almost be a tit-for-tat move by Cisco. Stifel Nicolaus analyst Aaron Rakers said: "This represents Cisco's first move into the storage array market and thus will likely result in questions over the company's relationship with EMC and NetApp."
A canned quote from Paul Perez, Cisco's VP and GM of the Computing Systems Product Group, said: "We are focused on providing a converged infrastructure including compute, network and high performance solid state that will help address our customers' requirements for next-generation computing environments. As we continue to innovate our unified platform, Whiptail will help realise our vision of scalable persistent memory which is integrated into the server, available as a fabric resource and managed as a globally shared pool."
Who needs Vblocks with Cisco's own converged infrastructure available? Also, we should remember Oracle has its own converged systems to run its software. Will Cisco now look to partner up the stack to bring in business software to run on whatever converged UCS fabric systems are coming and give Oracle a run for its money?
The storage array landscape just underwent a tectonic shift. Cisco is a big hitter, make no mistake, and every other server systems and stand-alone networked storage array supplier has just received a massive competitive shock.
Whiptail's products will now be sold through Cisco's wide channels and heir development will be accelerated with Cisco money and resources.
Cisco's need for storage collaborators – notably, EMC and NetApp – just went down, and both are under notice that Cisco will not require their services for flash storage. Every flash array startup will have to reexamine their strategy and up their game if it's found wanting.
Will Cisco go further and buy a drive array manufacturer? That is unknown. With the promise of cheap TLC flash as a cold storage tier it could well say flash is all we need and disks are just yesterday's technology.
Whiptail's staff will be put into Perez's organisation. The deal should close in the first quarter of 2014. ®