This article is more than 1 year old
TV's goggle gaggle: EVERYBODY'S first with something at consumer tech feast
OLED and HDMI 2.0 rule the 4K roost
IFA 2013 If you're in Berlin and have a tech habit, then IFA, Europe's biggest consumer electronics show, rages on for another couple of days. On display you'll find all manner of things upon which the consumer tech giants want us to focus our spending – even those that may well soon be redundant.
As mobile content viewing explodes, it seems not everyone has woken up to the idea that we don't really need a telly any more. At IFA this year, the manufacturers were keen for us to forgive and forget their early 3D forays and entice us instead with 4K, OLED and curvy TVs. The latter, I'm sure, will go the way of 3D eventually, but let's indulge them for now. Apparently, it doesn't matter where you sit in the room, as we're all going to get a better picture, thanks to the curves.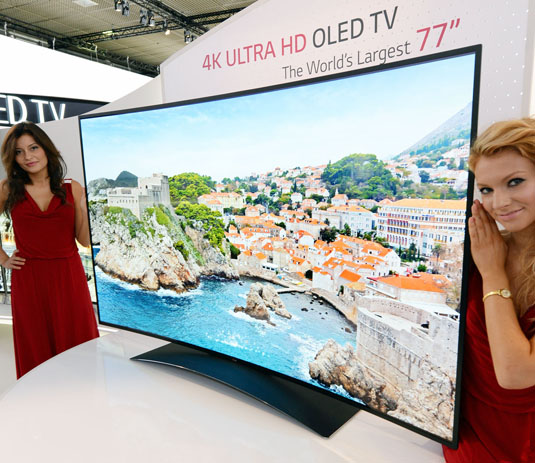 Look at those curves: LG's Ultra HD TV – at 77in, the world's biggest curved OLED telly
There were a number of claims for "World's first... biggest... bestest, blah..." Late in the show, LG announced the biggest OLED TV – a curvy one too. LG reckons its 77-incher delivers an IMAX-style experience. I guess if you sit close enough to it, that's a possibility. It'll be interesting to see if a trend develops to have the sofa just a few feet away from the telly with a small footwell between the two.
Right, so LG has the first 77-inch OLED, but Sony has the first curved LED TV set, which will certainly make it cheaper than any OLED alternative. The Bravia KDL-65S990A is a 65-inch full HD model which will set you back $4,000 in the US where pre-orders are already being taken for delivery in late October. But it was curious to see a 20 per cent price drop on a model only just announced. Was there something else at IFA that made Sony rethink the price on this one?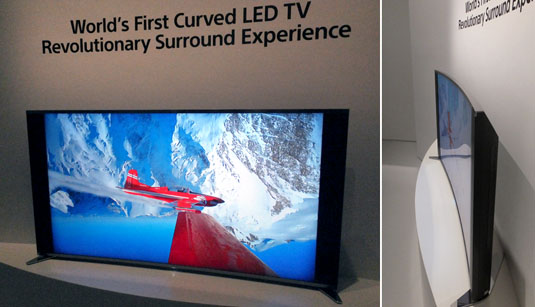 Sony Bravia KDL-65S990 notches up a first as a curved LED HD TV
How about Samsung's 55-inch S9C curved OLED panel? This model was unveiled at CES and is now available to buy in the shops, with John Lewis getting an exclusive here in the UK for the time being – for a mere £6,999. It's a set that has to be seen to be believed and I'm not sure that it's entirely in a good way.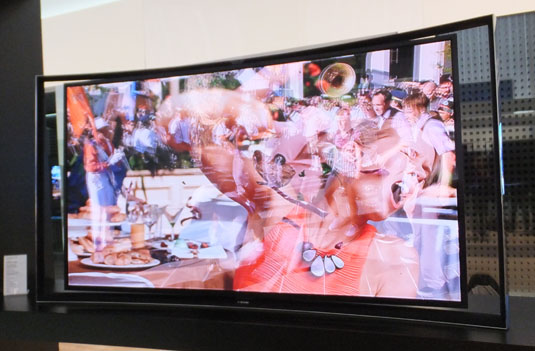 Double fantasy: synchronised specs see one of the two images – tough luck on those without the glasses
Using Active 3D it can generate two independent 3D viewing images. Without glasses you see a mess of two images superimposed. With glasses you see one of the 3D video streams and can switch between them using the specs, which have built in earbuds. And we just love to share earbuds, right? Still, as a silent movie experience goes, seeing this set in action was very impressive with less of that cross-eyed nausea that accompanies 3D viewing in recent years.
Samsung claimed a first with the world's biggest 4K telly, a 110-inch monster which we covered here. A sharp-eyed reader remarked that Panasonic has a 150-inch plasma telly, but that was countered by it not specifically being classed as a UHD TV. Yes, it does seem a bit naughty of Samsung, but that's show business.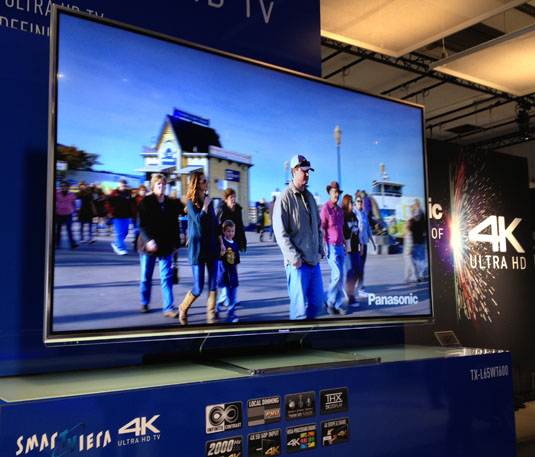 Panasonic claims the first UHD TV set featuring HDMI 2.0 with the Viera TX-LW65WT600
HDMI 2.0 was also making a noise, with all signed up for it and Panasonic actually rolling a set out in time for the show. The 65-inch Viera TX-LW65WT600 is apparently the world's first with this spec, don't you know. You can read more on what improvements HDMI 2.0 promises here.