This article is more than 1 year old
Apple quietly revives iPhone charging and syncing docks
Customer kindness or admission of error?
Apple has quietly reintroduced an iPhone accessory that was discontinued when the iPhone 5 was unveiled last September: the lowly but in some quarters much-missed charging and syncing dock.
Apparently, Apple didn't want to clutter up its Tuesday-morning rollout of the iPhone 5C and 5S with a mention of such a quotidian piece of plastic. Or – if you prefer to be of the Apple-conspiracy mindset – they didn't want to admit to world+dog that they had made a mistake when they ditched a product that had been part of the iPhone "ecosystem" since the original iPhone.
The first iPhone, by the way, came with a dock included in the box; beginning with the iPhone 3G, however, it was sold separately. But when Apple switched from the original 30-pin charge 'n' sync connector to its current Lightning connector with the iPhone 5, the dock was retired – although third-party versions were available from Belkin and others.
Now docks are back, unannounced, in Apple's online store – one for the iPhone 5C and one for the iPhone 5S, which will also accommodate an iPhone 5. Neither are currently available for online order, but Apple says that you can "Visit an Apple Retail Store starting 9/20," the day both phones appear on store shelves, to pick one up for $29.99.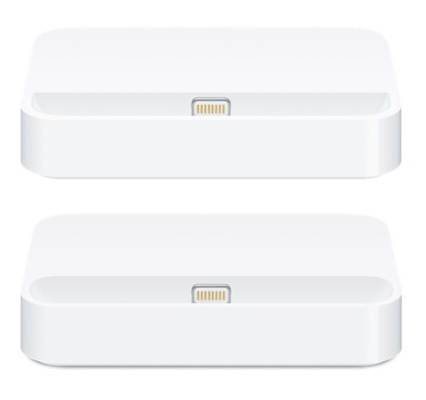 Today's Reg Brain Teaser™ – which dock is for the iPhone 5C, and which is for the iPhone 5S?
Both docks include a 3.5mm audio port for connection to powered speakers, and according to Apple you can also "enjoy clear audio during speakerphone calls thanks to special audio porting," which presumably means that the iPhone's bottom-mounted speakers are not dock-blocked – although from the images on the Apple Store website, it's not clear how that's accomplished.
Unfortunately for the true stylista, however, they're available only in white. So if you're the proud owner of a blue, green, pink, or yellow iPhone 5C, or an iPhone 5S with gold, silver, or "space gray" trimmings, you may have to endure a bit of chromatic dissonance.
Third-party opportunity, anyone? ®