While Pure Storage's $150m funding round and the WD/Virident and Cisco/Whiptail acquisitions take centre stage at the flash fairground thee's lots going on at the side stalls with Fusion-io, Intel, OCZ and sTec.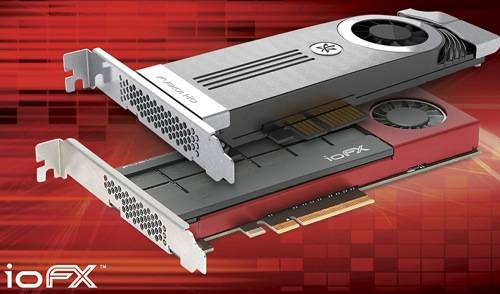 Fusion-io ioFX workstation flash card
HP customers can optionally use Fusion-io's ioFX flash product to accelerate ZBook mobile workstations. The ioFX can be internally configured with a PCIe connection or externally via Thunderbolt. Zbooks are clamshell format notebook computers including an Ultrabook-style configuration, the ZBook 14.
The new ZBook models feature, HP says, "4th Generation Intel Haswell dual- and quad-core processor options and next-generation graphics technologies from NVIDIA and AMD, including the newly announced Keplar-based professional graphics from NVIDIA."
Intel has introduced a so-called Professional Family of business-class PC and notebook SSDs with the first product being the SSD Pro 1500 Series. It comes in 2.5-inch and M.2 form factors and features a capacity point range from 80GB to 480GB, 6Gbit/s SATA interface, random 4K read/write IOPS of up to 41,000/80,000, and sequential read/write speeds up to 540/490MB/sec. These speeds are specified as being out of the box.
The Pro 1500 is built from 20nm MLC flash and features AES 256-bit encryption and an annual failure rate (AFR) of less than 1 per cent. Intel claims competing products are less reliable, having a 5 per cent or greater AFR. It also says the new SSD "is designed to work with the 4th generation Intel Core processors with … vPro technology."
The vPro technology provides remote access for monitoring, maintenance, and management.
Compared to other Intel SSDs the Pro 1500 is a solid random reader and a truly excellent random writer. Its DC (Data Centre) 3500 also uses 20nm MLC NAMD and does 75,000 random read IOPS and a measly 11,500 random write IOPS. Clearly the Pro 1500 has been optimised for writing.
OCZ, the consumer-SSD-company-transforming-to-business-SSD company, will just not simply lay down and die. Its management is struggling like crazy and, so far, successfully, to keep the deeply troubled company afloat. It is showcasing a Z-DRive R4 PCIe-connected flash card with support for the Open Compute Project at the Intel Developer Forum. It is also exhibiting its coming Intrepid 3 SATA III SSD, using its Everest 2 platform, and designed to deliver best-in-class sustained performance and endurance.
OCZ is expanding its Orange County-based research and development centre to develop future enterprise SSDs. Fancy working there? Apply here.
sTec, in the process of being acquired by WD for its HGST unit, has brought out the s260 mSATA SSD, a toughened up product for use in embedded storage applications such as harsh environments. It has a 6Gbit/s SATA interface and works across a temperature range if -40 to 85 degrees C. The mSATA format is less than half the size of the standard 2.5-ich form factor.
They come with fast SLC and less expensive and slower eMLC flash and a 16GB - 200GB capacity range. The warranty periods are three years for eMLC models and five years for the SLC ones. These babies are sampling now. ®