Psst.. Wanna Android all-in-one PC? We have the chip tech, says Intel
Don't worry about Windows, Mac OS X, you know this makes cents
---
IDF13 Intel did its bit for the ongoing "tabletisation" of the desktop PC at its Developer Forum this week: it's encouraging engineers to get cracking on Android-powered "Smart Display" systems to go on sale in 2014.
The chip giant's pitch is that these 17- to 21-inch devices - basically, huge tablets with a keyboard - will appeal to punters accustomed to using Android on phones and small slabs, and who want the same experience on a large machine that anyone at home can use.
In short, an all-in-one computer for web browsing, messaging and watching videos, all powered by Google's Linux-based Android operating system rather than something from Microsoft or Apple.
Intel reckons such systems will ship for between $300 and $400 (£189-£253) and insists that its new Bay Trail desktop platform is the ideal chipset to help vendors hit that price-point.
Bay Trail-D comprises Intel's Celeron J1750 and J1850, and Pentium J2850 system-on-chip silicon, both equipped with 22nm dual-core Silvermont CPUs, an HD Graphics GPU and integrated 6Gbps Sata, USB 3.0 and PCI Express 2.0 I/O.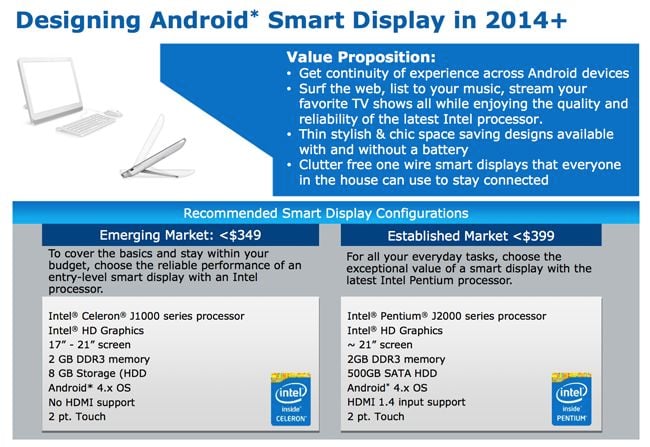 Stick one of those Pentium-brand SoCs inside what is essentially a 21-inch Android tablet with a kickstand - along with a 500GB hard drive and a couple of gigabytes of DDR 3 memory - and you have a typical "established market" Smart Display device: a portable all-in-one desktop that doesn't run Windows. The spec includes HDMI input so you can use the screen as a PC monitor or hook up a set-top box.
Intel offered an alternative suggested specification, this one with a Celeron chip and 8GB of Flash storage but no HDMI, and you have a sub-$349 (£220) Smart Display for developing-world markets.
Indeed, the chip giant sees most growth potential for these systems in emerging markets. It reckons that while the desktop will continue to decline in the developed world, elsewhere a recent dip in demand will be reversed by the arrival of this kind of cheap kit running Android.
Intel isn't the first to pitch the Android Smart Display concept. Monitor maker Viewsonic has tried its hand at this kind of system, as has Asus, but both have come at it from the perspective of making a smarter, more connected monitor, less a desktop machine in its own right.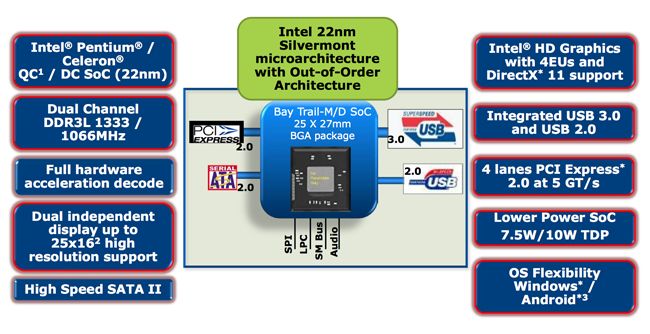 Neither Viewsonic nor Asus - or, indeed, other Smart Display makers - have the clout of Intel when it comes to evangelising new product categories, so we may see more of these kinds of machines coming in 2014 and beyond. Especially if Android smartphone and tablet sales continue to grow, and demand for traditional Windows-based latops and desktops declines even further. ®