IDF13 Day three of the Intel Developer Forum is usually when the firm shows off its future projects and Chipzilla's in-house anthropologist Dr Genevieve Bell took to the keynote stage to demonstrate a processor powered by wine and mobile phones that use your gait or voice as a password.
Bell, who thanks to her Australian outback upbringing is possibly the only Intel executive who knows how to get drinkable water out of a frog (hint: it's not very good for the frog) has been studying some of the problems of mobile computing. Chief among these is power, and Bell demonstrated an extremely low-powered processor and accelerometer that was powered by a glass of wine.
The wine glass had two electrodes that reacted with the acetic acid in red wine to produce a trickle of current. Schoolchildren have been making potato batteries for years in a similar way, but Bell wanted to demonstrate that even a tiny amount of power could run Intel silicon.
"Some people turn water into wine, here at Intel we're turning wine into electricity," Bell said. "It's possible to start to imagine a world of incredibly low power but also with high performance, which will help unburden us, help us do things that are remarkable and gives the ability to power things like constant sensing, communication, and computing – all of which are necessary for our mobile future."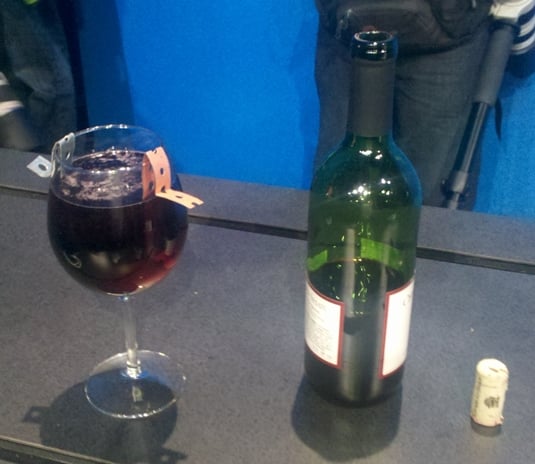 Be careful not to drink your power supply
Bell also demonstrated a couple of ideas for getting rid of passwords for mobiles with Lama Nachman, principal engineer at Intel Labs. The first is a voice recognition system that unlocks the phone when it recognizes the sound of its owner from voiceprints read into the device, which worked fine in the demos but could be problematic in the real, noisy world.
Secondly, Nachman showed how the accelerometers in her handset could be used to record her gait while walking, while was then used to unlock the phone. When Bell tried the same moves with Nachman's phone, the device recognized that there was a high probability that she wasn't the owner and locked the system.
Don't expect to see this sort of stuff in the near future, but Bell said it was technologies like this that will be key to meeting the needs of the world's 4.4 billion mobile phone users. ®