4K-friendly Thunderbolt 2 WILL ship this year, Chipzilla pledges
Apple can't ship 'black bin' Mac Pro until it does
---
IDF13 Chip giant Intel has reiterated its pledge to get a faster version of its Thunderbolt connectivity tech out in time for Christmas and its plethora of high-res vid-streaming kit.
Speaking at Intel Developer Forum this week, Ben Hacker, who does planning for Intel's Client Connectivity Division, said the firm's Falcon Crest Falcon Ridge Thunderbolt 2.0 controller is in production now to "intercept" peripherals and computers coming out in time for the festive season.

Thunderbolt 2 aggregates Thunderbolt 1 channels to (almost) double the bus' performance
Thunderbolt 2.0 is backwards-compatible with Thunderbolt 1.0, using the same cables and connectors hosting the same four - two upstream, two downstream - physical 10Gbps data channels. However, clever tech allows the new controller to aggregate each pair into a bidirectional 20Gbps logical link.
The upshot, said Hacker, is that the effective data transfer speed goes up by 60 per cent. There's clearly a lot bandwidth lost to overhead – doubling the bandwidth delivers a rather less than double the throughput – but it gives Thunderbolt 2.0 the capacity to transfer "cinema quality" 4K video as data and support a 4K DisplayPort monitor at the same time.
To support 4K screens, Thunderbolt 2.0 incorporates the DisplayPort 1.2 spec.
Intel's Falcon Ridge comprises a pair of controller products: one to drive a single port, the other to manage two parallel connectors to deliver two 20Gbps links.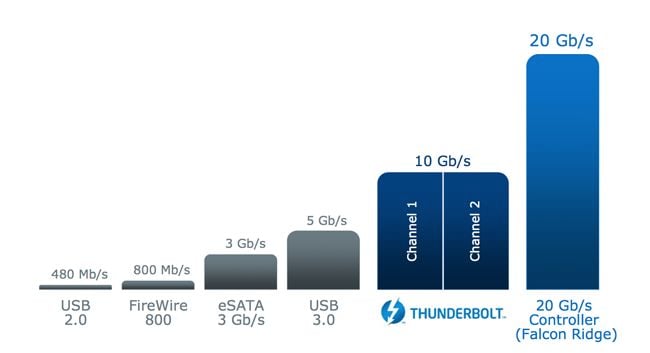 10Gbps USB 3.1 suspiciously absent from Intel's graph
Apple's major Mac Pro revamp – which though broadly announced has yet to be formally launched – got a slice to itself in Hacker's presentation thanks to its integration of Thunderbolt 2.0 behind its six Thunderbolt ports. Apple has already said the wastepaper bin-lookalike Pro will be out "later this year", so it's a fair bet it's waiting on Intel's Falcon Ridge chippery.
Once it's out, it will be able to connect to the 100-plus peripherals – which Hacker said would have certified by the end of the year for their Thunderbolt compatibility. Of course, that figure is dwarfed by the number of USB 3.0 gadgets on sale – now in excess of 1,000 devices, double the number this time last year, according to the USB Implementers' Forum this week.
The USB Implementers Forum is currently pushing USB 3 out from 5Gbps to 10Gbps, as USB 3.1, so Thunderbolt needs the 20Gbps option to retain what little relevancy it has outside of professional applications.
Thunderbolt is undoubtedly the better technology - it's not lumbered by having to have an old standard clamped on for compatibility the way USB 3.0 is, for a start – but bums on seats will undoubtedly win out in the end, VHS-Betamax style. ®