This article is more than 1 year old
Cold-blooded, INHUMAN visitor hitches ride on NASA moon rocket
Green-skinned creature spotted by ground cameras
Recently released footage has revealed that an unexpected traveler hitched a ride during the launch of NASA's LADEE (Lunar Atmosphere and Dust Environment Explorer) rocket last Friday.
A dramatic photo published to the space agency's Instagram feed on Thursday depicts LADEE hurtling into the sky atop a column of flame – and beside it a lone frog, caught mid-leap, buoyed high into the air by the force of the rocket's blast.
"The photo team confirms the frog is real and was captured in a single frame by one of the remote cameras used to photograph the launch," NASA wrote.
The LADEE launch took place at NASA's Wallops Flight Facility located on Wallops Island, Virginia, a portion of which was designated a National Wildlife Refuge on July 10, 1975. The US Fish and Wildlife Service also has an agreement with NASA to use its land for research and management of threatened species.
Most of the surrounding land is salt marsh and woodlands, and is home to a variety of species, particularly such birds as snow geese, snowy egrets, black-crowned night herons, osprey, and great horned owls. And, apparently, frogs.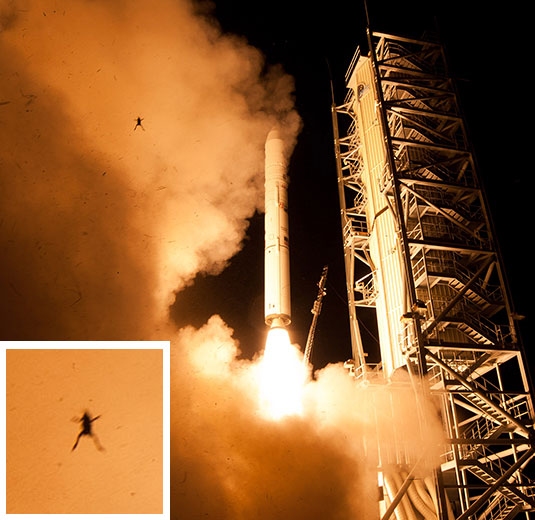 An amphibious astronaut (inset detail) is pushed skyward by LADEE's blast (credit: Chris Perry/NASA)
NASA says it does everything possible to protect the wildlife in the area, and that an event similar to the LADEE frog-launch has never before been recorded.
The LADEE incident isn't actually the closest a frog has gotten to a NASA space mission, however. In September 1992, the Space Shuttle Endeavour took female frogs into space to see how weightlessness affects the growth of tadpoles. Not well, as it turned out – tadpoles hatched in space drowned when they returned to Earth, having developed without a sense of up and down.
Unfortunately, the frog sent skyward by LADEE likely suffered a worse fate. Officially, NASA says the condition of the frog is "uncertain," but NASA photographer Chris Perry told ABC News that the prognosis is not good.
"As much fire as that rocket is putting out, I have to imagine it got injured," Perry said. ®