Review Of the various open source Android challengers currently under development, the Mozilla Foundation's Firefox OS was the first to reach the market with actual, commercially available products. The ZTE Open smartphone is one such product. Unfortunately, that's about all it's got going for it.
When ZTE started selling the Open via eBay in August, I wasted no time ordering one. It was cheap. It was cute. It was orange. And I liked the idea of Firefox OS, a smartphone platform designed from the ground up as an open ecosystem built around the web, where even the phone's dialer and messaging apps are web standards–based.
But the value of a product like a smartphone is in the execution, not the idea. And after fiddling around with the ZTE Open for a couple of weeks, I'm sorry to report that execution is where it strikes out.
Strike One: The hardware
There's no other way to say it: the ZTE Open is a cheaply made phone. Unlike Apple's "unapologetically plastic" iPhone 5c – which turned out to be little other than an iPhone 5 that comes in colors, with a price tag to match – ZTE's Firefox OS mobe practically revels in cheapness. With an $80 list price in the US, it has to.
Its body, though not unpleasant to hold, is all-plastic. It has a 3.5-inch display like the iPhone 4S and has a similarly sized face, but it's chunkier: 12.5mm thick compared to the iPhone 4S's 9.3mm.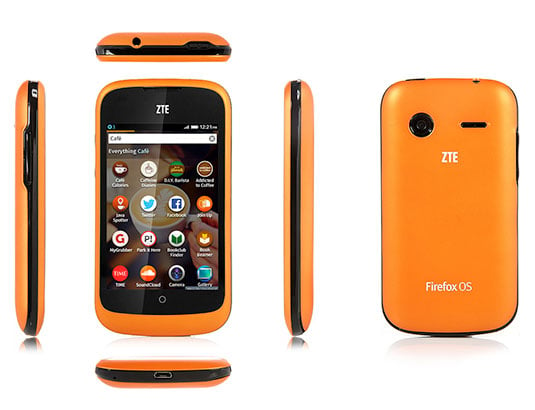 It looks nice and friendly, but it turns out it's one of those really annoying friends
Its small screen helps to keep its weight down, but that's not much consolation once you realize that it's running at 320-by-480 resolution. That's one-fourth the number of pixels as the iPhone 4S's Retina display and the same resolution as the very first iPhone, which shipped in 2007.
Smartphone screens have been getting bigger as more and more customers have been using their phones as a primary device for accessing the web. It seems odd that a brand-new platform built around the web would skimp on screen real estate, but there you have it.
The ZTE Open's internals aren't much by modern smartphone standards, either. It's based on a single-core 1GHz Qualcomm Snapdragon MSM7225A processor with Adreno 200 graphics and has just 512MB of internal storage and 256MB of RAM. Curiously, that's less than the recommended amount of RAM to run Firefox on Android. The result is that while the UI isn't exactly dog slow, it isn't snappy, either.
Other than that, what's there to say about the ZTE Open's hardware? It has a fixed-focus, 3.1MP camera. It has a 3.5mm headphone jack. It supports HSDPA, dual-band 802.11b/g/n Wi-Fi, Bluetooth 2.1, GPS, and FM radio. It takes microSD cards up to 32GB. Stop me when you're overwhelmed.
Not that anyone should expect much more for $80. You know you're getting a low-end phone when you buy in. But the overall package just feels like a throwback to the early days when vendors hadn't figured out what customers want from smartphones, and it's bound to disappoint anyone who isn't upgrading from an even lower-end feature phone.