This article is more than 1 year old
LOHAN Spanish team touches down... to prepare for lift-off
Elite spaceplane team refreshed and ready for action
Our Low Orbit Helium Assisted Navigator (LOHAN) team members touched down in Madrid last Thursday night, and after a few beers and some refreshing kip, were ready to pose for the camera before getting down to spaceplane business.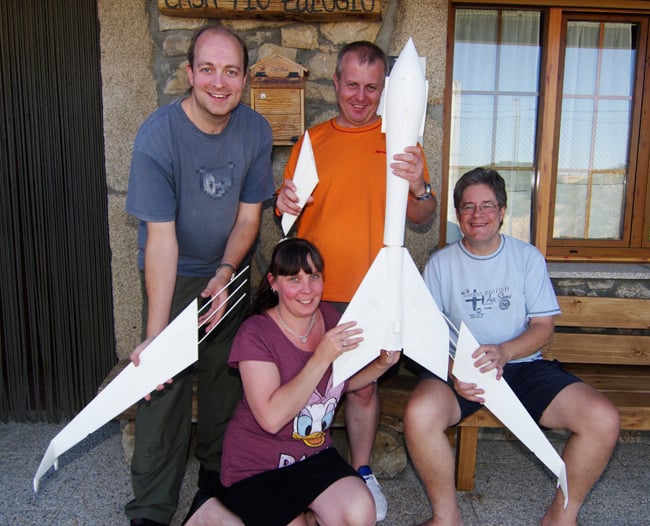 Above (from left to right) we have Rob Eastwood, Claire Edwards, Paul Shackleton and Dave Akerman and Rob Eastwood, fondling the various bits of our magnificent Vulture 2. This motley crew is staying at a temporary SPB headquarters in the village of Navalperal de Tormes, Sierra de Gredos.
I'm very much obliged to my old mate Juanjo – owner of the accommodation and also my local Bar Almanzor in the town of Barco de Avila – for cutting us a tremendous deal on the rental in support of LOHAN.
Regular readers will recall that Juanjo and his missus Begoña have in the past participated in our post-pub nosh deathmatches, so they're well used to mad English blokes and their projects.
Lest we forget, there are two mad English blokes who can't be with us for the coming week – Anthony Stirk and Neil Barnes, seen here on the left and right, respectively, acting as the bread in a Dave Akerman sandwich ahead of our ill-fated Special Project Electronic Altitude Release System (SPEARS) control board test flight last December: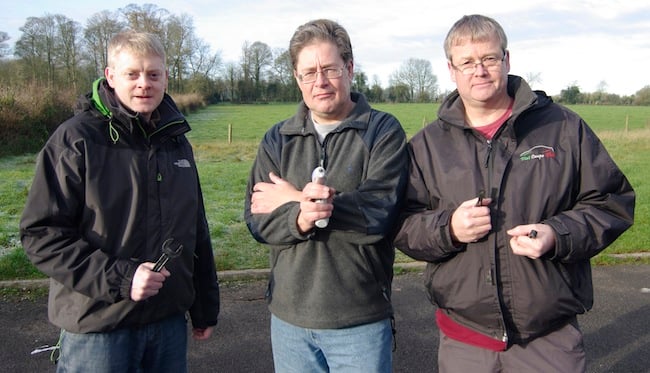 We raised a few cold ones in their honour on Friday, and in acknowledgement of their invaluable and enthusiastic contribution to the LOHAN cause. Neil, you'll recall, is the man behind the aforementioned SPEARS board, while lightweight tracker guru Anthony has provided his PAVA units for the forthcoming tomfoolery.
The first order of business for those of us who are here was to get the Vulture 2 spaceplane operational. This trivial task involved installing the autopilot and control systems, before we could even begin testing.
There's also the small matter of testing a new custom igniter for our spaceplane's rocket motor. Back in July, during our second SPEARS test flight, the wheels came off our cunning E-Match and Plastic Igniter Cord (PIC) plan when the former went bang but the latter failed to deliver.
Weather permitting, we're eyeing a test flight at 1pm BST (12.00 GMT, 8.00 Eastern, 5.00 Pacific, 14.00 CEST) today to make absolutely certain we've cracked this thorny issue, so look out for imminent details on how you can follow the ballocket-based tomfoolery live. ®
---
Further LOHAN resources:
---