This article is more than 1 year old
Stylus counsel: The rise and fall of the Apple Newton MessagePad
20 years on, the story of the handheld that might have changed the world
Archaeologic It will forever be remembered as the butt of a-thousand-and-one jokes about its poor handwriting recognition, but Apple's MessagePad was bold in its conception. Its legacy is ARM's conquest of the mobile microprocessor world.
The company said on 8 August 1993:
The Newton MessagePad is the first in a family of communications assistants from Apple. By combining Newton Intelligence technology with sophisticated communications capabilities, the Newton MessagePads help you stay in touch with friends and colleagues, organize your life, and keep track of your ideas.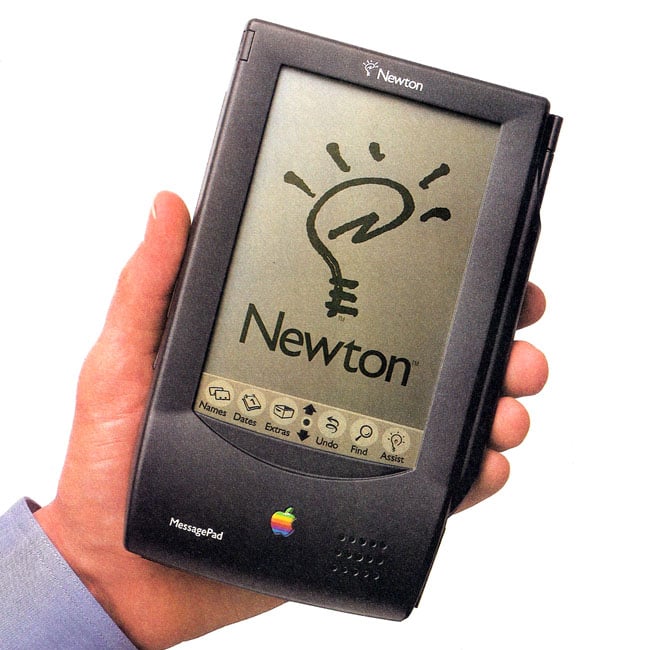 Handheld assistant to hold your hand: Apple's original MessagePad
You can take notes. Make a quick sketch. Format and print letters. Share and synchronize information with your personal computer. Send a fax. Receive pages and messages. Tap into on-line services or electronic mail. Even exchange business cards with a colleague via built-in infrared technology.

And wherever you go, the powerful, under-one-pound personal digital assistant goes too, tucked in your pocket or briefcase.
The MessagePad was priced at $699, and the first 5,000 devices sold out within hours of being made available to buy. Some 50,000 went in the first 10 weeks. It's easy to forget now, but the arrival of the MessagePad, rushed though it may well have been, was a topic of real enthusiasm among not only Mac fans but the broader tech community too.
At the time, notebook computers were chunky, weighty devices priced well beyond the wallets of most users. Palmtops were small and cheap but lacked sophistication and power. Might the much less expensive MessagePad at long last open up the world of mobile computing?
Apple began work on what would become the MessagePad back in the late 1980s. In 1987, Steve Sakoman, an Apple engineer, decided it would be a good idea to make a device capable of interpreting its user's handwriting. Indeed, the user would interact with the gadget entirely with a pen, not a keyboard. The device might share information wirelessly.
Aye, a pad
Sakoman had a well-established interest in mobile computing. He'd been poached by Steve Jobs from HP three years previously on the back of his work developing the HP Portable, though at Apple he'd spent his time overseeing the development of desktop Macs: the Plus, the SE and the II.
With his attention back on a mobile device, Sakoman discussed his "writing reader" notion with former Lotus CEO Mitch Kapor, who proved very receptive to the idea. His ideas validated, Sakoman fleshed out a development project proposal and went knocking on the door of Apple's engineering chief Jean-Louis Gassée, who was also Sakoman's boss. Gassée was also impressed with Sakoman's thinking.
The three men – Kapor's ex-Lotus colleague Jerry Kaplan made a fourth – met to discuss how they might take the project further. The involvement of Kapor and Kaplan, neither of whom were Apple employees, shows there was a clear belief that the way forward was to develop Sakoman's device outside of Apple. Gassée seems to have been particularly keen on this approach. But Sakoman was unwilling to make the break.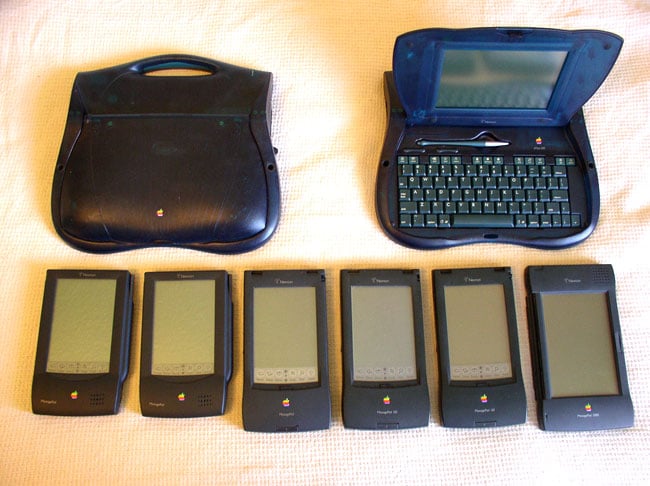 Apple's Newtons: (top) the eMate 300, (bottom) MessagePads original, 100, 110, 120, 130 and 2000
Source: moparx
Gassée's solution was to grant Sakoman the opportunity to pursue the project within Apple, but well away from the efforts of the company's main hardware teams, and without much management oversight. Perhaps his cheeky notion was that if it couldn't be done, Apple would have covered the cost of the evaluation, but if the project proved to be a runner there might still be a chance to establish a new firm to take it to market.
Sakoman's goal was to create his pen-based communication and information-organising device and evolve it to the point where it could be commercialised. He reckoned this process might take up to three years, and might ship for perhaps $2,500. He codenamed the gadget "Newton" after the scientist's appearance in the first Apple logo. As the early work progressed, he pulled in Apple engineering talent to help, among them Glenn Adler and Eric Gruenberg who had both worked with Sakoman at HP and had followed him to Apple. Steve Capps, a member of the team that developed the first Macintosh, came on board too.
Together they and others worked on the A5 notepad-sized hardware Sakoman had originally envisaged, and which he was now calling Newton. They also started writing an operating system to manage the hardware, software to interpret the user's scribbles, and a toolbox to support applications running on top of the OS. Apple had acquired a software company called Arus and got some rudimentary handwriting analysis code. Sakoman's team took that as their starting point, but were soon gifted with algorithms handed to Apple by a band of Russian programmers working behind the Iron Curtain on handwriting recognition.