Will someone think of the children?
The way Grand Theft Auto reversed the moral compass of good versus bad in a game was clearly going to appeal, and it was perhaps DMA Design's trump card for marketing. Plenty of media hoo-ha was generated with many a stern columnist condemning the violent, bloodthirsty action – and PR supremo Max Clifford was apparently employed to stir the gossip pot further.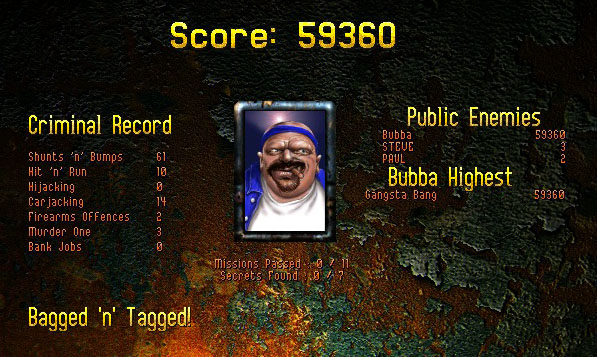 Only firearms offences? Must try harder
What such media attention didn't reveal, of course, was that the violence was slapstick cartoon humour and that numerous semi-intelligent twists were included, elevating GTA out of the bloody gutter it was accused of occupying. DMA must have been pleased when the game ended up with a "content advisory" label – while it obviously sold like hotcakes – and video games in general were one step closer to the PEGI advisories of today.
Another burgeoning coup for the developer was the use of radio stations to create a rolling background soundtrack: steal a different car, a different radio station plays. The police band was worthy of a useful listen too. The music was all original, commissioned especially for GTA, and was another way in which the title could present itself as an older person's gaming experience. No doubt the brilliantly ironic, sarcastic radio adverts and commentary of later titles was given its first glimpse of life here.
DMA Design tried to prolong the success of GTA, releasing two expansion pack titles in 1999, London 1969 and London 1961, complete with historically themed buildings, vehicles and missions. Cars now drove on the left, of course, with plenty of authentic cockney slang included and a James Bond-style character thrown in for good measure.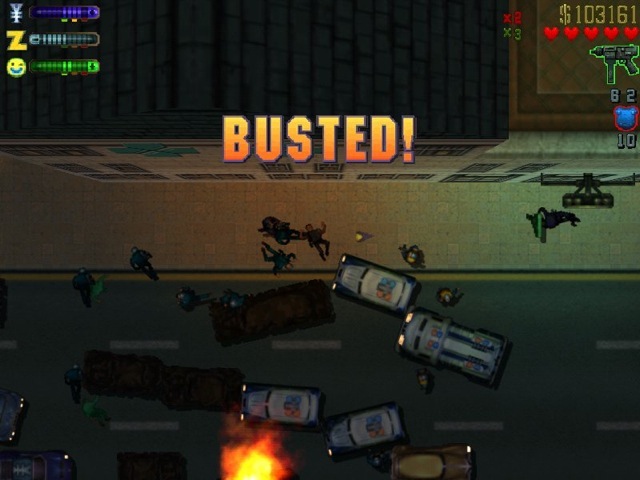 GTA 2: Fun while it lasted...
For any northerners who felt left out, 1961 also featured a death-match map of Manchester, for use in multi-player battles.
Hot Shots! Part Deux
A proper sequel was released later that year, with some worthwhile gameplay adjustments and more polished graphics. This time the action was set in the future – unfortunately a bit of a bland setting overall really, that DMA, in its later guise of Rockstar Games, would seek to rectify in later GTAs with their popular 1970s and 1980s setups.
The sprawling levels of GTA2 contained a total of seven different gangs to fight against and amongst, including the Hare Krishna, making a return appearance from GTA, this time with a huge camper van that they sneakily use to front criminal activity.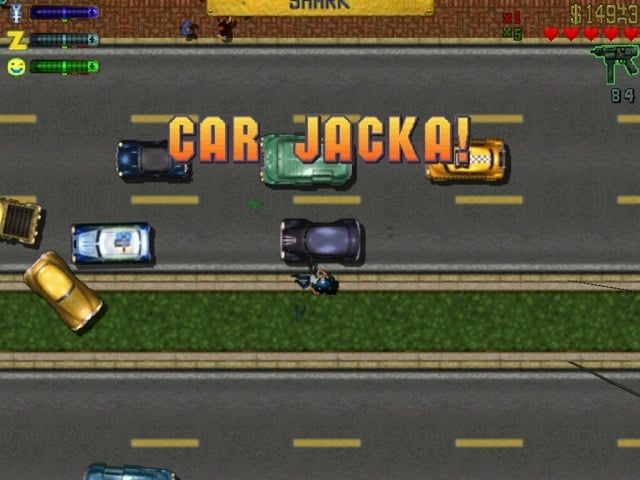 Then again...
Phone boxes now came in three different colours, depending on criminal job difficulty, and "respect" had to be earned to unlock the hardest missions. A well-needed save option was also included, as long as you could find the church and pay $50,000 for the privilege – don't worry, if you steal an ice-cream van you'll be pointed in the right direction, of course!
It's clear that the 2D days of Grand Theft Auto are held in fond regard by Rockstar, with their place in the line-up still proclaimed on its website. And were it not for the canny marketing and controversy of these first titles, no doubt the series wouldn't have flourished in the way it has.
Yet to my mind these early GTA titles should occupy a more important slot in video-game history. For these slick games were some of the first to deliver that same familiar blend of quick-witted, comedy violence as the blockbuster movies that inspired them.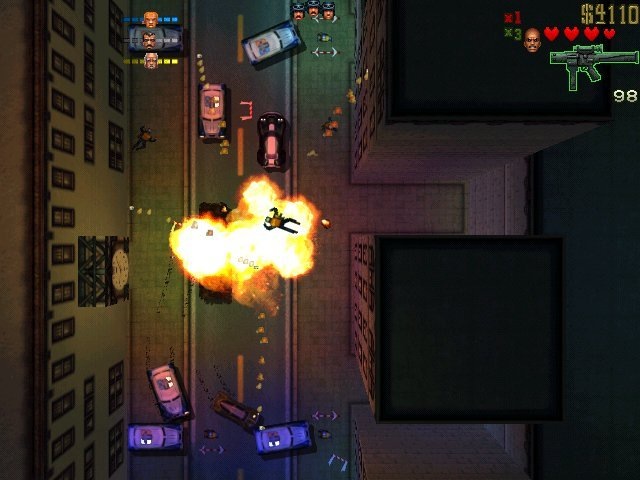 Boom!
So while today's video-game players are all too familiar with witty, black humour and "character" gangsters, it wasn't always the case. GTA and its successors were the first to show that this new, conveniently controversial arena was now very much open for business. ®
Grand Theft Auto
Release 1997
Developer DMA Design
Publisher BMG Interactive
Platforms DOS, Playstation, Game Boy Colour, Windows
Grand Theft Auto 2
Release 1999
Developer Rockstar Games
Publisher Take-Two Interactive
Platforms Playstation, Dreamcast, Game Boy Colour, Windows