Updated Microsoft says that in addition to offering Windows 8.1 as a free update for Windows 8 users in October, it will also be easier for customers to buy versions of Windows 8.1 that don't require an upgrade from a previous edition of the OS.
Redmond launched Windows 8 in October 2012 as essentially an upgrade-only product. "System Builder Editions" of Windows 8 that can be installed on clean hard drives (OEM versions by another name) are available through select online retailers at extra cost, but all of the versions that are offered through retail stores or by direct download can only be used to upgrade existing Windows PCs.
In a blog post on Tuesday, however, Microsoft announced that it will loosen this policy once Windows 8.1 reaches general availability. From that point onward, packaged retail Windows 8.1 DVDs will be "full version software" that can be installed on any computer, whether it has an earlier version of Windows installed or not.
"This shift allows more flexibility for customers in specific technical scenarios and is in response to feedback we've received," Microsoft marketing bigwig Brandon LeBlanc wrote. "It will be easier for those consumers who want to build PCs from scratch, run Windows 8.1 in Virtual Machine (VM) environments, or run Windows 8.1 on a second hard drive partition."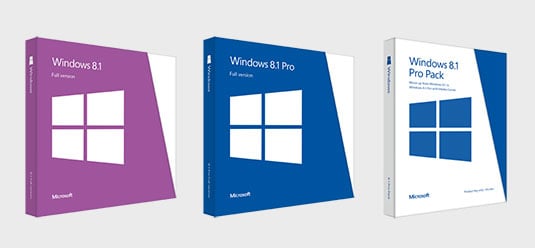 Microsoft has toned down its funky retail packaging for Windows 8.1 to better suit its modern style
The retail Windows 8.1 editions will be priced the same as the relative Windows 8 editions were at launch. In the US, that means a Windows 8.1 DVD will cost $119.99, while a Windows 8.1 Pro DVD – which includes additional, business-oriented features such as Workplace Join and Work Folders – will go for $199.99.
A Windows 8.1 Pro Pack DVD, which can be used to upgrade a PC that came preinstalled with Windows 8.1 to Windows 8.1 Pro with Windows Media Center, will retail for $99.99, the same price as the current Windows 8 Pro Pack. Windows Media Center will also still be available as a $9.99 upgrade for Windows 8.1 Pro.
There does appear to be one other reason for the move to full version software, however. With Windows 8.1, Microsoft no longer wants to fuss around with preserving users' applications, files, and settings when they upgrade. While the Windows 8 Upgrade Assistant could be used to upgrade systems running XP, Vista, or Windows 7, with varying degrees of data fidelity – only upgrades from Windows 7 preserved everything – that changes with Windows 8.1.
The new retail media can only be used on a clean system or to upgrade a system running Windows 7. Upgrades from XP and Vista are no longer supported; customers running those versions must do a clean install. And even Windows 7 customers should expect to re-install all of their applications after upgrading using the Windows 8.1 retail media. Only their files will be preserved.
If that's not acceptable, customers do still have another option – for the time being, at least. They can buy a retail Windows 8 or Windows 8 Pro upgrade today, which will preserve more of their applications, files, and other data, then upgrade to Windows 8.1 through Windows Update when it's released.
Windows 8.1 will be pushed out as a free upgrade to all Windows 8 PCs beginning on October 18, so users of earlier versions could potentially get a good deal if they move now, particularly as retailers liquidate their current stock of Windows 8 media in anticipation of the Windows 8.1 launch. ®
Update
While it's busy readying those Windows 8.1 discs for the retail channel, Microsoft has also made another version of the new OS available to select customers ahead of its formal launch, via the TechNet and MSDN download programs. It shipped the Release to Manufacturing (RTM) builds of Windows 8.1 and Windows 8.1 Pro through those programs earlier this month; on Tuesday it added Windows 8.1 Enterprise RTM to the list.
Volume Licensing customers with an active Software Assurance (SA) agreement can also access these builds for testing, because they receive a TechNet subscription as part of SA. But although current customers will be able to purchase new Windows 8.1 Pro and Enterprise licenses through the Volume Licensing Service Center beginning on October 18, Redmond says new customers will have to wait until November 1 to buy them through Volume Licensing resellers.
An updated chart showing the differences between basic Windows 8.1, Windows 8.1 Pro, and Windows 8.1 Enterprise is available here.