Slumped phone giant BlackBerry has announced its fourth BlackBerry OS 10 mobe: the Z30, a five-inch OLED-touchscreen device.
The display is not all that's big. The new mobe, pictured below right, sports a suitably supersized 2880mAh battery giving 25 hours of "mixed use", and similarly large internal mobile radio antenna, according to the Canadian biz. With stereo speakers, it's aimed at consumers rather than enterprise and public-sector grunts.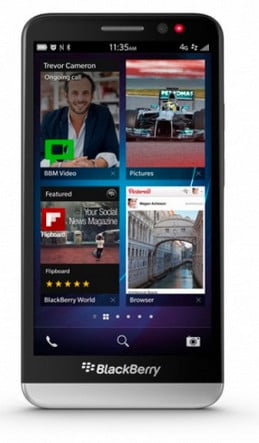 Its screen resolution is 1280 x 720, slightly smaller than the 4.2-inch Z10's 1280 x 768. The Z30 has a display density of 295 pixels per inch, which is lower than the Z10's 356.
Under the hood, the gadget has an ARM-compatible 1.7GHz Qualcomm Snapdragon S4 Pro dual-core processor, 2GB of RAM, an Adreno 320 graphics controller also from Qualcomm, and 16GB of storage plus a microSD slot. Its display is the same size as the Android-powered Samsung Galaxy S4.
This latest phone should be available in mid-October, but no price has been set and for now you'll have to rely on BlackBerry's stock images.
The Z30 will arrive with version 10.2 of the QNX-based OS, which should also seep out to beleaguered Z10, Q5 and Q10 owners by the middle of next month via an over-the-air update. This brings a bunch of much-needed fixes and enhancements, including a new notification system that allows one to fire off message replies in an instant.
There's a site demonstrating the new handset right here.
In June BlackBerry disclosed that it had shifted 2,700,000 BB OS 10 devices into its distribution channel, lower than analysts estimated. In August the company announced it was exploring ways to revive its fortunes, including partnering up with other businesses and ritual dismemberment. ®
Similar topics