This article is more than 1 year old
Open source Android fork Cyanogen becomes $7m company
Plans to build 'world's largest' mobile OS contender
Independent Android firmware project CyanogenMod has become a company, thanks to a $7m Series A financing round led by Silicon Valley venture firms Benchmark Capital and Redpoint Ventures.
The new company, Cyanogen, will be based in Seattle and led by chief exec Kirt McMaster, described as "a Canadian-Californian technology executive with many years of experience in the mobile industry."
Steve Kondik, who founded the Cyanogenmod project and from whose forum handle the names of both the project and the company are derived, will act as chief technology officer.
According to a blog post by Kondik, Cyanogen's funding round actually closed in April, but other than a teaser website that was outed by Android Police in July, all involved have remained mum until now.
"The first thing I wanted to do when I realized we were actually doing this, was tell everyone possible," Kondik wrote. "But when starting a company, you have to think about the larger picture. This meant not announcing until the time was right, our house was in order and we would have something to show."
The first thing Cyanogen has to show is a new, graphical installer that makes it easier to load a stock Android device with a custom CyanogenMod firmware. According to Kondik, that installer will be available in the Google Play store "in the coming weeks" – although the first release, at least, will not support locked devices.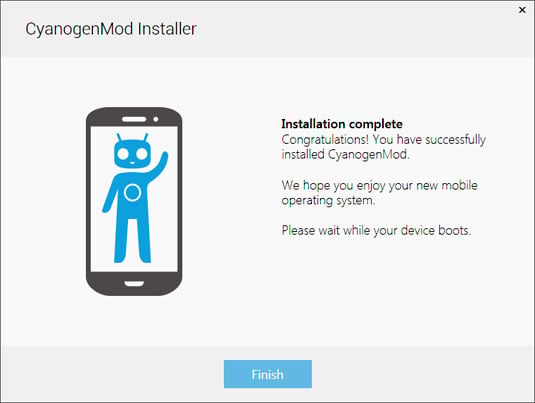 Cyanogen's new firmware installer aims to take the pain out of hacking your Android device
In the long run, Kondik says, Cyanogen's goal is not merely to offer tweaked versions of Google's Android system, but to produce "a mobile OS that was actually designed by and for the people who use it."
"We think that the time has come for your mobile device to truly be yours again, and we want to bring that idea to everybody," Kondik wrote.
In a separate blog post, Benchmark Capital's Mitch Lasky confirmed that setting up Cyanogen as an independent mobile operating systems company was what Benchmark had in mind when it funded the firm.
"We believe that CM is poised to become one of the largest mobile operating systems in the world," Lasky wrote. "With literally billions of Android devices in users' hands, the opportunity is enormous for an Android-based OS like CM that leverages the Android app development community."
This doesn't mean CyanogenMod will become a for-pay product right away, or at all. In a Reddit AMA on Wednesday, Kondik said that there is no immediate pressure from Cyanogen's investors to extract short-term profits from the project.
"Right now, we just want to build something compelling and grow the user base," Kondik wrote. "Eventually, there are innumerable paths to monetization once we reach economics of scale: licensing our software/services to OEMs, building hardware, creating secure enterprise solutions, etc."
Kondik said that one of Cyanogen's goals will be to obtain a license for Google Play Services, the Chocolate Factory's proprietary software that runs on top of Android and provides access to various Google services, including the Play store itself. As it stands now, Cyanogen is not licensed to distribute Google's proprietary apps with its firmwares.
In addition, the company plans to add new features that are not present in the stock Android code base, such as support for strong cryptography. Some of these features may be proprietary software, but Kondik says the company "won't pervert/close the core OS for this to happen."
"I have seen open source projects come and go, some being bought out and closed, others stagnating and falling by the wayside. I don't want to see this happen with CM," Kondik wrote. "In all that chaos there have been projects that do it 'right', simultaneously supporting the company and the community – this is where CM will go." ®