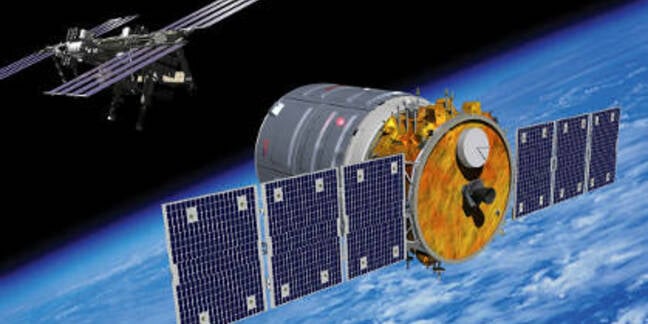 The launch of a commercial rocket carrying a spacecraft with cargo intended for the International Space Station has successfully blasted off from NASA's Wallops Flight Facility in eastern Virginia.
Today's 10:58 EDT flight time was slightly delayed due to a gaseous nitrogen adjustment that needed to take place ahead of the launch.
NASA astronauts will no doubt be waiting in anticipation of the arrival of the unmanned Cygnus - which is expected to dock at the International Space Station in about four days from now.
Its mission is to deliver about 1,500lbs (700kg) of cargo, including food and clothes, to the six-strong crew based on the microgravity laboratory that circles planet Earth at an altitude of about 250 miles.
Cygnus's consignment might well be conservative, but the purpose of what NASA has described as a demonstration mission is to put the ISS through its paces to see how well it can capture the spacecraft using the station's robot arm to attach it beneath the outpost on the lab's Harmony module.
Prior to the space truck's rendezvous with the ISS - which is planned for Sunday 22 September - NASA will carry out a number of systems and capabilities tests on Cygnus.
"After the space station flight control team has verified the results of these objectives, the spacecraft will be cleared to approach the station several days after launch," NASA said.
At that point more test and manoeuvres will be performed before the craft is gently nudged into place on the ISS.
The launch of NASA's Antares rocket and Cygnus spacecraft was originally set to happen on Tuesday. But NASA was forced to delay liftoff by 24 hours due to poor weather late last week that postponed the roll-out of Antares on to the launch pad in Virginia.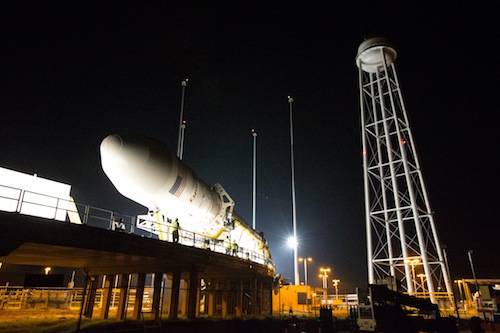 Orbital Sciences' Antares rocket at Mid-Atlantic Regional Spaceport Pad 0A at NASA's Wallops Flight Facility. Image Credit: NASA/Brea Reeves
The US space agency added that there had separately been a technical glitch spotted during a combined systems check last Friday night affecting communications between ground kit and the rocket's flight computer.
NASA fixed the problem and said that teams were still working on trying to understand why the error had occurred.
In April this year, Orbital Sciences Corporation's Antares became the second rocket to get off the ground under NASA's Commercial Orbital Transportation Services (COTS) programme as part of President Obama's desire to palm off Low Earth Orbit duties to the private sector. That successful launch paved the way for today's blast off. ®
Sponsored: How to simplify data protection on Amazon Web Services