Official crackdown on Apple fanboi 'shanty town' ahead of London iPhone launch
'Help us, Tim Cook. No, we don't want 5Cs'
---
Exclusive The British authorities have told two of Blighty's most passionate Apple fanbois to remove a "shanty town shack" they have constructed outside London's Regent Street Apple Store.
Two diehard Apple nuts set up camp outside the fruity firm's UK flagship shop yesterday in hope of being the first to pick up the new iPhone 5S when it launches at 8am on Friday.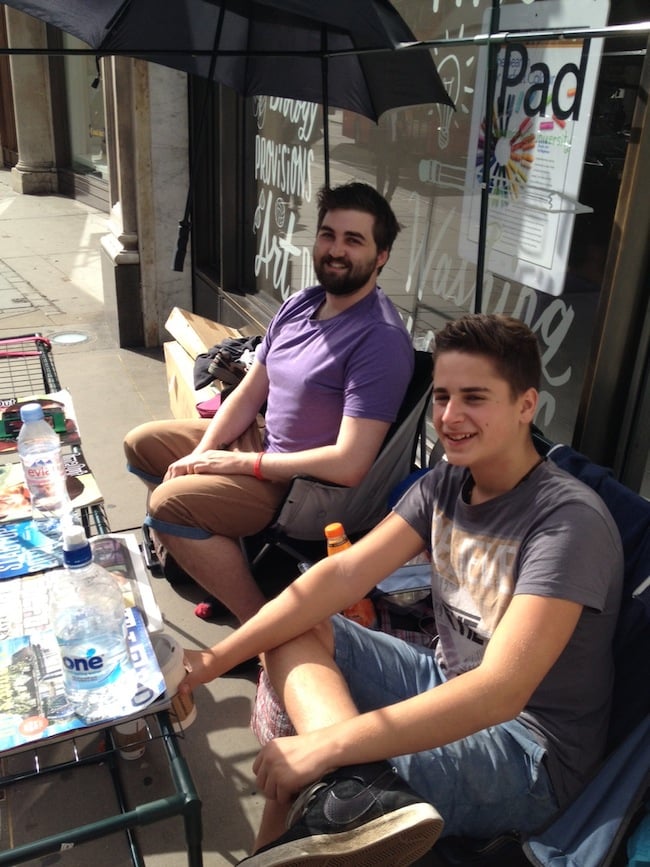 Help us Tim Cook, you're our only hope ... Michael Roberts and Noah Green
But yesterday evening, in the pouring rain, a mean-spirited bureaucrat from the Crown Estate told them to take down a tent they were using to stay dry, they alleged. The Crown Estate, an arm of the British government, owns various important bits of UK real estate including the seabed round the British isles - and Regent Street, where Apple's flagship London store is located.
The two fanbois claimed that Apple forgot to get a licence from Westminster Council which would allow them to erect a temporary structure outside the store, even though they had successfully done so for the past four years.
When the Crown Office "honcho" arrived, the fanbois initially relented and began using umbrellas handed out by the Apple store staff to shelter from the rain.
However, when The Register spoke to the duo today, they had launched a minor rebellion, putting the structure of the tent up, but not mounting the fabric on top of it.
Apple staff have told the two fanbois that they are trying to reach Tim Cook himself to help persuade Westminster Council to give the pair the license they need to keep dry whilst they wait to get their latest iPhone hit.
Michael Roberts, a 23-year-old estate agent from Hampton Court who bears a striking similarity to Henry VIII, has waited outside the Apple store for several days before the launch of every mobe since the iPhone 4. He arrived at the Apple Store yesterday and is waiting in line just behind his chum Noah Green, a 17-year-old student from Hampstead.
Roberts said: "We didn't have hassle from anyone last night, apart from this man from the Crown Estate. I think he thought he were yobs and told us to take our greenhouse shelter down, saying that a lot of people pay huge sums of money to rent the shops on Regent Street and that staff as well as shoppers shouldn't have to look at a shanty town.
"He said it was like a shack. We tried to compromise but he was really pissed off. We've just decided to keep it up, as you can see."
The pair said Apple had been nothing but helpful during their stay.
"Apple have been great," Roberts added. "They gave us umbrellas to keep dry, before they told us they have been in touch with Cupertino and are trying to speak with Tim Cook to get him to help us.
"It must have been a mistake on their part, because they always apply for permission to put up a temporary structure. Apple are very keen on our shelter. They think it's an awesome idea."
In previous launches there are normally at least ten people waiting by this point, the two fanbois said, but more are expected this afternoon. They are not expecting as many queuers as last year and neither said they would be buying the comparatively low-cost, brightly coloured, plastic iPhone 5C. They want the top-range 5S.
The lonely duo denied that the fruity firm was facing an inevitable decline, known in some circles as "Peak Apple".
A Westminster Council spokesperson told The Reg:
"The streets of Westminster are not camp sites and we can't allow people to block the streets days in advance. From Thursday, a queuing system with barriers will be in place for anyone wishing to queue for the new iPhone." ®