This article is more than 1 year old
Got it taped: The business of tape-based disaster recovery
Taking a risky - or risk free? - hike up Iron Mountain
Feature For many SMEs, tape disappeared from their landscape as a data storage choice ten or more years ago. Domestically, it exists, if at all, as a legacy item with perhaps a car stereo chewing its way through a selection of fondly regarded C-90s. Still, this lack of public visibility by no means indicates that tape has come to the end of its spool.
Hard drive prices have steadily fallen while their capacities escalate unabated, and yet tape storage continues to play a pivotal role in business information management. For the big data boom, it proves cost-effective, energy efficient and easier to handle for remote back-ups and archiving. To find out more about the reliance IT places on this media and how it's is deployed, I met with two IT professionals who share the same job title, but have very different roles.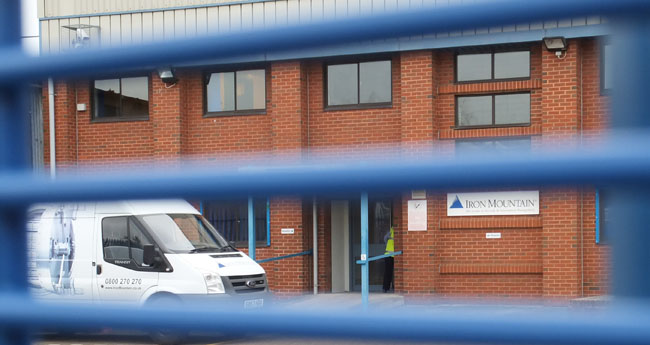 Iron Mountain, Bristol: daily proving its mettle as a secure storage facility
It didn't take long to discover that data centre companies aren't too keen on exposure, so it's lucky that I have a friend of old who is a data centre manager who explained the various strategies deployed. He also took me along to Iron Mountain, the data sanctuary his company uses where we met with a data centre manager of a different sort, Gwyn Lloyd, who oversees the storage and distribution of client media and, in a separate facility, handles storage and disposal of paper documents too.
The name Iron Mountain rather suggests the musical meeting of minds from two late 1960s hard rock bands, but even though this company provides facilities for tape storage, it's very unlikely you'll find much in the way of recorded music on most of them.
Yet, just like record companies regard master tapes as crown jewels from years of labouring in the studio, the businesses that rely on Iron Mountain's services have similar feelings about the precious data stored on tape that is kept in this safe and secure environment.
If you're thinking this could get boring, then think again. This is a serious business and one that companies integrate into their disaster recovery (DR) strategies for one very simple reason: survival. Think about it: lose your data and you've lost everything. That's why Iron Mountain and other tape storage facilities exist, they are an insurance policy against acts of god, theft (oh, where's my server gone?) and the occasional disgruntled employee who might try their hand at sabotage. In the trade, the upshot of this risk management process is referred to as Business Continuity Planning (BCP).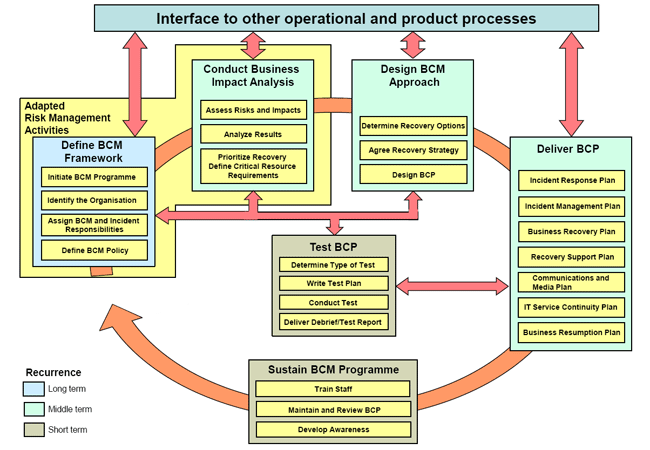 ENISA flow chart of Business Continuity Planning
Depending on your business size and scale, this can involve a separate facility that is effectively a clone of the disaster stricken site, that's kept on ice for when the nightmares begin. All you have to do to get your business back on its feet is load it up with tapes. And as those tapes were kept off site, in a place like Iron Mountain, you'll be back in business in no time.
So, before we begin our tour of Iron Mountain, let's take a moment for my IT buddy – I'll name him Hal – to explain more about the role tape plays and its value in a multi-client data environment. The company he works for, let's call it High Fibre, handles some big players in retail and does have a cloned facility, performing regular DR tests. A real test is the only way to find out if the right procedure is in place and according to Gwyn Lloyd, some Iron Mountain clients undergo DR tests as often as once a quarter.
At High Fibre the DR tests occur annually. Hal explains that this is a service the company offers to manage and perform on behalf of its clients: "It would be quite a big event with a project plan and a project manager would be assigned to it. The client's users would be brought in to test out the DR systems and they'd have a test plan that they'd run through which would typically happen over a weekend."
If only it was as simple as stuffing in a few tapes and letting the tech churn into life, but there's quite a bit of prep behind this and it depends on quite a number of factors; the most significant one being how much money the client has.
You'd think deploying a fully replicated physical data centre backup system would be enough to satisfy the terminally nervous. As a solution, it's undoubtedly costly but there's always something more you can do to make the DR site more effective.

EMC Symmetrix Remote Data Facility (SRDF)
"In a DR situation it's all down to the latency between the production and DR data. So, if your production site went down and you had to move to your DR site, how old is that data? Obviously if you're shipping tapes, it could be very old; it could be weeks old. But if you've got a dedicated link, transferring data from one SAN to another, the latency could be as low as a few tens of milliseconds. That would be typically referred to as a synchronous link.
There's an EMC protocol called SRDF (Symmetrix Remote Data Facility). It requires a dedicated high speed link, but the data on that target (EMC) SAN is very, very up-to-date. It's a synchronous mechanism, so it's handshaking as the data goes over in packets - the target end is saying: Yup, got that, next one, got that, next..."