Rotten Apple iOS 7 fury: Glitchy audio or is today's music really that bad?
Avast, me Cupertino treasure sank overboard before crew could stow it
---
Fanbois and developers have hit out at Apple after the launch of iOS 7 was dogged by problems.
Punters complained downloads of the latest version of the operating system stumbled to a halt as people hammered the update servers. Meanwhile, some software makers warned people to steer clear of the build until bugs caused by incompatibilities between their apps and iOS 7 are squashed.
Version seven of the iPad and iPhone OS mostly does away with skeumorphism and introduces the sort of colour scheme last seen in an episode of Teletubbies. But fans of the new flat design claim it turns iThings into an entirely new product.
A device must have at least 3GB of storage space available to fetch and install iOS 7 - although the actual download weighs in at about 800MB, which is slightly larger than previous versions.
Here's what mild-mannered people on Twitter were saying about the iOS upgrade:
I've never understood what women go through during 26 hour labor until I tried to download iOS 7.

— Matt Jarman (@itsJarm) September 19, 2013
Did anyone download the new iOS 7.0 software? It's telling me 7 hours to download... WTH??

— Jimmie Johnson (@JimmieJohnson) September 19, 2013
iOS 7 won't download on my iPhone THIS IS THE WORST DAY EVER

— NYC Blonde (@NYC_Blonde) September 19, 2013
Your humble hack waited several hours to download iOS 7 last night only to give up and do something more productive - such as going to bed. This correspondent's iPhone and iPad remain resolutely stuck in iOS 6 land.
Some parts of the audiophile community are particularly grumpy about the new iOS build, which has rejigged its sound system so that applications can stream music and sound to each other for the first time. This potentially renders app-to-app audio tools, such as Jack and Audiobus, redundant: Audiobus's makers have warned fans to stay away from iOS 7, claiming the updated OS has sketchy sound output.
"If you rely on music apps, please don't update yet," Audiobus's developers said in a statement. "iOS 7 audio is not ready. There are a wide variety of bugs that are causing performance problems, crashes and other problems in a large number of music apps.
"This may change in the future, but until we see a few point releases for the OS, I strongly urge you to stick with iOS 6."
But Native Instruments, a maker of software synthesisers, has also warned users should expect "random disconnections, iOS device restarts, distortion and chopped audio" when using its mixer hardware with Apple devices. It didn't mention that some musicians may actually find some of these artefacts attractive, judging by what the kids are listening to these days.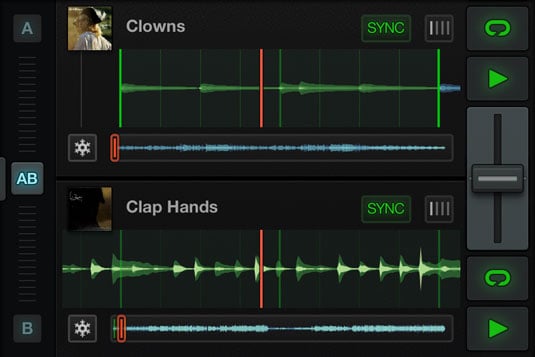 NI Traktor DJ on iOS 6 ... how it's supposed to work
The Reg contacted Apple about the alleged flaws, but we've yet to hear back from the maker of reassuringly expensive entertainment gear. ®