Data Direct Networks prepares to board Amazon S3. It's cutlasses now, lads
Wizard of WOS drops screen, reveals trillion object storage array
Amazon might have its Glacier data archive, but Data Direct Networks, which is in the business of WOS (Web Object Scaler) wizardry, can now store a whole continental ice sheet of data with its trillion-object WOS7000 array.
DDN, primarily known for high-performance computing storage, has long said that it would bring out a trillion-object WS array. The fist time DDN made mention of it was back in 2011 after it announced WOS 2.0.
A year later, V2.5 enabled DDN to claim it offered bulk – petabyte plus – big data storage at a lower cost than Amazon. But that "only" scaled up to 250 billion objects.
Ten months on, WOS 3.0 hits the tantalising trillion-object mark and is accompanied by new hardware: the WOS7000, which tops the previous WOS6000 array, with which it co-exists.
WOS arrays have been described as quasi filers that store objects and can be geo-clustered as nodes in clouds. The cloud scales with node addition. Files are read in a single operation, which speeds data access time. DDN says other file storage devices need up to ten reads per file.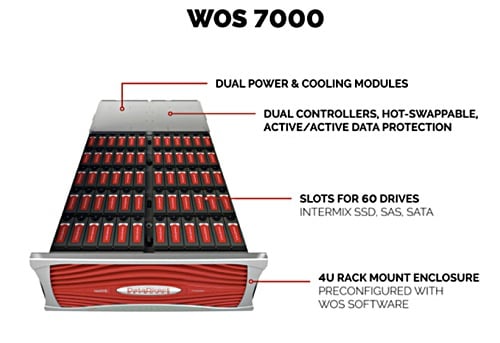 DataDirect Networks' WOS7000 array.
WOS7000
The WOS7000 object storage appliance has an object server inside its 4U enclosure, and sports a 60-bay tray with 40 to 60 SAS and SATA disk and solid state drives supported. There is dual-port access to them for high availability.
The server has dual hot swap controllers which use dual 8-core Intel CPUs and have up to 128GB of memory. Access is via four 10GigE ports, a 40gigE port or InfiniBand, and there are dual redundant power supplies. It comes with WOS 3.0 software installed.
DDN says it can read up to 31,000 objects per second and deliver 2.4GB/sec of read object data.
A rackful of WOS7000s can store more than 2.5PB of data, up to a third more than previous WOS arrays.
The systems can be clustered, with each cluster supporting "up to 1 trillion objects across 256 WOS object storage servers. A cluster of 32 WOS cluster nodes can be architected into a single namespace consisting of over 32 trillion unique object IDs without slowing performance."
WOS7000s can be clustered across geographic distances, and DDN says there can be a federation of WOS clusters storing up to 983 PB and 32 trillion objects in a single WOS namespace.
It also claims the performance can is far better than public clouds:
WOS technology can deliver more than 200x performance increases over the current peak performance of even the largest public cloud storage services. This includes object retrieval of 256 million objects per second, throughput of over 10 terabytes per second with object retrieval latency of less than 50 milliseconds.
Take that, Amazon.
WOS v3.0
The third major release of the WOS software "supports parallel search of user-defined metadata across a distributed WOS cloud of as many as 8,000 WOS cluster nodes." DDN's marketeers say "users can … index and contextualize petabytes of data in milliseconds versus days," which enables faster analysis of vast gobbets of data.
Data can be fed into WOS from DDN's GRIDScaler parallel file storage system, providing both file and object storage on the WOS platform. The WOS cluster can be managed through a "single pane of glass" utility.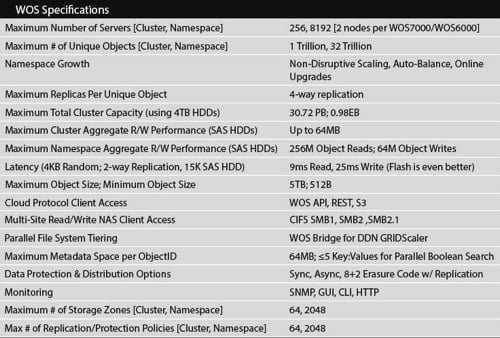 WOS 3.0 specifications.
DDN says its "object storage driver eliminates the need for local file systems and enables the object storage cluster to write native objects directly and contiguously to disk, which eliminates fragmentation, increases performance utilisation by up to 10x versus Linux file system-based solutions and ensures 99 per cent disk capacity utilisation." The Linux comparison is with OpenStack Swift.
Stored data is protected "either with erasure coding and synchronous/asynchronous replication or a hybrid combination of the two".
Access a PDF WO 3.0/WOS7000 datasheet here (PDF). DDN marketeer Jeff Denworth has written a long but interesting blog about the wonderful world of WOS here.
WOS 3.0 and the WOS7000 appliance are scheduled for general availability in September 2013.
Anti-Amazon
With the WOS7000/WOS 3.0 combination, DDN is directly taking on Amazon's S3 marketing position, claiming "users can expect to see their costs slashed by up to half of the costs associated with 'pay-as-you-go' models such as Amazon S3 object storage service, when dealing with data volumes at scale."
Unlike NetApp, which is aiming to co-operate with and embrace S3-style cloud storage, DDN is competing with Amazon head on, saying it's cheaper to store data in-premise with its clusterable WOS7000/WS 3.0 appliances at petabyte levels and up. This way, says DDN, data access can be made very much faster.
Competing with Amazon cloud storage was a no-win game for Nirvanix. DDN believes its WOS products will be bought by customers rejecting Amazon. It may be that Nirvanix's problems will tilt a balance back towards on-premise bulk data storage and away from Jeff Bezos's so far unstoppable beast. ®