This article is more than 1 year old
Knock, knock. Hello, delivery person: I am this building's SKYPE OVERLORD
Oi told 'ee I'd open door for ye as ye sit 1,000 fathoms away
100% Design London's Earl's Court plays host to 100% Design again this week, the UK's largest showcase event for architects, designers and manufacturers. It's not all supercool decor, furniture and lighting though, as you'll find some tech gems among the design icons too.
Got a Skype account? Who hasn't? Skype's great for distance calling, but how about using it as a remote video entryphone? It's a neat idea that Gira has added as a feature to its range of building control systems that'll set you back around £1,500. So there you are, lazing on the beach and you get a Skype call on your phone or tablet, and guess who it is? Your front door back home.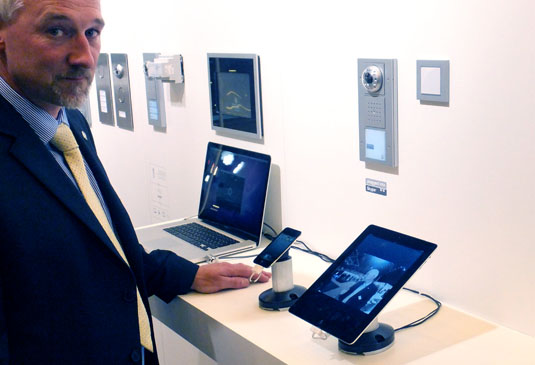 Gira Digital Eye video entry system uses Skype to show who's calling on an iPad
Gazing at you from the video entryphone a thousand miles away is a delivery guy with that Raspberry Pi you ordered 12 months ago. So now what? Gira has in mind that you'll have a secure area that you can allow access to remotely. Perhaps for the less well-heeled it'll be that doubled-glazed porch you tacked onto the front of the house, but don't let anyone at this show know that.
Opening the door is simply a matter of entering in a security code using Skype's IM. No, the guy at the other end doesn't get to see it, but the Gira entryphone system acts on this instruction and hey presto, your delivery guy has access to your secure area where he can drop off your stuff... and steal whatever else is there. Doh!
Gira was also showing off its portfolio of KNX/EIB enabled products that focus on building control from within the establishment. KNX is an open protocol that incorporates several earlier systems devised for network control for a range of useful functions from heating and lighting to access and security.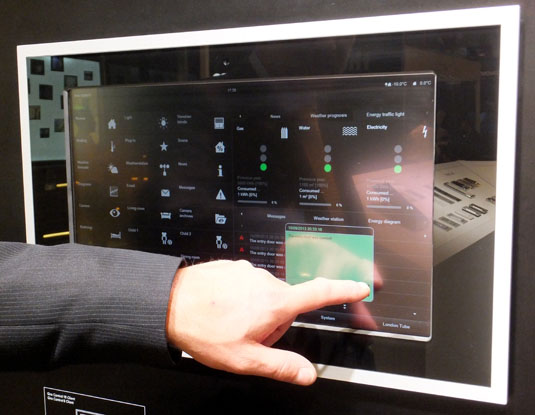 The Control 19 provides an interface of intelligent building functions that work over the KNX protocol and monitors environmental conditions and energy usage. Light switches and suchlike need to be compatible and there is even a log of events to show who's been pressing what and where – click for a larger image
This IP system has apps aplenty for wireless control (with Android support too) and the company was showing off its HomeServer 4, the updated brains behind all this connectivity. Still, if you'd rather know where the controller was for these functions than have to hunt around for a tablet or phone, then there are various touchscreen panels available. The largest is the new Control 19, which is also hooked up to the internet so you can do more with it than just open the curtains, which is just as well, as the cost of a fully fledged system would start at around £15,000.
Gira isn't unique in providing these building control products but there's no escaping the German design elements in many of its offerings. More from Gira here. ®
100 Per Cent Design is ongoing this week for trade visitors and students and is open to the public on Saturday 21 September 2013.