This article is more than 1 year old
Tracking the history of magnetic tape: A game of noughts and crosses
Part Two: 'Tis a spool's paradise, t' be surrrre
Feature America began its love affair with tape following WWII, when Jack Mullin, serving in the US Army Signal Corps, dropped in on German radio broadcaster Bad Nauheim and returned home with two portable Magnetophons and 50 reels of tape.
News of his 1947 Hollywood equipment demos reached entertainer Bing Crosby who recognised the potential of being able to record high fidelity content for broadcast without the hassle of scheduled appearances.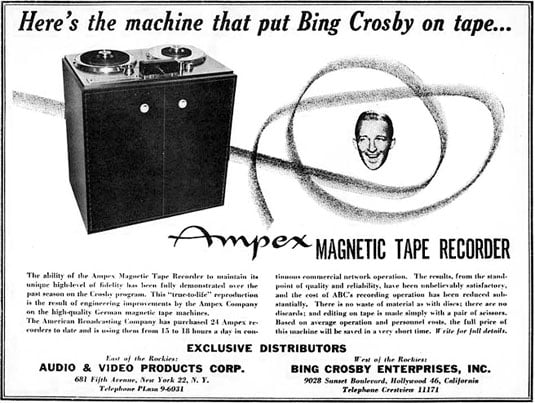 Bing Crosby Ampext tape recorder advertisement from 1949
At the time the majority of US radio was live, as playback of relatively poor sonic quality discs was deliberately limited, but Mullin's customised Magnetophone recorders won the day. As a consequence, Mullin became Crosby's chief engineer and the star put in a $50,000 order with Ampex to build new models based on Mullin's modified Magnetophones.
The Ampex Model 200A was the result that went on sale in April 1948, recording on the newly developed 3M Scotch 111 tape. Bing Crosby gave Les Paul an early production model and the musician went on to invent sound-on-sound recording. Paul's pioneering work allowed him to listen to previously recorded parts while simultaneously adding new performances. Based on Paul's innovation, Ampex began producing three-track recorders.
With the birth of analogue multitrack recording the music industry would take care of itself for decades, increasing the track count before eventually going digital, like everything else.
Jack Mullin [PDF] had other ideas for those early Ampex recorders, though, and pioneered their adoption in data and instrumentation recording in military facilities with modified Model 300 machines back in 1949.
Keep the noise down
Tape itself developed in a number of ways. The wider each track was, the better the signal to noise ratio. A 2-inch tape with 16 tracks is going to perform much better than a 1-inch tape with the same track count; you just get more tape area to magnetise per track. The space between tracks is critical too, as crosstalk can result if they're too close together.
Track assignments aside, tape had other problems to do with handling in the manufacturing process as well as how it gathered on a reel. Back-coating treatments not only helped the operator to recognise the recording side of the tape, but were also developed to reduce static, friction and deliver more even tape packing when spooled.
Another consequence of backcoating was it made the tape slightly thicker which could attenuate the problem of print-through. Being on a reel, recorded signals can magnetise the layers it wraps around, which can be heard as a very low level "ghost" signal. To minimise this effect, it became good practice with recording engineers to store reels as "tails out" – namely, winding the tape forward to the end on the take-up reel before removal.
The upshot of this is that any print through effect would be heard later, like an echo, which is more musically tolerable. When stored "tails in" (wound to the beginning) if print-through occurred a pre-echo would be heard. If you've a record collection from the pre-digital era you'll almost certainly find a track or three presenting this problem. You can read a more technical exploration of this phenomena here [PDF].
Other issues, such as tape tension, could impact on performance and the actual physical head alignment (azimuth) would need attention to avoid phase errors. There's a whole science attached to these factors which come into play (excuse the pun) during analogue tape transfers for remastering and restoration.
Although digital test equipment can readily reveal inaccuracies, forensic work would sometimes rely on ferrofluids and a 10x loupe to examine the path of the track(s) on magnetic tape. The FBI has an interesting article on its methods here.
As an AES member back in the day, I recall with some amazement reading the lengths the FBI would go to in its enhancement techniques in Bruce E. Koenig's 1988 paper Enhancement of Forensic Audio Recordings. Since then, digital audio era revisions have been added but if you fancy digging deeper into this specialist area of data recovery you'll find some of the general issues discussed in this 2005 AES paper discussing analysis techniques [PDF] from Audio Forensic Centre labs
The Digital Era
The commercial use of magnetic tape for data recording began with the Remington Rand UNIVAC computer in 1951 which had its own tape based data recording system called the Uniservo, designed by J Presper Eckert and John Mauchly This digital data recorder relied on 1/2-inch Vicalloy (nickel-iron plated, phosphor-bronze) metal tapes that were 0.003-inch thick. At the time, this media was considered the most reliable, although it was prone to wearing the heads.
UNIVAC infomercial: wind on to 5mins 35secs for the tape references
The workaround was to introduce a separate feed of plain Mylar (polyester) tape to sit between the head and the metal tape – cushioning it from abrasion. This Mylar arrangement had its own loop with guides and tension arms. A glance at the Uniservo suggests the tape path is hideously complicated – indeed, the lack of vacuum buffering (enabling speedy tape start/stops) does involve use of spring tensioning – but part of this is also the Mylar loop mechanism. The whole Uniservo I assembly is detailed here [PDF].