This article is more than 1 year old
Tracking the history of magnetic tape: A game of noughts and crosses
Part Two: 'Tis a spool's paradise, t' be surrrre
Heavy metal recordings
The original 8-inch reels not only contained a heavy 1200ft of metal tape, but the aluminium spool flanges were pretty hefty too, with a combined weight of 25lbs. The Uniservo would transport the tape at 100ips (inches per second) and each reel could store 1.5 million characters (224kB) with up to 128 characters per inch (CPI).
The Uniservo had an eight-track head array – six for data, one for parity and a timing channel. Although this arrangement could theoretically handle 12,800 characters per second, in reality the transfer rate was around 7,200cps when allowances are made for the inter-record gap (IRG) – the physical spacing on the tape separating the data recording.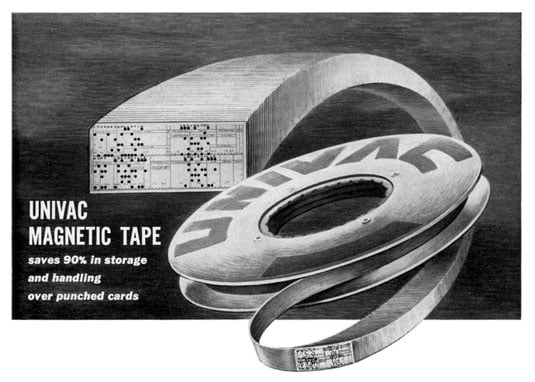 UNIVAC data tape was metal to begin with but nevertheless beat punched cards and paper tape
The data was recorded in fixed sized blocks of 60 words, each with 12 characters. Up to 10 Uniservos could operate together on a Univac I and could function independently, rewinding on some while recording on others. Phase encoding (PE) was used to record the signal to tape which had to be written with the transport going forwards, but could be read in either direction. The use of ferric oxide tapes began with the Univac IIa which could also accommodate the Vicalloy recordings.
In a rather thoughtful move for backwards compatibility, one of the UNIVAC's selling points was its card-to-tape converter which could handle 240 cards per minute with a single tape capable of storing 20,000 cards.
IBM's data-recording tech might not have been first on the scene but its appearance in 1952 brought with it several innovations including the use of ferric oxide magnetic tape for storage. The IBM 726 was used alongside the 701 Data Processing System. It was a seven-track format using six data tracks plus one for parity. The IBM 726 housed two tape transports that ran at 75ips each, notching up 100cpi and transfer rate of 7500cps.
Again, the format was a 1/2-inch tape on an 8-inch reel with IBM providing two reels of 1200ft and two 200ft reels of initially acetate-based tape. The coding system was NRZI (non-return to zero inverted often called "nur-zee"). The unit delivered a maximum recording capacity of 2.3MB and incorporated vacuum buffering to accommodate the fast start/stop recording and playback bursts. These dual vacuum columns would remain a feature on IBM tape drives up until 1984.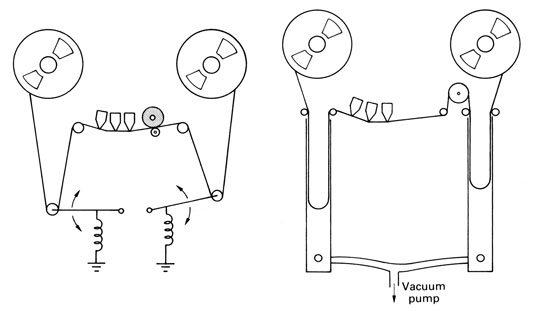 Data tape transports: Mechanical tension arms (left) and vacuum pumps (right) that use atmospheric pressure to retain the tape steadily
As the Lincoln Labs TX (Transistor Experimental project) evolved, the TX-2 appeared in 1958 and, according to its designer Wesley A Clark, its online tape storage relied on 3/4-inch tape on 14-inch reels that could hold 2,500ft lengths. Given the inertia such weighty reels could induce, when this data recorder changed direction, the noise was said to be deafening and block searching mode could shake the room as the tape sped along at 60mph.
Full details on this early format are sketchy, and Clark had other ideas that would lead to the TX-2 Tape System. He proposed a snapshot approach that would act much like the floppy disk would years later by providing a personal file storage on smaller, pocketable reels of tape. What was to become LINCtape (and later DECtape) was based around earlier efforts from his colleagues Dick Best and Tom Stockebrand. A paper entitled "A Computer-Integrated Rapid-Access Magnetic Tape System with Fixed Address" [PDF] details the workings of this prototype 10-track design, which is specified as using 1/2-inch tape and 10-inch reels.
LINC/DECtape used 3.5-inch reels containing 260ft of tape and could store around 400kB. Where this format differed from other transports was that it didn't feature a capstan or a vacuum pump but relied solely on the reel motors.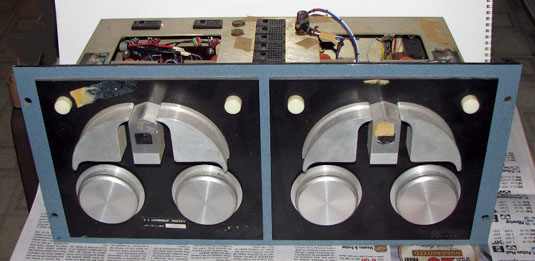 LINC tape drive undergoing restoration – more details of the project here
Photo courtesy of Herb Johnson
It was a considerable cost saving over the four motors found in a vacuum column deck. The reels had large hubs with not much tape on them, so the diameter was almost constant. The speed, although not constant, didn't vary hugely – about 10 per cent at most. The forward motor determined the speed and the other motor provided the tension.
The tape was 50 per cent wider than IBM's at 3/4 inches and the recording density was quite low for robustness. To prove this point, famously, there was a demo that featured an ashtray being emptied onto the tape transport whilst in use. The Linc tape was built using Ken Olsen's DEC logic modules, so it was a natural for it to become DECTape.
Fifties music
Also in 1958, RCA dreamed up its Sound Tape, Magazine Loading Cartridge. In short, a massive two-sided cassette that ran 1/4-inch tape at 3.75ips, 30 minutes per side for stereo recordings. However, it was possible to switch between mono tracks to increase the recording time to two hours.
But this was not the only cassette or cartridge device of the era. The Cassette Recorder Museum site put together by an enthusiast lists a number of audio examples and has a great gallery of period devices here.
RCA's Sound Tape and the lesser-known CBS cartridge format would later be instrumental in the design decisions behind the Compact Cassette. El Reg has already covered its development in depth here and we also have an interview with the R&D team leader, Lou Ottens here.
An enthusiast shows off his 1959 RCA Sound Tape Cartridge Player