This article is more than 1 year old
Tracking the history of magnetic tape: A game of noughts and crosses
Part Two: 'Tis a spool's paradise, t' be surrrre
Making tracks
Another factor that separates the multitrack data recorder from its audio counterpart is that for data storage, all those tracks get recorded/replayed at once. With sound recording, independent track recording was required for capturing different takes and instruments when suited, rather than as one live multitrack performance.
IBM open reel tape and 3480 cartridge compared
From the 2.3MB maximum storage capacity on its initial 7-track 726 machines that appeared in 1952 climbing to 20MB on 10.5-inch reels on the early 2400 series tape machines in 1964, IBM would achieve 200MB two decades later on its 3480 tape drive featuring 1/2-inch tape in a new 4x5-inch cartridge.
The capacities for this format would peak at 2400MB on the 36-track 3490E IDRC (Improved Data Recording Capability) model that arrived in 1992.
The early 3840 drives were far from perfect even though spec was innovative, as they were the first tape drives to utilise chromium dioxide tape and thin film head technology.
Thin film head technology? It's another example of the amazing the lengths that engineers have gone to in order to get a greater data density from those ribbons of rust and is explained in the box section below.
The 3840 also notched up an impressive data rate of 3MB/s – double that of competitors of the time – but as they'd been designed with IBM mainframe use in mind, the bus and tag interfacing didn't suit everyone and, apparently, the dual drive configurations in which these systems were sold had a few issues with buffer underruns.
IBM 3410 open reel tape subsystem gets laced, the sort of attention that carts didn't need
Now, before we head off towards Ultrium utopia and into the StorageTek sunset with a stream of different cartridge formats behind us, let's not forget that the music and computer industries weren't the only customers for magnetic tape.
In cinemas, synchronising audio discs to film had given way to optical sound recording in the 1930s but magnetic tape promised higher fidelity and multitrack possibilities too. The early 1950s saw plenty of interest in the idea of repeating the wonders of audio on tape and producing an equivalent video recorder.
Television had either run live broadcasts directly from studio video cameras or did pretty much the same by pointing the camera at a movie projection – a form of telecine. Needless to say, Jack Mullin was on the case and so was Ampex. All the leading broadcasters were either backing a developer or working on systems of their own. There was only one winner and it wasn't RCA's Longitudinal Video Recorder (LVR) nor the BBC's Vision Electronic Recording Apparatus (VERA).
How that particular game was fought out is discussed in part three which looks at the young Ray Dolby's early role in video research and development as well as his later triumphs in both conventional audio recording and his surround sound cinema systems.
Heads up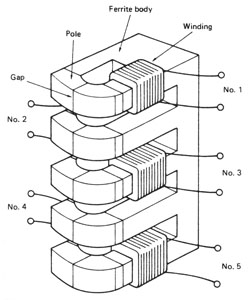 Conventional stationary ferrite head array
One of the most effective methods of maximising data density has been to increase the track count across the width of a tape. Originally, modified tape heads from the analogue sound recording era were utilised for this purpose, but the physical size of ferrite head imposed limits on what was achievable. The close spacing meant that magnetic interferences (mutual inductance) and crosstalk were issues that had to be compensated for.
Thin film heads can be produced photographically, and can be extremely small and are used for hard disk storage as well as tape systems. Thin film head magnetic circuits are constructed from layers on a substrate with minute spacings and a very high degree of accuracy.
Head designs of this kind have developed over the years with various inductive and magneto-resistive (MR) approaches delivering specific advantages for different applications. Used extensively in hard disk drives, magneto-resistive heads ignore polarity but measure the strength of the magnetic flux, however separate heads are required read and write operations due to differences in design for these tasks.