This article is more than 1 year old
Tracking the history of magnetic tape: A game of noughts and crosses
Part Two: 'Tis a spool's paradise, t' be surrrre
Revert to type
Meanwhile back at the office, IBM's successful Selectric typewriter was getting kitted out with a tape drive. You can read our piece on the original Selectric from 1961 here.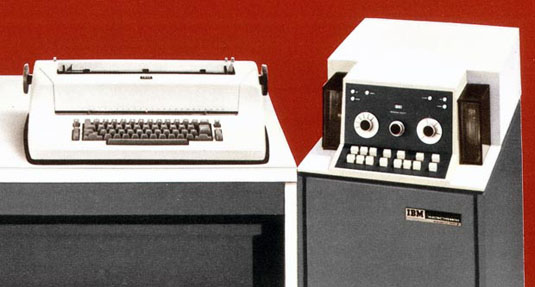 IBM Selectric MT/ST typewriter and companion tape recorder
Announced in 1964 and in production by 1966, the Magnetic Tape Selectric Typewriter (MT/ST) was a very different beast though and featured a companion drive that took cartridges using 16mm tape. You could fit 25K of data on a 100ft cartridge that relied on a 7-bit data set and knock out documents at 150 words per minute.
A solenoid momentarily moved the head across the tape to record each keystroke, the tape winding happened as you typed – a character at a time. The backspace would simply wind back the tape to overwrite the character(s).
The recorded tapes could allow the typed document to be retyped automatically with justification and other formatting enhancements. By its very nature, as standalone system, the MT/ST was the original word processor.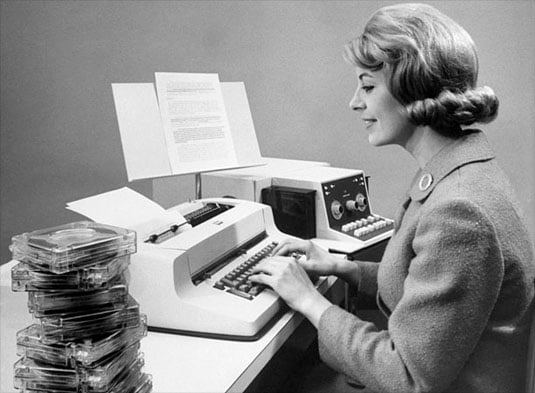 Busy, busy: IBM Selectric MT/ST with tapes aplenty
The Quarter Inch Cartridge (QIC tape) format introduced by 3M in 1972 proved to be one of the most enduring data tape systems in computing. However, it didn't remain the same throughout its lifetime, undergoing numerous revisions for the next 25 years. Details of these changes can be found the on the moribund QIC Tape Standards site here.
The original 3M DC300 cartridge had a 200kB capacity from 300ft of tape. As other formats emerged, the 4-track QIC-11 format managed a 20MB capacity on 450ft of tape. At the other end of the spectrum, the 144-track QIC-5210 DC delivered 25GB – the track format is described here [PDF] and the recording techniques utilised are detailed here [PDF].
The capacities inevitably increased with variations along the way. Tandberg's Scalable Linear Format (SLR) was the label used to describe its own QIC tape system with uncompressed capacities up to 70GB. There were even wider 8mm QIC tapes which didn't exactly live up to the acronym but offered improved data densities.
Lest we forget the Minicartridge, a smaller QIC variant which could be installed using floppy disk interfacing. Like a floppy they needed to be formatted too, which initially led to a lack of standardisation regarding interchangeability. Pre-formatted tapes adopting the XIMAT format would eventually follow and SCSI interfacing too.
3M would later introduce its Travan descendant of the Minicartridge. At 8mm, the tape was wider and both Travan and the Minicartridge lacked a separate read head that would enable verifying after recording.
Spin theory
In part three, the background of rotary head recording is discussed, which has its roots in video recording systems. The idea of spinning the tape head rapidly across the width of a slowly moving tape, rather than having tape speed by a stationary head, offered a cost-effective way of handling high frequencies used in video.

Rotary head designs: left helical scan, right transverse tape recording. The longer tracks of helical enable more data to be recorded in a single pass, shorter tracks of transverse can result in recording more tracks to store the same data. However, wider tape can enable transverse recording to match helical scan. Transverse transports also benefit from being more compact and more robust in field use.
Despite being electronically complicated, this method of recording was also ideally suited for certain data applications. Digital audio used modified analogue video recorders for years and when Sony's Rotary-head Digital Audio Tape (RDAT) format appeared with its 3.8mm tape, its convenience also saw the RDAT mechanism repurposed for data. Although most called it DAT, it was also known as DDS (Digital Data Store), the latter would encompass larger 8mm tape formats.
Indeed, Sony's own 8mm Video8 tape format was another example of this usage swap around, as it formed the basis of Advanced Intelligent Tape (AIT). Again, it relied on rotary head recording and was the format used by Exabyte data storage systems. In 1996, AIT-1 initially had a storage capacity of 25GB but a decade later and changes to track pitch, AIT-5 notched up 400GB.

End of the line: Sony's AIT-5 tape line up
Sony's Super-AIT (SAIT) abandoned the dual reels of DAT and AIT and used a single 1/2-inch reel instead but retained its rotary head recording system. Uncompressed SAIT-1 tapes could store 500GB. As a rival to the stationary head LTO Ultrium, the roadmap envisaged 10TB SAIT tapes. The AIT format was discontinued on 31 March 2010.