IT bloke denies trying to shag sheep outside football ground
Ewe a Spurs fan, me hearty?
---
An IT worker has appeared in court accused of trying to have sex with a sheep outside football club Tottenham Hotspur's training ground in North London.
Paul Lovell, of Magpie Close, Enfield, North London, faces a charge of indecent exposure under the Sexual Offences Act 2003 as well as a further charge of outraging public decency. He denies both charges.
Lovell was alleged to have been caught with the animal on Whitewebbs Lane, Enfield, close to the state-of-the-art training facility on 4 September.
In court, Lovell faced a charge of indecent exposure for allegedly exposing his genitals "intending that someone would see them and be caused alarm or distress contrary to section 66 of the Sexual Offences Act 2003".
The 61-year-old, who attended court wearing a brown suit and turquoise jumper, was also charged with outraging public decency by allegedly "trying to commit a sexual act with a sheep and trying to encourage a sheep to perform a sexual act on you".
Lovell opted to be tried by jury and has been bailed to Wood Green Crown Court until 2 October, on condition that he does not, on any count, return to Whitewebbs Lane or Archers Wood in Enfield, where the alleged offences are said to have taken place.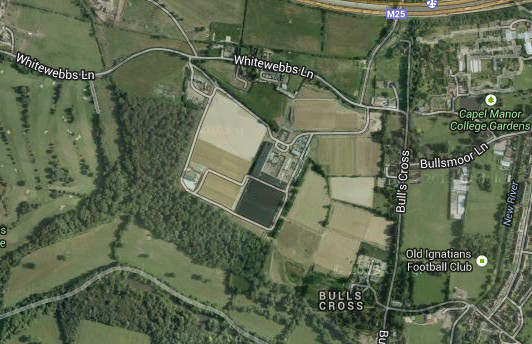 Whitewebbs Lane, north London, with Spurs' training facility in the middle. London's M25 orbital motorway is just north of the ground. Pic credit: Google Maps
Reports did not divulge how Lovell was caught.
Do you know which IT firm Lovell works for? Email me and spill the beans. ®