Live now: LOHAN igniter test flight
Canny crew will dodge yon Spanish mountains, yarr
---
The Register's mighty Low Orbit Helium Assisted Navigator (LOHAN) team is, as you read this, in the field preparing a second test flight of our Vulture 2 spaceplane's rocket motor igniter assembly, following Monday's dramatic first attempt which ended on a Spanish mountainside following premature balloon burst.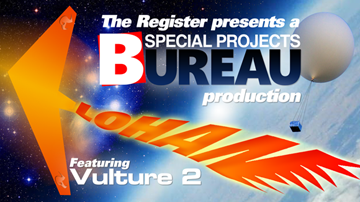 Today will, all being well, determine if we can persuade a rocket motor to light at altitude – something which is essential for the ultimate success of LOHAN.
On board for today's ride will be the igniter, triggered by the Special Project Electronic Altitude Release System (SPEARS) control board, which uses GPS data to fire the igniter at a predetermined altitude, plus the Raspberry Picam rig.
The callsigns and frequencies are:
SPEARS on 434.650MHz
PIE on 434.075MHz
PIE will be 600 baud 8 data bits, no parity, 2 stop bits. SPEARS will be 50 baud, 7 data bits, 2 stop bits.
The live launch and pursuit action are available for your viewing pleasure here, and we'll be tweeting intermittently here.
The live snaps beamed from the onboard Raspberry Picam will land here, and the usual live map is here
Conditions are looking ideal for a flight which doesn't involve either the English Channel or a Spanish mountainside, so wish us luck.
While you put the kettle on in anticipation of a quality afternoon's entertainment, here are a couple of vids from Monday's flight, featuring a timelapse of the launch and some spectacular footage from the main payload GoPro. Enjoy:
---
Further LOHAN resources:
---