Nokia Lumia 625: Quality budget 4G phone ... but where's UK's budget 4G?
Blast this cut-price box, more worthless than a scurvy-blighted galley rat
---
Review Nokia's latest Lumia, a budget 4G smartphone, alights on an odd perch in the marketplace, where it finds itself all alone. 4G voice contracts in the UK are currently a luxury good - with luxury price tags attached.
For most Britons, LTE is only practically available at not-so-budget prices from one network, EE, with a 2GB monthly data allowance costing £41 a month. You can shave that down to £26 for 1GB, but that's not nearly enough for a serious user, and certainly not a budget tariff. The network does not offer cheap SIM-only deals.
O2 and Vodafone are following suit, only more slowly, with limited rollout and premium prices. Both of the carriers launched their deals on 29 August.
What makes the Lumia 625's position so odd is that it's a budget phone. Why pay premium prices for a budget phone?
The answer of course is that a decent budget handset – and this one will be sub-£200 SIM-free – allows operators to break out of the premium straitjacket. Hutchison's Three, for example, has promised to charge no premium at all for LTE – so LTE's speeds should be available for under £20 a month... Eventually.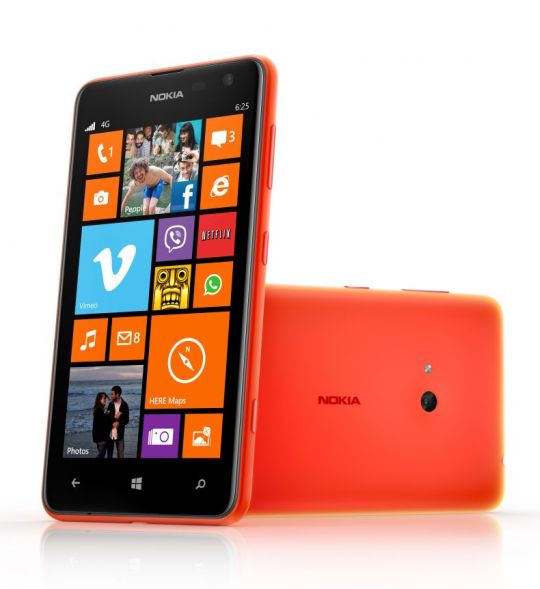 This particular Lumia, Nokia's seventh this year, stands out for another reason. Despite using a slightly tweaked variant of Nokia's low-end hardware platform on the inside, on the outside is Nokia's largest ever display, a 4.7-inch diagonal screen.
This is a size associated with premium smartphones, yet the resolution, at 480 x 800, is lower than the latest premium 4.5-inch+ Androids. This means the pixel density is lower than on any Lumia. In practice it was a pleasure to use, despite the fact that it's far from the swankiest LCD panel out there.
I am not a fan of larger devices, with 4.2-inch displays being the top of my comfort zone. Yet I found the 625 to be tactile and very comfortable to use. The design uses the "pillow" shape matt polycarb plastic used in recent Nokias, and the screen curves into the body of the device at the sides.
I also had to keep reminding myself that the phone weighs a seemingly hefty 159g, for in practice the weight distribution and slim design made it feel much lighter.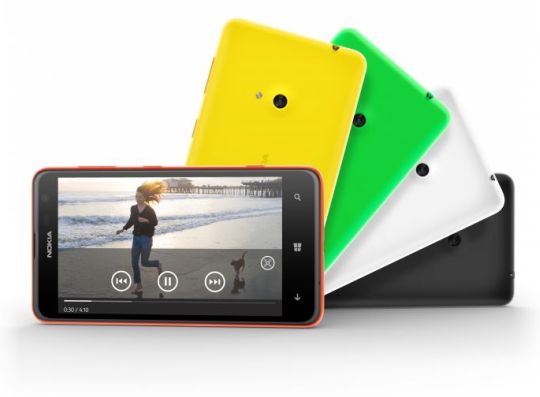 The back cover is removable, and a number of colour options are available (green, orange, and yellow as well as black and white), but the 2000mAh battery isn't removable. 5GB of the internal 8GB is free for apps and media, so you'll need to invest in a MicroSD card (to make up a maximum of 64GB) if you plan on lugging around a lot of music.
Look and feel
Despite the numbering suggesting some physical kinship, the 620 and 625 and the David and Goliath of the Lumia range: the smallest and the largest displays respectively. The 620 featured a nice optical effect, its two-colour shells allowing light to pass through. A small touch, but it gave the device something resembling a personality. Nokia claims a similar optical trick with the 625, the rim of the device appearing to be translucent. That's the theory, anyway. In practice - perhaps because my review unit had a white shell - I struggled to see this.
Corners have been cut to make the phone affordable, and the cuts are in line with Nokia's popular budget phones the 520 and 620 - which have become real success stories of its Lumia range, reappearing on the high street.
Some won't be missed, others might be. The Lumia 625's flashier siblings boast more pixels (768x1280), Qi-standard wireless charging, incredible audio recording and hardware noise cancellation, and quality Carl Zeiss optics - these have been thrown out. On the other hand, 4G (of course) has been retained, and Gorilla Glass 2 is welcome. In everyday use the "high end" feature I missed was not an obvious one: it's the anti-grease (oleophobic) coating, which meant (like the 520 and 620) it gets muckier far faster than it should.
I found the 4.7-inch display suited Windows Phone well – at least for the home screen. For the first time I found I could reduce many Tiles without causing any inconvenience, and squeeze all the Tiles such that they were all visible all the time: I didn't need to scroll horizontally. The larger screen also means a larger keyboard, with fewer typos.